UFC 147: Power Ranking Rich Franklin's Best UFC Fights
Jon Kopaloff/Getty Images
Rich Franklin is a legend of mixed martial arts, as the former school teacher has gone from the classroom to middleweight champion in his illustrious career.
Franklin makes his return to the Octagon for the first time since his loss in February of last year, where he dropped a decision to Forrest Griffin. Franklin, who will be stepping up on short notice to fight Wanderlei Silva in a rematch from earlier in their career, was scheduled to fight Cung Le at UFC 148 before taking this fight.
Here are Rich Franklin's best fights in the UFC.
Note: Only wins were considered in this power ranking.
UFC 68 vs. Jason MacDonald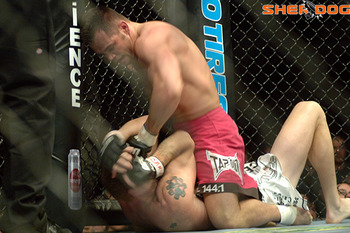 sherdog.com
Fighting in his home state of Ohio at UFC 68, Rich Franklin dominated Canadian grappler Jason MacDonald so bad that he won by corner stoppage in between Rounds 2 and 3.
Franklin completely outclassed MacDonald in this match, using superior striking and brutal ground-and-pound, which damaged MacDonald's eye. This win earned Franklin a title eliminator fight, which led to a title shot against Anderson Silva.
UFC 83 vs. Travis Lutter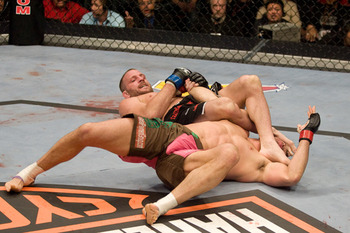 alanorr.co.uk
Following Rich Franklin's second loss to Anderson Silva, he was matched up against Brazilian jiu-jitsu black belt Travis Lutter, who proved to be an admirable opponent.
At one point in the match, Lutter secured a tight armbar that looked as if it were going to earn a tapout from Franklin. Franklin would escape the armbar and go on to win the fight by knockout.
This fight showed Franklin's heart, despite struggling against a less-skilled fighter in Lutter.
UFC 44 vs. Edwin Dewees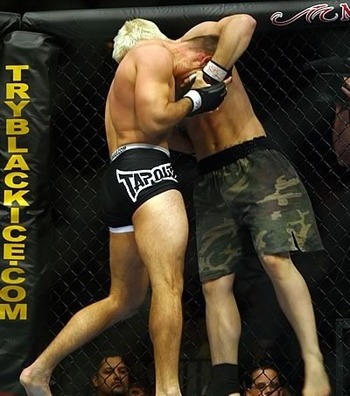 sherdog.com
Rich Franklin's second-ever trip to the Octagon was successful, as he obliterated Edwin Dewees in under a round. Using punches and knees, Franklin was able to earn the knockout to help garner attention to the budding star.
Dewees is by no means a high-level opponent, but this fight was significant in that it earned Franklin high-level fights early in his career.
UFC 50 vs. Jorge Rivera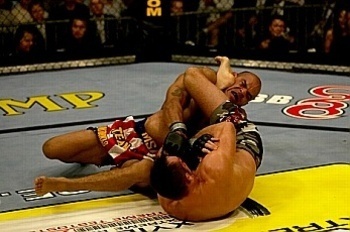 knucklepit.com
Following the win over Edwin Dewees, Franklin went on to submit a tough opponent in Jorge Rivera. Rivera is as tough as they come, and Franklin defeated the Puerto Rican-American with ease.
In the final round, with under a minute left, Franklin pulled off a beauty of an armbar to secure the tapout. This fight would earn Franklin a fight with the legendary Ken Shamrock.
UFC 58 vs. David Loiseau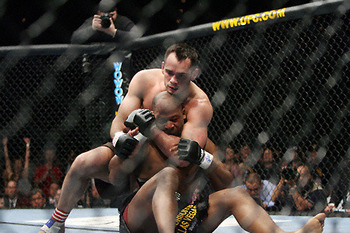 mmabuzz.com
In Franklin's second defense of his middleweight title, he faced off against dangerous striker David Loiseau. The fight was important, as it was part of the USA vs. Canada card that UFC 58 was presented as.
Despite breaking his hand in the second round, Franklin went on to dominate the fight. In the end, he would earn scores that helped exemplify how close the fight wasn't (50-42, 50-42, 50-43).
UFC 72 vs. Yushin Okami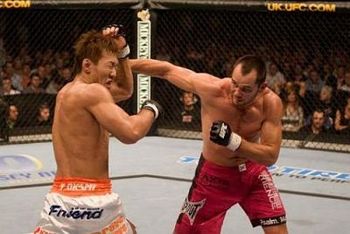 fighttimes.com
UFC 72 served as a title eliminator between Franklin and Yushin Okami, one of Japan's greatest fighters. The winner would face Anderson Silva, who was in the midst of his early domination.
Franklin would go on to win a unanimous decision and earn his rematch with Silva. As for Okami, it was a loss that would see him not earn a title shot for four more years (UFC 134) against Silva, who is still champion to this day.
UFC 42 vs. Evan Tanner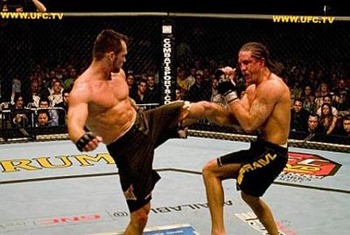 fighttimes.com
UFC 42 served as Rich Franklin's debut with the UFC. He exceeded all expectations, defeating a highly respected opponent in Evan Tanner.
In under a round, Franklin was able to knock Tanner out using his powerful hands. This would not be the last time Franklin saw Tanner, who held a prize that Franklin coveted.
UFC 53 vs. Evan Tanner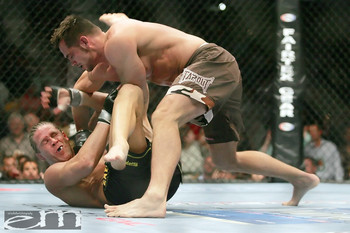 edmulholland.photoshelter.com
As I said, Franklin and Tanner would meet again—this time at UFC 53 for the UFC middleweight crown. This time, Tanner made it past the first round.
After three-plus rounds of action, doctors stepped in to stop the fight, as Franklin had completely battered Tanner bloody. This win earned Franklin the middleweight championship and a date with the record books.
UFC 115 vs. Chuck Liddell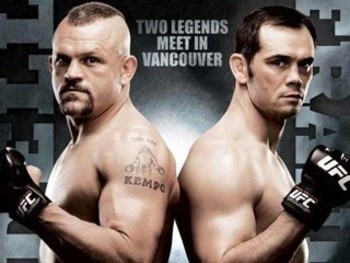 thearenamma.com
With Tito Ortiz dropping out of his third fight with Chuck Liddell, someone needed to step up to fill the void Ortiz left on his Ultimate Fighter team and the main event of UFC 115. Rich Franklin was that man.
It didn't look good early, as a Liddell kick broke Franklin's arm. But with five seconds left in the first round, Franklin hit Liddell with a counter punch that sent "The Iceman" to the canvas unconscious.
It was an exciting fight and an exciting win for "Ace."
UFC 88 vs. Matt Hamill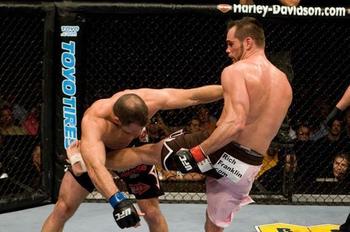 fanpop.com
Rich Franklin's return to light heavyweight at UFC 88 saw him take on a former training partner in Matt Hamill. It was a fight in which Franklin would be very familiar with his opponent, which may have powered his impressive victory.
Franklin picked Hamill apart for a majority of the fight, showing off his superior striking and solid takedown defense. In the end, Franklin would nail Hamill with a devastating body kick, which brought the fight to a halt.
TUF 1 Finale vs. Ken Shamrock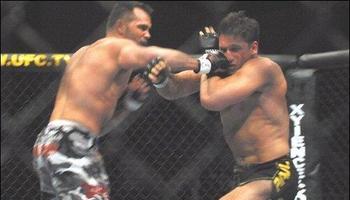 sherdog.com
A win that defined Rich Franklin's early career was his knockout victory over Ken Shamrock. Shamrock had never been knocked out, but even more than that, it showed Franklin was legit.
It was just a sign of things to come, as Franklin used this win to propel himself to the top of the middleweight division.
UFC 56 vs. Nate Quarry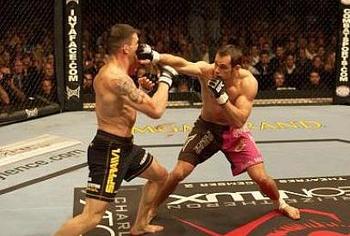 knucklepit.com
This fight is so high on the list because of the brutality of how the fight was finished. Franklin put his title on the line at UFC 56 against Nate Quarry, an up-and-comer with a lot of upside.
Franklin connected with a jaw-shattering punch that put Quarry out cold before he even got close to hitting the mat. It was a clean one-punch knockout and will provide highlight reels with a gem for years to come.
UFC 99 vs. Wanderlei Silva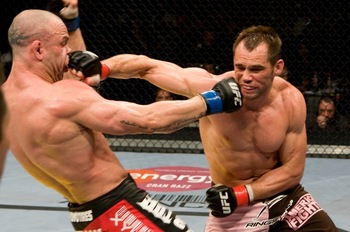 cagepotato.com
Rich Franklin's best fight in the UFC was against Wanderlei Silva, the man Franklin faces at UFC 147. It was a great back-and-forth affair that saw both fighters get dropped.
The second round was a great round, as Silva almost finished Franklin and vice versa. The fight earned "Fight of the Night" honors, and for good reason.
Hopefully, UFC 147's main event delivers a fight like this again.
Keep Reading