2012 MLB Trade Deadline: 5 Players Guaranteed to Be Traded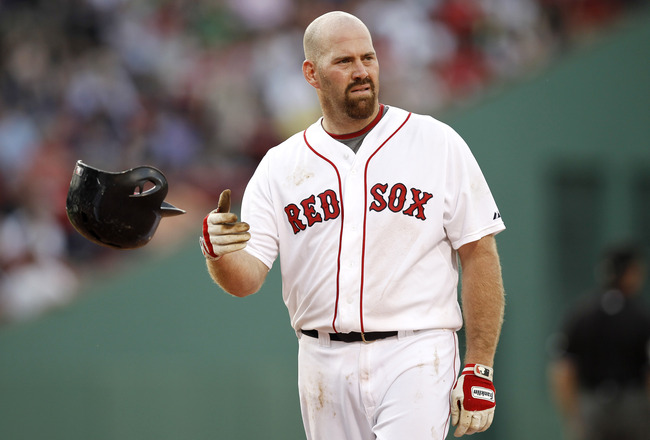 Winslow Townson/Getty Images
Believe it or not, we are now nearly two and a half months into the 2012 regular season. So far, it hasn't disappointed, as both clubs that you expected to be good as well as those you expected to be near the bottom of the standings are in contention for playoff spots, which if you haven't heard there are now 10.
However, surprise contenders like the Nationals, Orioles and Dodgers are also causing some of the big-market powerhouses to falter. Teams like the Red Sox and Phillies might be on the other end—the seller's end—of the trade market come this year's deadline.
With each passing week, the future looks a little bleaker for certain clubs, and it's those feelings that may lead to some big moves this trade deadline. In fact, I'm going to give you my personal guarantee (now how much value you give to that is up to you) that these particular five players will in fact change venues by this year's deadline. They're all pretty big names, and if I'm right, their departures/arrivals will certainly add some intrigue to the division races down the stretch.
OF Carlos Quentin, San Diego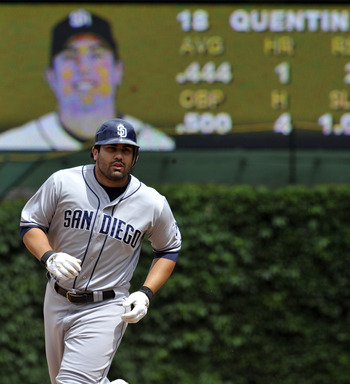 David Banks/Getty Images
When the White Sox traded Carlos Quentin to the Padres, I really didn't think the move made much sense for either team.
The White Sox play in U.S. Cellular Field, well known as a hitter's ballpark. Quentin thrived there, hitting 20-30 home runs per year, even while suffering multiple injuries that caused him to miss playing time. So why would the ChiSox trade one of their best sluggers for two minor-leaguers? It honestly still makes no sense to me.
Same went for the Padres, who make their home in Petco Park, widely recognized as the most pitcher-friendly ballpark in the MLB. Why sign a mainly-power hitter to hit in a park where it's near impossible to hit a home run? Obviously the production would tail off. But now, I understand that the Padres likely knew all along that they would just be with Quentin for half a season, flipping him at the deadline for a higher return.
There will definitely be interest in Quentin, with teams like the Rays, Marlins, Yankees and, maybe even his 2011 team, the White Sox, possibly showing interest. My guess is if their offense continues to scuffle, Quentin could be headed to St. Pete.
PREDICTION: RAYS
OF Melky Cabrera, San Francisco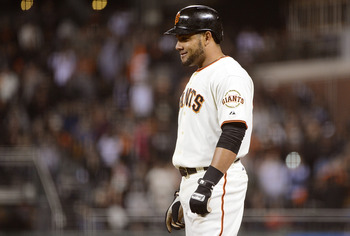 Thearon W. Henderson/Getty Images
One of 2012's many surprises so far has been Giants outfielder Melky Cabrera. At this point in the season, the way he's been swinging the bat, you would've thought that he was Miguel Cabrera, not the Melk-Man.
Even though they're still in second place in the division, the Giants might just have to fight for one of the two Wild Card spots with the way their division rivals, the Dodgers, are playing, even without superstar centerfielder Matt Kemp. That means they might feel inclined to move someone like Cabrera.
The Giants should realistically see that Melky Cabrera is not going to continue to hit .364 for the next few years, and that he is clearly on a long hot streak that could net San Francisco a nice package of prospects from a division contender.
Teams like Atlanta, Arizona and Cincinnati, not to mention the Mets and Marlins, are going to get better and will likely overtake the Giants for both Wild Cards, so there isn't much sense in holding onto Cabrera on a long shot playoff dream.
The same teams interested in Quentin will likely also inquire on Melky, but if I was a betting man, I'd say he's going back to where it all began, back wearing pinstripes with his best friend Robbie Cano in the Bronx.
PREDICTION: YANKEES
RHP Zack Greinke, Milwaukee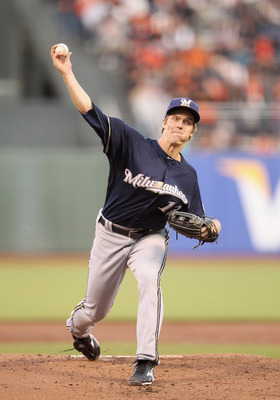 Ezra Shaw/Getty Images
I'll concede that this is far from a guarantee right now, but I would have felt remiss if I hadn't included Zack Greinke on this list. Yes, he is the Brewers' ace, yes, the Brewers are far from being out of contention, and yes, I remember how much Milwaukee gave up to acquire him, but I still think the best move would be to trade Greinke.
I do not feel like the Brewers have what it takes to make a statement in the NL Central, as so far it seems like the Cardinals, Reds and even Pirates have better clubs. The Pirates and Reds have good young teams that the Brewers will have to compete with for a long time, and the best way to do that is to acquire some new young talent.
Greinke would obviously draw plenty of interest on the trade market, as just about any team in playoff contention would like to add another ace-type starter, even for just the stretch run. Teams like the Marlins, Mets, White Sox and Dodgers would likely have a great deal of interest in Greinke, as their respective rotations are all headed by a quality ace and then tend to tail off.
When all is said and done, though, I think Greinke is going to find himself back in the AL Central, this time slotted into the No. 1 spot in Chicago's rotation.
PREDICTION: WHITE SOX
LHP Cole Hamels, Philadelphia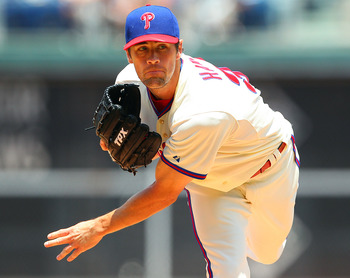 Rich Schultz/Getty Images
I never guessed back in Spring Training that in mid-June I would write about how the Phillies should look to trade their ace, Cole Hamels. I mean really, trading Cole Hamels? In June? And he's the ace of that staff? I would've laughed in someone's face if they told me that.
But, here we are, and the fact of the matter is that the Phillies really should look into trading their one homegrown ace now, before he hits the open market. Lee and Halladay went down with injuries, as did Utley and Howard, and really the Phillies saw their season come crashing down around them without any of their stars.
The emergence of the Nationals, and Marlins, and Braves, .... and Mets has been just too much for them to overcome, as they currently sit in last place in the NL East after five straight seasons winning the division.
Obviously, when it comes to the trade market, a left-handed ace is viewed as the crown jewel. Hamels would easily bring in a package of four players, potentially one centered around an established star. If not, he could even reel in a package of five prospects, which would be well worth it for the Phillies in the long run. It's not like the Phillies haven't had a history of trading aces and then re-signing them (Lee).
Pretty much any playoff contender would try for Hamels, it's just a matter of who has the talent down on the farm to pry him away from Philadelphia. I honestly have no idea where he might end up, so I'll predict that he goes to the team that will probably need him the most.
PREDICTION: ORIOLES
1B/3B Kevin Youkilis, Boston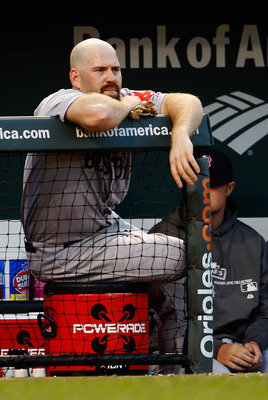 Sorry Youk', Middlebrooks is playing today ... and tomorrow ... and every day.
Rob Carr/Getty Images
The Boston Red Sox are in the same boat as the Phillies this season, except with them everyone pretty much saw it coming. After the 2011 collapse, they really made no upgrades in the offseason, downgrading at closer as well as shortstop.
Then, it got worse when the season started and players started getting injured. Literally every starting outfielder and the second string have been injured this year. Their current outfield alignment? Daniel Nava, Ryan Sweeney and Adrian Gonzalez ... yes, that Adrian Gonzalez. I'm sure Theo Epstein is tossing and turning in his sleep when he looks back at what his prized acquisition is doing in Boston while his Cubs sit in last place.
Why is Adrian in the outfield? Well, Youkilis has to play somewhere right? Why not third base, you ask? Well, that's because that's Will Middlebrooks' spot. That's right, Youkilis lost his spot to a rookie, and deservedly so, as Middlebrooks has been the lone bright spot in an otherwise bleak 100th season at Fenway.
So, does Youkilis stay at first while Adrian moves to right for good? Not with the kind of money Boston has devoted to Gonzalez to play first, that's for sure. So, where does Youkilis play?
Youkilis plays first base, maybe third, but for another team. Of anyone on this list, if I'm actually going to guarantee that one of these players gets traded, it's Youkilis. I can honestly say I'm 100 percent sure it will happen; it's only a question of when and to whom.
Plenty of teams would like to add Youkilis' bat to their lineup, and with a fresh start, the Greek God of Walks might really turn back the clock, especially if he's at his true position, first base. I don't know what the Red Sox might request in return, but any and all pitching prospects would likely be much appreciated. I think it's pretty obvious what team could best use his services at first base.
PREDICTION: DODGERS
Keep Reading