Jorge Soler: Cubs' Theo Epstein Made Right Move Signing Cuban Prospect
June 11, 2012

Theo Epstein and the Chicago Cubs made headlines on Monday when they signed prized Cuban prospect Jorge Soler to a lengthy contract.
According to Jon Heyman of CBSSports.com, the Cubs won a bidding war that included the New York Yankees when they awarded Soler a nine-year, $30 million deal.
Right now, $30 million may seem like a lot, given the 20-year-old outfielder has yet to play in the United States. But, really, a little over $3 million per season is chump change in Major League Baseball, and Soler has the potential to be a true threat in the middle of the Cubs' lineup.
The first thing you need to know about Soler: He has tremendous power. As in, Giancarlo Stanton power. He also has a very strong arm in the outfield. And although he does have some holes in his swing and may never hit for a high average in the majors, his power and arm could very well make up for that.
Think Yoenis Cespedes (FYI: The Athletics signed Cespedes for four years and $36 million).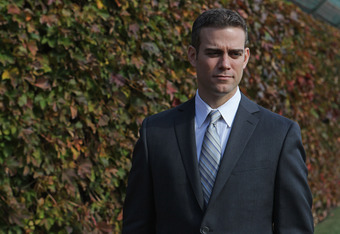 Jonathan Daniel/Getty Images
What makes this signing even better is the fact that there will be a cap on international spending starting next season. Teams will only be able to use $2.9 million per season for international prospects, per Yahoo! Sports.
Looking down the line, the potential combination of Soler and 2012 first-round draft pick Albert Almora could prove to be just the boost the historically wretched Cubs need. Epstein is gambling on potential, but if said potential develops like it should, it will pay off tremendously for Chicago.
Given the way Epstein changed history for the Boston Red Sox, Cubs fans need to be patient. It took him two years to make the Red Sox into World Series champions, and that's actually remarkably quick for a franchise that hadn't won a title in 86 years before emerging victorious in 2004.
The signing of Soler proves Epstein is building for a potentially bright future in Chicago. Championships don't come easy—they are developed.
Follow me on Twitter. We can talk about baseball together.