Greece vs Czech Republic: Preview, Key Players and Prediction for Tuesday's Tilt
June 11, 2012

Alex Grimm/Getty Images
Tuesday's match between Greece and the Czech Republic has huge implications for both sides in terms of their chances to advance to the knockout stages of the 2012 European Championship.
Greece was able to come away with a draw in its opening match against Poland in Warsaw, despite playing the majority of the match a man down. The Polish side looked in control, and it seemed they would start the tournament off with a win, but substitute Dimitris Salpingidis found the back of the net in the 51st minute to tie the game at one.
They came so close to grabbing three points, but Giorgos Karagounis was stuffed by Przemysław Tyton on a penalty shot.
The Czech Republic was taken behind the woodshed by Russia in its first match, falling in embarrassing fashion 4-1. Goalie Petr Cech said that his team will "play much more aggressively," according to UEFA.com.
They'll certainly need a better effort if they want to avoid being all but mathematically eliminated after their first two games.
Key Player for Greece: Kyriakos Papadopoulos
Sokratis Papastathopoulos is suspended for this one after being sent off against Poland on a controversial call, to say the least. Avraam Papadopoulos, another key defensive contributor for the Greeks, is out of the tournament with a knee injury. The two were part of a stalwart defense that allowed just five goals in the qualifying stage, so this is a huge blow to the back line.
That means Kyriakos Papadopoulos will need to step up for Greece. The 20-year-old finished second in the Bundesliga last season with 118 interceptions and will be looking to neutralize the Czech Republic offense in this match.
His inexperience sometimes causes him to get caught out of position, but if he stays at home tomorrow he'll be a huge part of a Greek win. He's exceptional when it comes to headed clearances, and all other clearances for that matter.
If he can avoid committing silly fouls near the box, Greece might have a blank slate after 90 minutes.
Key Player for Czech Republic: Tomas Rosicky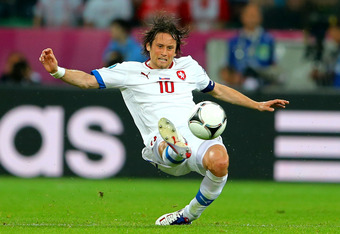 Christof Koepsel/Getty Images
Rosicky will need to lead the way for his teammates in the Czech Republic's effort to bounce back from a humiliating 4-1 loss to Russia in the opener. Not only will he have to convince his teammates that they can win, but he'll need his performance to reflect that.
The Czech's had a few chances against Russia, but they were unable to capitalize on most of them. Rosicky has to create for his teammates more than he has to make plays for himself.
He's not much of a finisher himself, but if he is able to facilitate for the rest of the Czech attack by way of creative passing and keeping possession, they'll have a chance to climb out of the hole the find themselves in.
Prediction: 2-1 Greece
Greece didn't win its last match, but grabbed a moral victory of sorts, as it was able to score a draw despite playing most of the match with 10 men.
The Czechs, on the other hand, suffered the most embarrassing loss of the tournament for any team thus far.
If Greece can notch an early goal, the Czech Republic is going to roll over for them.