Euro 2012: Why Netherlands vs. Germany Could Be the Best Match of Tournament
June 12, 2012

Laurence Griffiths/Getty Images
Germany and Netherlands didn't get off to quite the start each side was hoping for in their opening matches of Euro 2012.
Germany at least snuck out a 1-0 win over Portugal in their first Group B match. Netherlands fell to Denmark by the same score.
Both sides are among the favorites to make the final and lift the trophy next month, and they will face off against each other Wednesday afternoon (or evening, depending which side of the Atlantic you're watching from), and it is a must-watch match for anyone who fancies him/herself a football fan.
No. 3 vs. No. 4 is a special matchup in itself, and to see it in such an important game is a football fan's dream.
Had it been the first match of group play (like Spain vs. Italy or France vs. England), both sides likely would've come out a little too cagey and protective. The "a win is great, but as long as we don't lose" mentality can produce some disappointing football.
The third and final match might've seen both sides having already booked their spot in the quarterfinals, so they would've wanted to only avoid injury and rest key players.
But the middle match is always vital, and given their early results, it's more important than normal for these teams.
Both sides have it all to prove in this pivotal game, Netherlands especially.
Defense was always Holland's weakness coming into Euro 2012, and the Danes exploited it in a big way Saturday. Michael Krohn-Dehli got around Netherlands' back line all too easily, and despite it being near post, his powerful shot was too much for Maarten Stekelenburg to keep out.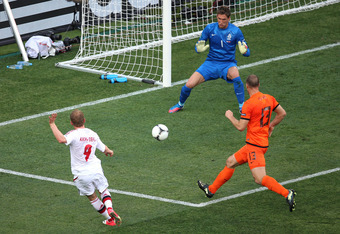 Julian Finney/Getty Images
The Danes had more opportunities as the game went on as well, and a much stronger German side won't waste so many chances on Wednesday.
Defense, however, wasn't Holland's biggest worry.
The Oranje dominated possession against the Danes, but for as little as they gave up the ball, they created few clear-cut chances. Robin van Persie missed a few good opportunities, and Arjen Robben took the selfish route more often than not, but the Dutch forwards did not force Danish keeper Stephan Andersen into enough saves.
For all the harping on Netherlands' poor finishing, the Germans were far from convincing themselves.
Portugal is a strong defensive side, and Joachim Loew's team had trouble breaking through until Mario Gomez's header in the 72nd minute. Much like the Dutch, Germany had all the possession but couldn't do much with it.
The good news for both these sides, and the fans, is that neither one of these teams will sit back and defend like their opponents did Saturday. Both teams will be going for broke and producing some end-to-end, riveting football.
Netherlands are fighting for their tournament lives in this match. Anything but a win could really kill their hopes of progressing. A loss definitely sends the partial favorites home early, but a draw means they would need to rely on beating Portugal and Denmark beating Germany in the final group game. Tough asks.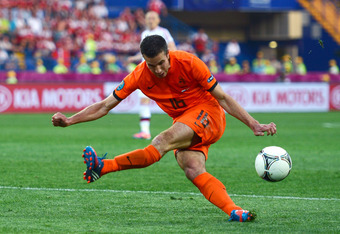 Lars Baron/Getty Images
Germany, meanwhile, are fighting to win Group B, an important title no doubt. The winner of Group B is placed on the opposite side of the quarterfinals draw as still-most-likely Group C winners and holders Spain. If you can avoid facing Spain before the final, do it.
Both teams have everything to play for Wednesday and are full of individual players with plenty to prove.
Robin van Persie took a lot of flak Saturday for his missed chances, and he's always been criticized by Dutch fans for failing to transfer his excellent club form to his national team. After his spectacular, goal-filled season with Arsenal, he better light up the scoreboards in Poland and Ukraine. Against one of the best teams in the world in Germany on Wednesday would be a great time to start. 
Meanwhile, players like Bastian Schweinsteiger, Arjen Robben, Mario Gomez, Wesley Sneijder and more are all hoping to make up for disappointing club seasons with a deep run at the Euros.
This match has all the makings of a classic, and there is no way it disappoints.