Omaha, Nebraska: The Next MLB, NBA or NHL Expansion City?
June 11, 2012

Many people who have never visited Omaha might associate certain words with the city: corn, cows, flat. Other words not often associated with the city are "urban," "sprawling" and "modern." Those who have been to Omaha know that the latter is closer to the truth.
Omaha happens to be home to five Fortune 500 company headquarters, two universities that participate in NCAA Division 1 athletics, and the hub of a metropolitan area of nearly one million people. You won't find many cornfields or cows without traveling well outside the city limits, much like most other urban areas of the country.
What you will find, however, is a rabid population of sports fans who show up in droves when it matters.
The first evidence of this can be found on a winter night inside downtown Omaha's CenturyLink Center, home to Creighton University men's basketball team. The Bluejays perform in front of over 13,000 in average attendance, often exceeding 17,000. This places them in the top 25 in national attendance year in and year out. That's not bad for a mid-major Missouri Valley team whose main rivals are Northern Iowa, Wichita State and Southern Illinois.
The University of Nebraska-Omaha Mavericks hockey team, who also call CenturyLink Center home, averages nearly 8,000 in attendance. That was good enough for fourth in the NCAA last season, trailing only tradition powers Wisconsin, North Dakota and Minnesota.
Basketball and hockey get Omaha sports fans through the winter, but it is baseball where Omaha shines brightest. The city has hosted the College World Series every year since 1950. Until last season, iconic Rosenblatt Stadium was home to college baseball's biggest stage, though the 24,505-seat TD Ameritrade Park is now where the College World Series calls home. For what it's worth, that stadium was designed to be expanded to 35,000 seats if ever needed. For the better part of two weeks, the city of Omaha and baseball fans around the country pack the stadium to capacity during every game of the series, making it the hottest ticket in town.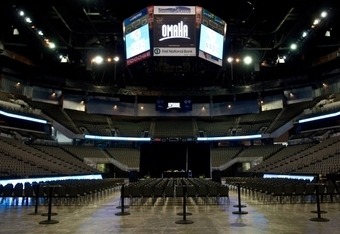 Now that we know what Omaha can do, let's take a look at what some cities with professional sports franchises cannot do: draw fans.
The Sacramento Kings, who once split time playing home games in both Omaha and Kansas City, drew just over 14,500 fans per game this season despite being the city's only major sports franchise, merely 1,500 more than Creighton's mid-major basketball team. Omaha can do better.
The Phoenix Coyotes averaged an NHL-worst 12,420 fans per game. In a city the size of Phoenix, that is unacceptable. Omaha can do better.
So far this year, the Cleveland Indians average a league-worst 16,620 per game. Even the Triple-A Omaha Storm Chasers (Royals) are able to draw over a third of that. Again, this is unacceptable, and Omaha can do better.
Outside of the unreasonable fear of relocating to a flyover state, I cannot think of a reason why you wouldn't want to put your franchise in a progressive city like Omaha. It seems to have worked out well for the Oklahoma City Thunder, whose home games are among the most exciting atmospheres in the NBA.
The bottom line is this: If the owners of struggling professional sports teams are looking for a market with passionate and dependable fans, they should look at Omaha, Nebraska. Centrally located, ready to expand, and full of enthusiasm, Omaha is open for business.