NBA Draft 2012: Predicting Where Each Kentucky Player Gets Drafted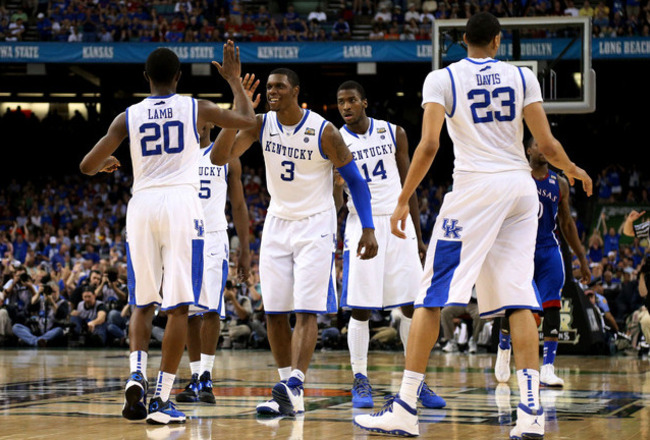 Ronald Martinez/Getty Images

The 2012 NBA draft is nearly upon us, and the school with the most prospects is the University of Kentucky. Six players are likely to hear their name called during the two-round event, but it is anyone's guess as to where they will be selected.
It is likely that Anthony Davis and Michael Kidd-Gilchrist will be drafted early, while the draft projections for Terrence Jones, Marquis Teague, Doron Lamb and Darius Miller vary wildly depending who you talk to. However, each player has certain skill sets and attitude characteristics that tend to match that of a select group of NBA teams.
Therefore, the following article will predict where each player will likely be drafted and how they fit with their new franchise. Be sure to comment on where you think each UK player is selected or where they would be the best fit. We will all find out in a few weeks!
Anthony Davis: No. 1 Pick, New Orleans Hornets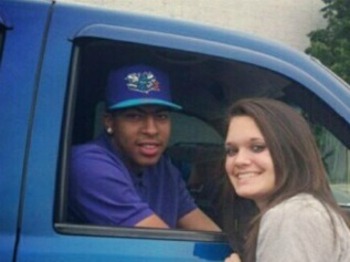 Davis already has his Hornets gear ready. Courtesy of www.DrJays.com
The one player who is certain of his draft destination is Anthony Davis. After completing one of the most decorated single seasons in college basketball history, Davis is the consensus first overall pick in the upcoming NBA draft.
For Davis, he will be selected first overall by the New Orleans Hornets, who won the NBA lottery and earned the right to draft Anthony. The team traded Chris Paul this past season, so it is in desperate need of a new young superstar to re-energize the Hornets fanbase.
Anthony Davis certainly fits that billing. Standing over 6'10" and possessing a 7'6" wingspan, he enters the NBA as a future Defensive Player of the Year candidate and should greatly improve the team's interior defense. Davis blocked 186 shots last season, averaging a smooth 4.7 swats per game and breaking the NCAA freshman record for blocks in a single year.
Playing next to Emeka Okafor, the Hornets center, will allow Davis to take chances on defense and provide excellent weakside help for the perimeter players. His long reach and springboard vertical jump will allow him to help on the boards as well, speeding up New Orleans' fast break.
On offense, Davis showed flashes of an excellent all-around game that was efficient and team-oriented. For most of the season, the majority of Davis' points came from lobs, dunks and tip-ins. As the season progressed, he began to develop a mid-range and long-range jump shot that was inconsistent but showed good form and patience. He also excelled in transition, using his elite agility and quickness to outrun opposing big men and finish with a dunk on the other hand.
In other words, Anthony Davis is the most tantalizing draft prospect and oozes with potential. His winning attitude and efficient play in college should translate well in the NBA. There is no doubt that the New Orleans Hornets will select Davis as the first overall pick in the draft, and he should flourish during his rookie year in the NBA.
Michael Kidd-Gilchrist: No. 3 Pick, Washington Wizards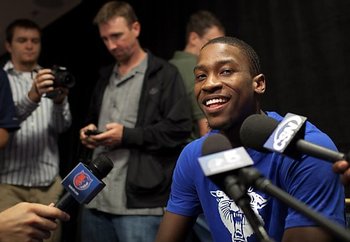 "MKG" is improving his media skills. Courtesy of www.feedage.com
There are two Cats who are guaranteed to be selected in the top four picks of the 2012 NBA draft. Anthony Davis is the obvious first choice, and Michael Kidd-Gilchrist is the other. His stellar play during his lone season at Kentucky has pro scouts buzzing, and his stock has soared into the stratosphere.
Many NBA draft experts believe that "MKG" is the consensus No. 2-overall prospect in the class. If that proves to be the case, then he will be selected by the Charlotte Bobcats as the second overall pick on draft night. He would join forces with Kemba Walker and Bismack Biyombo in trying to resurrect the Bobcats franchise.
However, there are signs that point to Charlotte going in another direction. Rumors came out days ago that the team was shopping the pick in exchange for a veteran swingman. If this proves to be the case, then it is likely that either Kidd-Gilchrist or Florida's Bradley Beal would be selected second overall, depending on the team's needs.
If Charlotte does not find a suitor, then it is more likely that it selects Beal or North Carolina forward Harrison Barnes. Both players project as pure scorers in the NBA, and Charlotte is in need of scoring output more than anything. The one weakness in Kidd-Gilchrist's game is his perimeter shooting, so those two players would be a better fit for Charlotte.
With that being said, this would work out wonderfully for Michael, as he would most certainly be taken by the Washington Wizards as the third-overall draft selection. This team has a young stud in John Wall, but he badly needs help around him.
Michael Kidd-Gilchrist would be the best possible pick for Washington, and he would fit like a glove on the roster. First and foremost, the team needs a strong leader who leaves it all on the court each and every game. This is the best aspect of Kidd-Gilchrist's game, as he possesses a motor that never quits and is always hustling after loose balls, deflecting passes, challenging opponents' shots and making plays in transition.
The Wizards also need a player who can do it all on the court, leaving their imprint on every column of the stat sheet. This is yet another area where Michael shines. See below for his statistics from last season at Kentucky:
| | | | | | | | | | |
| --- | --- | --- | --- | --- | --- | --- | --- | --- | --- |
| PTS | REB | AST | STL | BLK | FG% | 3-PT% | FT% | TOV | PF |
| 11.7 | 7.4 | 1.9 | 1.0 | 0.9 | .491 | .255 | .745 | 2.2 | 2.4 |
Keep in mind that he was only a freshman in college when he posted these numbers. He impacts the game in a number of different ways.
His offensive strengths are scoring in transition, attacking the rim, rebounding and shooting free throws. In other words, Michael excels at attacking the defense and drawing fouls. He also possesses great upper body strength and can finish through contact, often converting three-point plays with his above-average free throw shooting.
Most of all, Kidd-Gilchrist excels on defense, using his size and versatility to steal passes and block shots. His 6'7" frame allows him to guard multiple positions, and his quickness and length makes him an elite all-around defender capable of shutting down the opponents' best perimeter player. Michael also averaged under three fouls per game, ensuring that he remained in the game and was not a liability on the defensive end.
Of course, the one area of major improvement needs to be his perimeter shot, as evidenced in the table above. For a player who works as hard as he does, surely Michael Kidd-Gilchrist can improve and become an average shooter from beyond the arc.
Otherwise, he possesses everything that the Wizards covet in a player and would be a fantastic choice. Pairing him with John Wall will give them a scary fast break combination that will outrun most teams in transition, while also providing plenty of highlight plays for the fans. This would be an ideal situation for Kidd-Gilchrist.
Terrence Jones: No. 17 Pick, Dallas Mavericks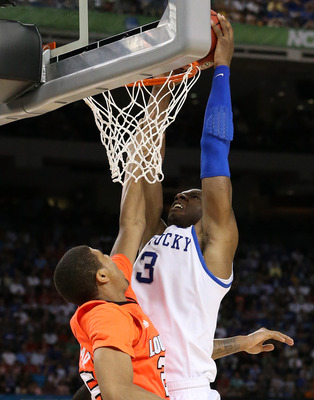 Terrence Jones has plenty of potential, but also scares teams because of his complacency.
Ronald Martinez/Getty Images
Once Anthony Davis and Michael Kidd-Gilchrist are off the board, then the rest of the draft for Kentucky players becomes a crapshoot. There is no consensus on any of the remaining prospects, and Terrence Jones might be the most divisive of them all.
On one hand, Jones possesses an excellent NBA body, standing 6'9" and weighing over 250 pounds. He has the bulk and strength to bang with professional power forwards, yet his ball handling and shooting touch also enable him to play as a small forward.
However, this is also a potential downfall of Jones: he is a certified "tweener." Terrence is not tall enough to become a dominant NBA power forward, yet he is too slow and inconsistent on the perimeter to become a team's long-term starting small forward. He has skills that works for both positions, but scouts are torn on where he will truly excel as a professional.
This is why I have Terrence Jones slipping to the 17th-overall pick. He has the talent to be selected in the lottery, and a team looking for a Lamar Odom-type player could very well fall in love with him and select him earlier. However, I believe that he falls to the 17th-overall selection and is taken by the Dallas Mavericks.
One reason that I have Jones falling is the teams that pick ahead of Dallas. Milwaukee, Phoenix, Houston and Philadelphia all select right before the Mavericks. Of those teams, only Houston lacks a need at the power forward position. However, they are more likely to select from a pool of talented players such as Jared Sullinger, Meyers Leonard, Arnett Moultrie and John Henson, all of whom could likely be taken before Jones.
With that being said, falling to Dallas could be a blessing in disguise for Terrence. The team plays in the physical Western Conference and is badly in need of a physical post presence. With his strength and size, Jones would give the team a talented big who can either face up or post up his man on the block.
He is also an underrated shot blocker and possesses long arms and great timing on block attempts. Dallas lost Tyson Chandler last offseason and is in need of a better defensive presence down low, which again tailors to Jones' strong suits.
At the same time, the Mavericks love to shoot from the perimeter and cherish players who can play multiple positions. Yet again, this caters to Jones, and he could become an excellent backup to Dirk Nowitzki, or even play effectively next to him.
One more interesting factor is Terrence Jones' best NBA comparison—Lamar Odom. Dallas signed Odom last season and dreamed of him playing alongside Dirk and Shawn Marion. However, Odom checked out mentally and was dismissed from the team.
By drafting Terrence Jones, they select a player who plays very similarly to Odom and has a near-identical skill set and physical frame. They can groom him slowly and allow him proper time to adjust to the NBA, and learning from a perimeter oriented big man like Nowitzki would be a great benefit to Jones' development.
In short, Jones would like to be selected higher but would actually land in a great situation by going to the Dallas Mavericks.
Doron Lamb: No. 22 Pick, Boston Celtics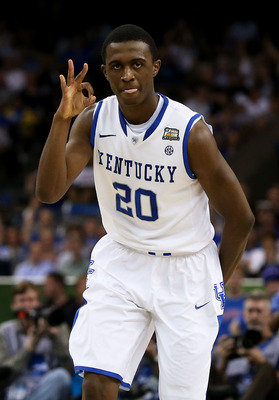 Could Doron Lamb Replace Ray Allen in Boston?
Jeff Gross/Getty Images
Doron Lamb is an interesting case in this draft. On one hand, he is a 6'4" combo guard who shoots lights out from the perimeter, has an excellent mid-range jump shot, is skilled at attacking the rim and hit clutch shot after clutch shot during Kentucky's NCAA championship run.
For a team looking for a guard, there is not much to dislike about Doron Lamb. He even played effectively at backup point guard for the Wildcats during his two-year stay at Kentucky, and he improved immensely as a defender.
However, his draft stock does not have him anywhere near the lottery and seems to be slipping near the end of the first round with each new mock draft. For a player who possesses so many skills and was such a vital piece to Kentucky's success, it is surprising that teams are not clamoring for a chance to draft Lamb.
With that being said, I do expect teams to think somewhat rationally during the draft, and there will be playoff teams who are in desperate need of bench scoring and perimeter shooting. Lamb enters the NBA draft as arguably the best long-range threat in the entire class. He leaves Kentucky as the school's all-time leader in three-point percentage, connecting on .475 percent of his long-distance attempts.
In fact, he projects extremely well as an effective all-around scorer in the NBA. Refer to his career college statistics below:
| | | | | | | | | |
| --- | --- | --- | --- | --- | --- | --- | --- | --- |
| PTS | REB | AST | STL | FG% | 3-PT% | FT% | TOV | PF |
| 13.1 | 2.3 | 1.6 | 0.5 | .485 | .475 | .811 | 1.2 | 2.0 |
This is the kind of player that the Boston Celtics are very familiar with and could be looking to add to their roster. They have had Ray Allen on their roster for years, but he is declining and will either play a smaller role next season or could be traded from the team altogether.
Why not replace Allen with the draft's best scorer from mid-range and long range? The team lacks scoring off of the bench and badly needs a talent upgrade at the guard position. Lamb comes in and instantly provides a scoring punch off the bench as a sixth man. He could also substitute for Rajon Rondo and provide quality minutes as a backup point guard.
In fact, Lamb would form a potent future backcourt with Boston's lone talented guard prospect, Avery Bradley. He sparked Boston during the latter part of the season and excels on defense. Combined with Lamb's effectiveness on the offensive end, the Celtics could have a complementary duo that could completely shift the momentum of a game.
Boston would be a fantastic landing spot for Doron Lamb, and his skill set would be a perfect match for what the Celtics like to do on offense. This would be a wonderful pick for Lamb and for Boston.
Marquis Teague: No. 27, Miami Heat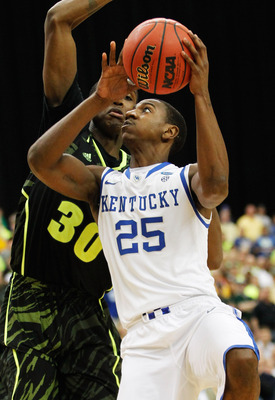 Teague, LeBron and Wade would form a scary fast break trio
Streeter Lecka/Getty Images
Marquis Teague could become one of the draft's biggest steals if he slips this far in the first round. He has as much pure talent as a lottery pick, but unfortunately he is in a deep draft and had a heavily scrutinized freshman season at Kentucky that decreased his draft stock.
Entering the 2012 NBA draft, Teague is the consensus third-best point guard prospect, trailing behind Kendall Marshall and Damian Lillard. Both players are fantastic in their own right, but so is Teague.
As the season progressed, Marquis continued to improve his basketball IQ and team leadership. By the end of the season, he led the SEC in assists and greatly decreased his turnovers. By the time that the NCAA tournament started, Teague was rolling and led his team all the way to the national championship.
In fact, he hit some of the biggest shots of the season in the title game against Kansas, including a dagger three-point shot when the Jayhawks were threatening to make a comeback. Teague also repeatedly burned Kansas by converting easy layups inside.
Regardless of your opinion about Marquis Teague, he is the only point guard in the draft who has a national championship ring, and he could bring that success to a squad that badly needs to win a NBA championship in the Miami Heat.
The Heat are looking for a long-term solution at point guard to pair up with superstars LeBron James and Dwyane Wade. They currently have Mario Chalmers and Norris Cole as their point guards, but neither has gone out and taken the starting job for good. Chalmers is a spot starter at best, while Cole is more effective off the bench as a change-of-pace guard.
Drafting Teague would be a steal for the team so late in the draft. First of all, his athleticism, quickness and agility are unmatched by any point guard available in this draft. Teague is extremely fast and is a blur when driving to the rim and when leading fast-break opportunities. He showed that he could finish at the rim on a consistent basis, keeping the defense on its heels with his cutting ability.
In addition to his driving skills, Marquis made great strides as a shooter throughout the year. Early on, his jumper made the crowd cringe in fear of a miss. However, his jumper is what kept the team alive at critical junctures during the NCAA tournament, especially in the title game. He shoots with confidence and improved all season long from three-point range.
Combining Teague's elite athleticism and speed with that of LeBron and Wade could form a matchup nightmare for opposing NBA backcourts. Playing for Miami would have Teague playing for the NBA title from day one, and he could be a key ingredient in keying a Heat dynasty.
Darius Miller, No. 34, Cleveland Cavaliers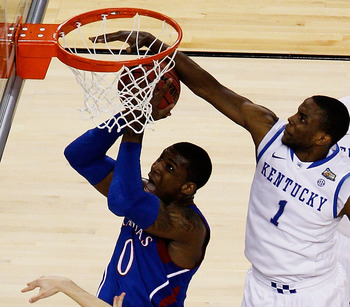 Darius Miller could solve the Warriors' problems at small forward
Chris Graythen/Getty Images
Of all of the Wildcat players looking to get drafted, Miller is the lone senior of the entire group. He played all four seasons at the University of Kentucky, and he leaves the school as a fan favorite and a national champion. He was a key player during each season, especially so during the 2012 title run.
Despite his talents and physical gifts, Darius never took the reigns and became a superstar at Kentucky. Rather, he seemed more comfortable as a super-role player, hitting timely shots, making an important block or hitting clutch free throws down the stretch of a rivalry game.
Miller finally received national praise during his senior season at UK, and he now appears primed to become a late first- or early second-round draft pick in the 2012 NBA draft. There are many teams who could use his services, and the Cleveland Cavaliers are one of them.
Cleveland is devoid of leadership and young talent, and Darius Miller can provide both of these attributes to the team. They also lack a strong player at the small forward position, which is Darius' natural position. He stands 6'7" and is equally effective in the post and from long range.
Also, Darius became an excellent defender during his final two seasons at Kentucky and will be a great weapon for coaches to utilize on that end of the floor. He has the versatility, length and strength to guard four positions on the floor, which will be invaluable to Cleveland's improvement on defense next season. In fact, Darius averaged close to one steal and one block per game for his entire college career. These are skills that NBA teams covet in a player.
Cleveland would be a good spot for Darius to land, as it is a small market town without a lot of media or fan pressure. Miller could completely focus on his role with the team, and playing next to Kyrie Irving and Tristan Thompson doesn't hurt matters. The Cavaliers are a team on the rise, and it would be a great opportunity for Miller if they decide to take him in the draft.
Keep Reading

Kentucky Wildcats Basketball: Like this team?