France vs. England: 6 Things Learned About France in Euro 2012 Group D Opener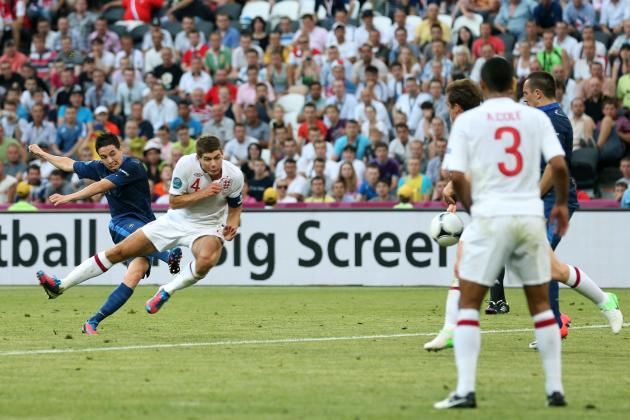 Scott Heavey/Getty Images

Possession and chances alone will tell you that France have a better chance to win Euro 2012 than England do, despite their 1-1 draw in the opening Group D match in Donetsk, Ukraine.
It was Roy Hodgson's Three Lions who got off to the better start however, with Manchester City centre-back Joleon Lescott thumping home a brilliant header on 30 minutes.
But the lead only lasted nine minutes, with Lescott's teammate in the Premier League, Samir Nasri, smashing home an excellent long-range drive from 20 yards.
Both sides before the game would've taken a draw, and having ended that way the group—and both teams' chances—remains very much alive.
Here are six things learned about France in their 1-1 tie with England.
Begin Slideshow

»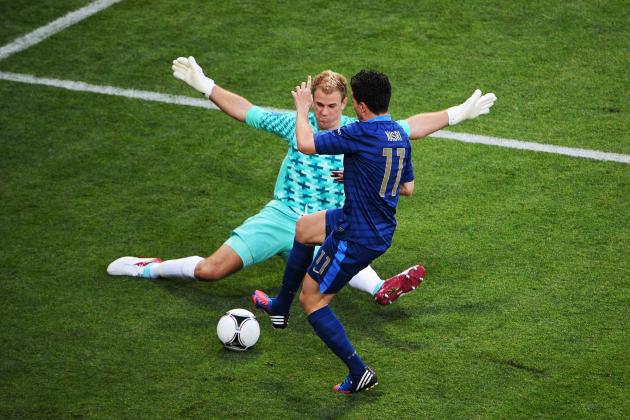 Lars Baron/Getty Images

France will be a threat at Euro 2012 this summer—it was evident before the game, and now even more so after it.
Manager Laurent Blanc has gone 22 games undefeated as boss of Les Bleus, with the team's more fluid and attacking style making the French a much more dominant side—something they were anything but at the 2010 World Cup.
Against England they had 64 percent possession, 21 shots on goal and a pass success rate of 92 percent, having sprayed around 654 passes.
Their opponents, on the other hand, had just five shots and a pass success rate of 83 percent despite hitting a whopping 309 fewer passes.
And in terms of the competition in general, Blanc's team had the highest pass success rate, the second highest amount of possession and the second highest amount of shots on goal.
A slick passing unit with strong firepower up front, Les Bleus will certainly be making an impression in Poland and Ukraine this summer.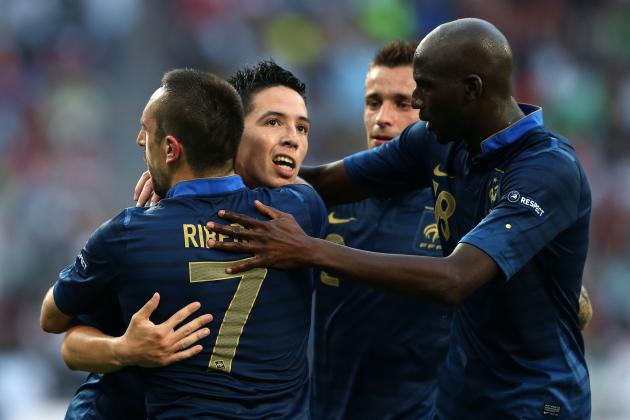 Scott Heavey/Getty Images

France's fluid, interlinking attacking trio of centre-forward Karim Benzema and wingers Samir Nasri and Franck Ribery will undoubtedly have a great Euro 2012.
The three were big threats against England, with both Benzema and Ribery somewhat unlucky not to join Nasri on the scoresheet.
Real Madrid striker Benzema had some great goalscoring chances, and was unfortunate not to win it at the end when his powerful long-range effort was saved just in time by Joe Hart.
While the two wingers showed excellent creativity and with 14 key passes between them, they could've racked up a ton of assists had it not been for poor finishing from the team all-round and some stellar English defending.
The signs are looking good for France, and even better for this trio.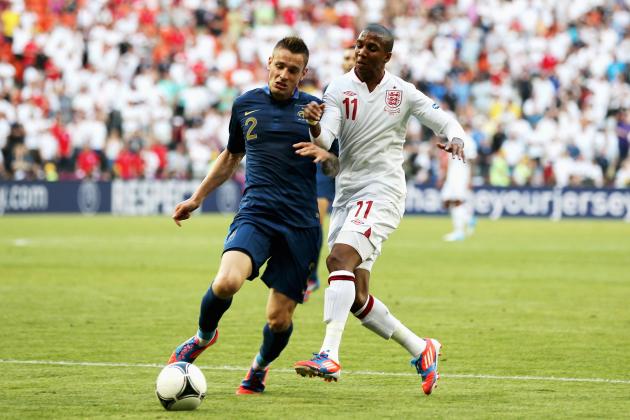 Ian Walton/Getty Images

Linked with a move to either Manchester United or Newcastle United, it seems certain that right-back Mathieu Debuchy will leave his club, Lille OSC, this summer.
After all, the defender has had a great campaign in Ligue 1 this season and has followed that up with some outstanding displays for his country in recent matches.
Against the English, Debuchy was a great attacking threat for his team on the right wing, linking up well with Samir Nasri to create spaces in the final third and the opportunity for some dangerous crosses.
He was caught out slightly in defence position-wise, but tracked back adequately and put in decent tackles when needed.
If he can prevent getting caught out by opposition wingers on a few occasions and make more interceptions by blocking crosses, Debuchy is the right-back to watch at Euro 2012.
But improved defensive performances or not, the 26-year-old will certainly be in demand in this summer's transfer window and almost definitely won't be at Lille come the end of August.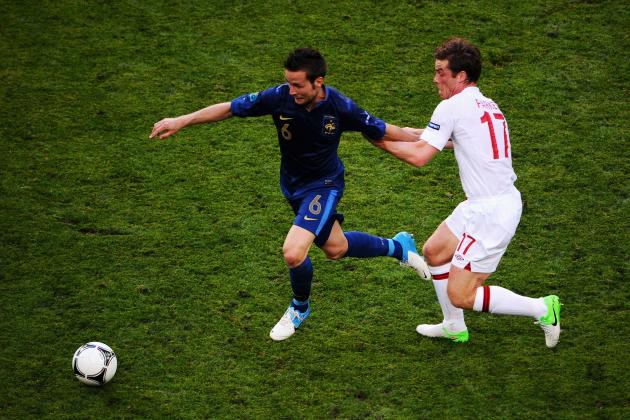 Lars Baron/Getty Images

As he's proved all season in the Premier League, Yohan Cabaye is the complete central midfielder.
Against England he tracked back, he tackled, he intercepted, he spread the play brilliantly, he set up teammates and he had a few good shots himself—including one powerful long-range beauty that would've no doubt put his team 2-1 up had Danny Welbeck not made a vital deflection.
Ahead of Euro 2012 there were a lot of admiring glances from bigger clubs in Cabaye's direction, but having replicated his performances at club level on the biggest stage at international level, his employers Newcastle United will find it difficult to keep hold of him, especially if Manchester United or Arsenal, who are both linked with Cabaye, decide to make an offer for the 26-year-old.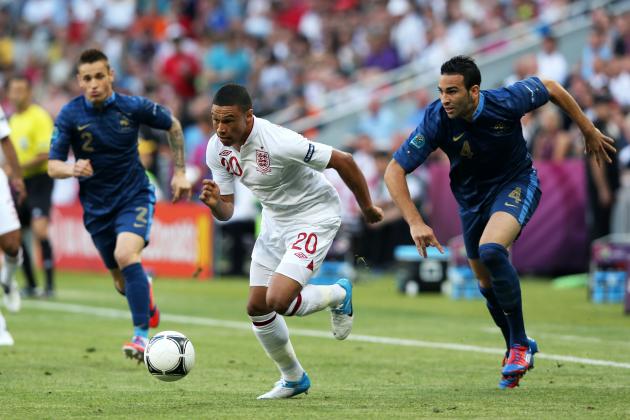 Ian Walton/Getty Images

For all their attacking might, France are not without their weaknesses, and a major concern for Laurent Blanc is at centre-back.
Whilst Philippe Mexes is generally a consistent option for Les Bleus, Adil Rami is anything but. As the Valencia CF defender showed against England, his idiosyncratic performances have the potential to be quite deleterious.
The centre-back was beaten for pace and caught out positionally a number of times, while his reading of England's front line was completely off.
Compared to his partner in central defence, Rami was a complete rookie, reflected in the fact that he made no successful clearances—Mexes made nine.
The only good things Rami did was make a decent tackle and get in the way of two shots.
If France are going to go all the way this summer, they'll need much more from their second centre-back.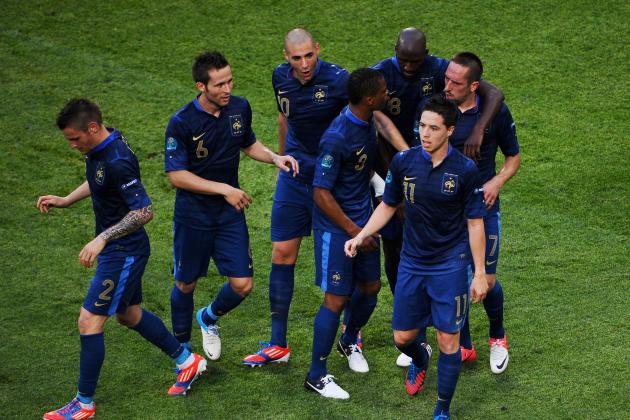 Lars Baron/Getty Images

If one thing is clear in Group D, it's that France will top it.
Both Les Bleus and England are expected to beat Sweden and Ukraine, and if there's any team who's more likely to do that, it's France.
And even if both teams do win their next two matches and end up with seven points, it's safe to say that the French have more attacking firepower and thus are a safer bet to rack up a higher goal tally, as proven by their far greater number of goalscoring chances in the 1-1 draw.
So don't bet on France topping Group D—the odds are very much in their favour.