Ervin Santana: Los Angeles Angels SP Earns AL Worst of the Night Award
June 11, 2012

Dustin Bradford/Getty Images
Sabermetrics geeks love to argue that wins are pointless. If you really want to know how good a given pitcher is, the last thing you want to look at is his win-loss record.
On Sunday in Colorado, Los Angeles Angels starter Ervin Santana did his best to prove that the sabermetrics geeks have a point.
At the end of the day, Santana walked away with a win over the Rockies, his third of the season. The fact that he won the ballgame, however, is an absolute joke. Santana did everything in his power to lose it.
As he usually is, Santana was awful against the Rockies. He lasted 5.2 innings, giving up seven earned runs on nine hits and a walk. Two of the nine hits Santana gave up left the ballpark.
Both of those came with two out in the bottom of the second inning, after Santana had been given a 6-1 lead. Tyler Colvin blasted a three-run home run to center to cut the Angels' lead to 6-4, and Carlos Gonzalez would ultimately follow that up with a two-run home run to tie the score at 6-6.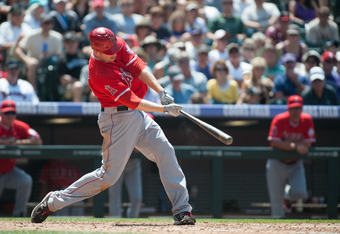 Dustin Bradford/Getty Images
It's a good thing the Angels have Mark Trumbo. He hit his second three-run home run of the game in the fourth inning, and it gave the Angels a 9-6 lead that they wouldn't relinquish.
Santana ended up giving one of those runs back, however, as Marco Scutaro's sacrifice fly in the fourth led to the seventh earned run charged to Santana.
When the book was closed on Santana, his line looked like this: 5.2 IP, 9 H, 7 R, 7 ER, 2 HR, 1 BB, 3 SO. He threw 84 pitches, 57 for strikes.
MLB.com has the full video highlights.
Despite the fact Santana walked away with a win, his ERA jumped from 5.33 to 5.74, and his WHIP jumped from 1.44 to 1.46.
Ready for the key sabermetric stats?
Very well. Here we go.
According to FanGraphs, Santana's FIP (essentially a figure representing what a given pitcher's ERA should look like) is 6.04. That's the highest mark among all qualified major league starting pitchers.
Santana's WAR (you know what WAR is by now) is -0.6, lowest among all qualified starting pitchers in baseball.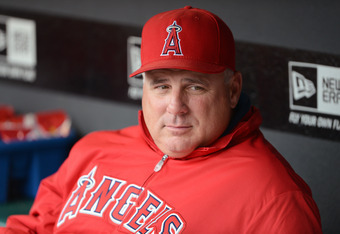 Jason Miller/Getty Images
So, statistically, Santana is the worst pitcher in baseball right now. The win he earned on Sunday doesn't change that. If anything, Santana went from being bad to being even worse.
At the rate he's going, Santana may not be long for Mike Scioscia's starting rotation. A demotion of some sort could come any day.
Since I may not get another chance, I'm bestowing American League "Worst of the Night" honors on Santana. Unlike most other "Worst of the Night" winners, Santana is getting the award for both a bad performance and a full season's worth of suckitude.
It's sort of like a lifetime achievement award, except not.
If you ever want to nominate somebody for American League "Worst of the Night" honors, hit me up on Twitter.