France vs. England: 5 Things We Learned About the Three Lions from the Opener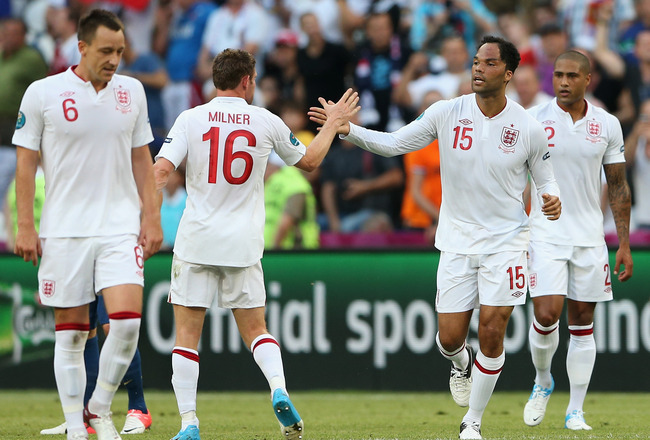 Scott Heavey/Getty Images
In the opening match of Euro 2012 for England, no one quite knew what to expect from this Three Lions side.
After all, it was the first match at a major tournament for Roy Hodgson, who took over the role as coach less than a month ago.
In the end, the performance was solid and sets up well for the rest of the tournament.
Here are the five things we learned about the England team from the opening draw against France in Donetsk, Ukraine.
The Defense Is Quite Strong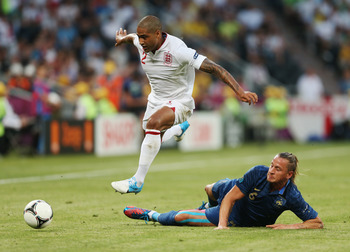 Scott Heavey/Getty Images
Defensively, England proved to be quite a strong side.
Despite the French having 65 percent of possession and over four times as many shots as England, the defense neutralized the French attack and made their chances as tough as possible. In fact, it seemed as though France was left with the same amount of good chances as England.
For me, the star of defense was Glen Johnson, whose play on the right was inspired.
Steven Gerrard Is the Captain England Needs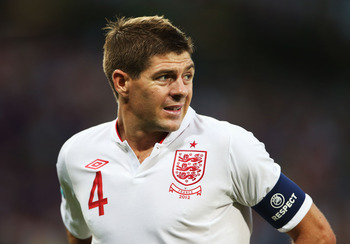 Scott Heavey/Getty Images
Look, we all knew Steven Gerrard has the ability to be a great captain from his time with Liverpool.
The only knock on him heading into this tournament was the amount of injuries he has suffered and been prone to over the past few years.
Will he be in form enough to be a leader for this team?
From defending in the box to providing the inch-perfect free kick that scored the goal, Captain Fantastic proved that he is the right person for the job.
Not only is he the captain, he will be the most important player in the next match, where a result against Sweden is vital.
Wayne Rooney Is Missed in Attack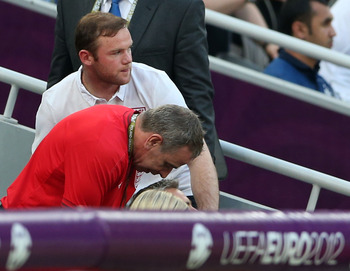 Scott Heavey/Getty Images
From James Milner's miss of an open net to Danny Welbeck's play alone up top, it was clear that England missed their current top scorer.
Don't get me wrong: Welbeck did very well considering his isolation; however, the attack clearly will be much more of a threat when Rooney returns.
Hopefully England can rely on more set-piece goals against Sweden before Rooney's return against Ukraine.
England Lost Their Way at Some Point in the First Half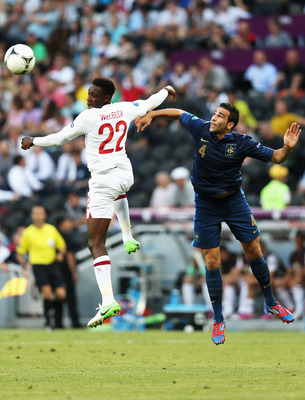 Julian Finney/Getty Images
A draw is a very good result for England, but it seemed like it could have been much more from the first half hour of the match.
In that time, France still had the better of the ball and possession, but England were creating chances and seemed poised for more goals than just the one they got.
After their goal, though, the Three Lions seemed to lose their way, collapsing into a shell that saw them get the draw.
Again, this was a good result and very satisfactory; for a while there, it just seemed like they might get more than a point.
England Are Well Set Up, but Face a Big Match Against Sweden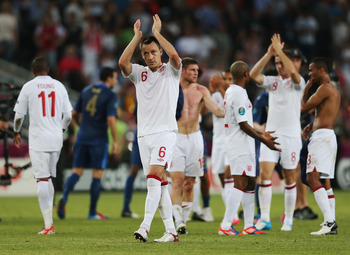 Julian Finney/Getty Images
This draw is a big result for England, as France are their biggest competition on paper.
However, England are not out of the woods yet, as they are still without Rooney for the next match with Sweden.
A loss in that match could well end any chances they have of progressing through the group.
Thus, some optimism should be taken from this match, but just very cautious optimism.
For more news on England and Euro 2012, follow me on Twitter: @Fw1812
Keep Reading

England (National Football): Like this team?