Tiger Woods: Why Tiger Is Doomed to Fail at Olympic Club
June 11, 2012

Scott Halleran/Getty Images
Tiger Woods' win last week at The Memorial has everyone thinking that his four-year drought in major tournaments will come to a close this week. But, isn't that exactly what happened before the Masters earlier this season?
Woods won the Arnold Palmer Invitational, and then a week later posted a career-worst five over in Augusta. He went from first to 40th in a matter of days, and he is just as capable of repeating that inconsistent pattern as winning two tournaments in a row.
Before his victory last week, Woods placed 40th in the Masters, missed the cut at Wells Fargo, and placed 40th at The Players. It easily could be considered the worst three-tournament stretch of his career, so anyone claiming Tiger found his stroke, sorry, I'm not buying it.
Tiger has made tremendous strides in his game this year, I cannot argue there, but to say that he is the "Tiger of Old" is not yet justified.
The U.S. Open at Olympic Club will be just as difficult as every other U.S. Open in history—there will be minimal scores in red, and as Tiger recently said, "It's going to be one heck of a test."
The U.S. Open is notorious for its narrow fairways, making accuracy from the tee box a must for players in the tournament. NBC analyst Johnny Miller says it will be one of the most difficult driving courses in the major's 112-year history.
This directly plays against Tiger's game. He has always struggled with his driver, even when playing at his very best. There is also a stretch of three par-fours measuring at 520, 498, and 490 yards, mandating the need for a long, straight drive. Will Tiger try and overdo it? I'm guessing we are going to see a few of those one-armed follow-throughs.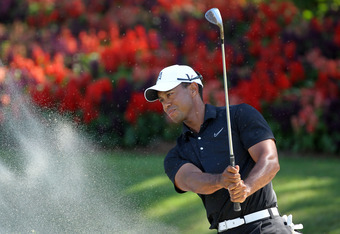 Andy Lyons/Getty Images
The spotlight is on Woods every single week of the year, but it is after he plays exceptionally well that people begin to really bombard the superstar. People are waiting to see Woods climb out of the hole he dug back in 2009. 
People want to see the untouchable red shirt on a Sunday afternoon. They want to see the swoosh on his ball drop in the cup for a 20-foot birdie; the fury and triumph of his punch into the air, like he is sending a message to the Gods above.
All the cylinders will have to click for Tiger to win his 15th career major. He is going to have to repeat last week's performance, stay out of the rough, and stay calm through the frustrating opening six holes of each round.
The trend over the last four years says he will not do it, that he is going to stay the "Tiger of new." He might be capable of playing well, on the verge of breaking the pattern, but this time around, it is just not going to happen.