NBA Rumors: Why Andre Iguodala Is Better Fit Than Rudy Gay for Toronto Raptors
June 11, 2012

Jonathan Daniel/Getty Images
There are rumors that the Toronto Raptors are looking to make a significant upgrade at small forward, and that they are looking into acquiring Rudy Gay or Andre Iguodala. 
Considering that the small forwards currently on their roster are Alan Anderson, Linas Kleiza and James Johnson, it makes perfect sense that the Raptors are looking to improve at the 3.
Gay, who many assumed would be on the trading block this offseason, led the Memphis Grizzlies in scoring last year, averaging 19 points per game. He also helped the team's rebounding effort, hauling in 6.4 per game to go along with 2.3 assists and 1.5 steals.
Iguodala is not the scorer that Gay is, but is better at distributing the ball to his teammates. Last season, Iggy averaged 12 points, 6.1 rebounds and 5.5 assists per game. 
Grizzlies owner Michael Heisley said the following about trading Gay to the Commercial Appeal in Memphis:
We're not looking to trade Rudy Gay. We're not shopping him around. Period. Do we sit around and say, 'What if we traded Rudy, who could we get?' No. Right now, Rudy is part of the future of this team.
How honest you believe that statement to be is up to you, but it is unlikely that Heisley would have made a public statement about trading Gay in case a deal didn't end up getting completed. 
Gay is one of the best wing scorers in the league, and his scoring would help the to improve what was one of the worst offenses in the NBA last season.
The Raptors finished 28th in the league in scoring, averaging just 90.7 points per contest. Part of the reason for Toronto's ineptitude on offense stemmed from the fact that leading scorer, Andrea Bargnani, missed more than half the season due to a calf injury. 
If the Raptors were able to keep Bargnani on the team, and managed to bring in Gay then the offense would be much better next season. That being said, the Raptors would be better off trying to acquire Iguodala rather than Gay.
Iguodala is a far better defender, which means he would be a perfect fit on the defensive-minded Raptors. He is also proven that he can be a leader on a hard-nosed defensive team, as evidenced by his play in Philadelphia over the past few years.
Iguodala is also a bit cheaper than Gay, as the latter is owed $53.6 million dollars over the next three seasons, while Iguodala is owed $14.7 million dollars next season and has a player option for the 2013-2014 season. 
In today's NBA, teams that tend to be more frugal will be the ones that are rewarded in the long run. This is something that the Raptors should keep in mind as they make the decisions that will decide the future of their franchise. 
From the time that he was hired, Raptors coach Dwane Casey planned on putting a defensive stamp on this team.
In Casey's first season, the team finished the season ranked ninth in scoring defense, allowing 94 points per game.
Considering that the Raptors finished 26th in scoring defense the year prior and allowed an average of 105.4 points a game, Casey should be praised for his quick work in turning around the team's defensive efforts.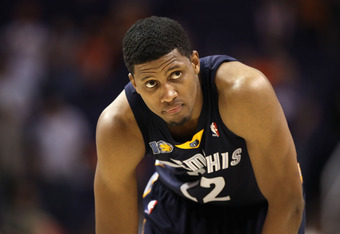 Christian Petersen/Getty Images
If the Raptors are serious about continuing to improve on the defensive end of the floor, then they should target Iguodala over Gay.
Iguodala is older than Gay by a few years and should be available at a cheaper price via trade. The Raptors might be able to land Iguodala by sending the Sixers the eighth overall selection in this year's draft, starting point guard Jose Calderon and power forward Ed Davis. 
It is nice to see that the Raptors are finally being aggressive in hopes of acquiring a true impact player.
Although pulling off a deal to land Iguodala or Gay would require their first-round pick, Ed Davis and another piece, it is a far better option than picking a player that they don't love at eighth and failing to develop him properly. 
The Raptors are going all-in to acquire a difference maker at small forward and bringing in Iguodala would be a decision that general manager Bryan Colangelo won't soon regret.