US Open Favorites 2012: Tiger Woods and 8 Players Who Will Contend on Sunday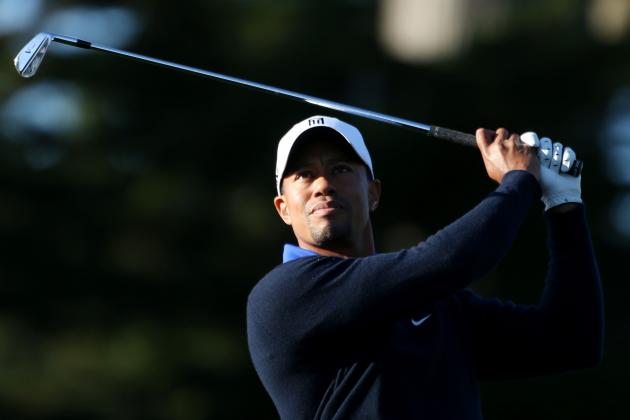 Andrew Redington/Getty Images
Tiger Woods
When 156 of the world's best amateur and professional golfers tee it up at the 112th US Open at the Olympic Club in San Francisco this week, all of the biggest names in the sport will be in attendance to stake their claim for one of golf's greatest prizes.
The pairings for the first two rounds have already been well-publicized, with three-time US Open champion Tiger Woods in the marquee group alongside four-time major champion Phil Mickelson and reigning Masters champion Bubba Watson.
The three best players in the world—according to the Official World Golf Ranking—will assemble in another high profile threesome. Defending US Open champion and the world's No. 2 player, Rory McIlroy, will play with Luke Donald, the No. 1 player in the world, and the No. 3 ranked player, Lee Westwood.
The Lake Course at the Olympic Club, which has hosted four other US Opens, should provide a stern test that will keep scores in check throughout the tournament.
Here is a rundown of nine players who will be in contention on Sunday at the 2012 US Open.
Begin Slideshow

»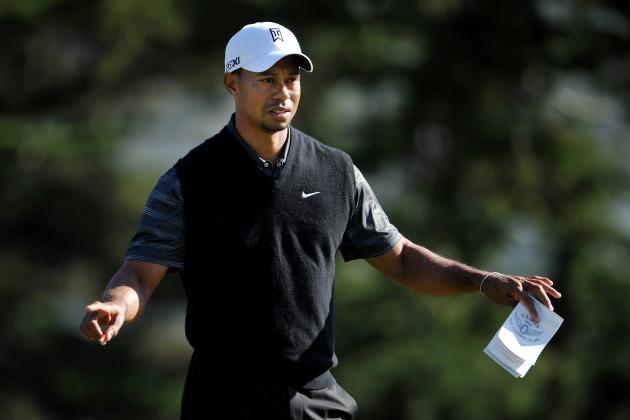 Stuart Franklin/Getty Images

Two weeks before Tiger Woods teed it up at Augusta in the season's first major championship—the Masters Tournament—he won the Arnold Palmer Invitational by five shots.
At the Masters, Tiger was considered a favorite, largely because of his outstanding effort at Bay Hill. But he failed miserably, posting his worst quest for a green jacket ever at T-40.
Fast forward a couple months, and two weeks before Tiger tees it up at the Olympic Club in the second major of 2012, he won the Memorial Tournament.
But don't expect a debacle like his Masters showing this week.
While Tiger's game still has moments of inconsistency—because he really is human—he's at a good place right now, playing his best golf in several years. His PGA Tour performance stats alone tell the story: first in Total Driving, first in Ball Striking, third in Scoring Average and seventh in Greens in Regulation.
That will be a recipe for success on the Lake Course, and I expect Tiger to be in the mix for his fourth US Open championship on Sunday.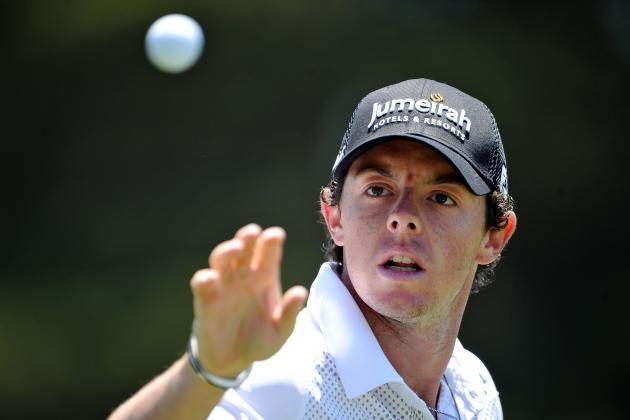 Stuart Franklin/Getty Images

Let's just make one thing perfectly clear right now. Rory McIlroy will not win this year's US Open by eight shots. Nor will he be 16-under-par when all is said and done.
OK, that was two things but the bottom line is McIlroy, the No. 2 ranked player in the world who dominated last year's US Open at Congressional, will struggle to keep his score around par unless his game improves in a hurry.
Sure, he was in contention at last week's FedEx St. Jude Classic, finishing T-7 after rounds of 68, 65, 72 and 69, but he missed three consecutive cuts prior to that event and would certainly agree he isn't playing his best golf heading into the year's second major championship.
Still, McIlroy has immense talent—enough to make his presence felt at the Olympic Club—and he'll find a way to pull himself together to make a decent showing in defense of his US Open title.
Look for him to be within striking distance on Sunday.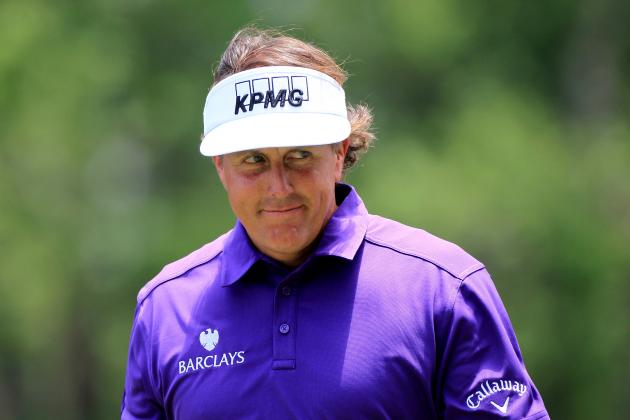 Sam Greenwood/Getty Images

If there is a sentimental favorite at this year's US Open, it's Phil Mickelson.
Lefty is one of the most popular players on the PGA Tour to begin with, but when you factor in his ongoing quest for a first US Open title, it's all the more difficult not to pull for him in this instance.
Mickelson has finished in second place at this major five times, so anything other than a win here will be a disappointment. He won't be satisfied with a good showing—he only wants to walk away from the Olympic Club with the title of US Open champion.
His remarkable career has already earned him a spot in the World Golf Hall of Fame, but it's a career that won't be complete without the major championship that has eluded him thus far.
Mickelson's coming off a WD at the Memorial Tournament where he appeared to be mentally drained from a hectic schedule. He's had some time to pull himself together, though, and he's got the game to challenge this week.
As erratic as he can be sometimes, Mickelson has played well enough in 2012 to notch a win (at Pebble Beach) and four top-fives. So, his game is in shape.
He's not the best ball-striker in the field, but his scrambling ability is legendary. When you combine his short-game magic with his major championship record and the desire to win a US Open, I can't imagine Lefty not being in the mix on Sunday.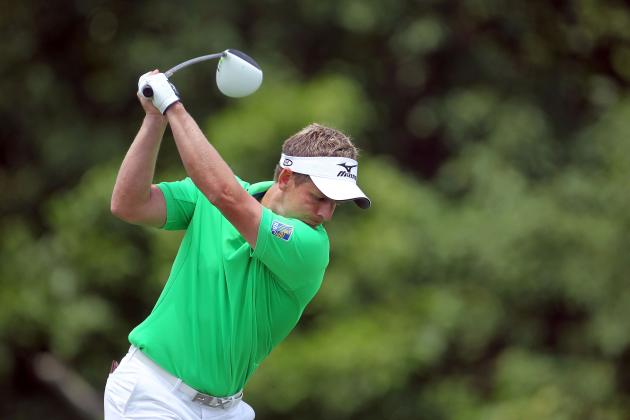 Andy Lyons/Getty Images

Luke Donald's consistency has earned him the title of No. 1 player in the world for 47 weeks. But it's what he hasn't done in major championships that always seems to produce a lot of the attention regarding his game.

Donald has five PGA Tour wins and seven European Tour victories. But when it comes to the majors, the best that he has managed is a T-3—twice—at the 2005 Masters and the 2006 PGA Championship. He has six top-10s in majors including four top-five finishes. Meanwhile, his best finish at the US Open was a tie for 12th place in 2006 at Winged Foot.
Fair or not, Donald's failure to win a major thus far is one of those things that will hang over his career until he wins one.

Donald finished a disappointing T-45 at Congressional last year, so he'll be looking to get off to a fast start at the Olympic Club, where I believe he has the game to play well.
Donald can survive the test that a US Open typically offers—where it's OK to make pars and more pars. The Lake Course is just such a place. It's also a track for great ball strikers to find success and Donald is a great ball striker with the ability to move shots in either direction and to deal with uneven lies—all scenarios he will face at this US Open.
Donald's also putting very well right now and if the impressive final-round average he's been maintaining in 2012 can hold up under the pressure of the moment, he'll make a strong run at his first major championship.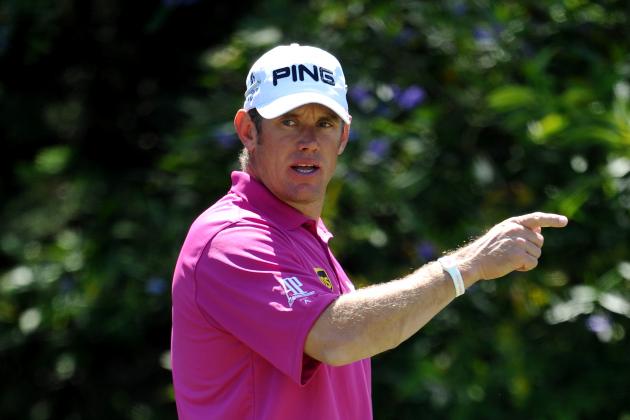 Stuart Franklin/Getty Images

When you win 37 professional golf tournaments and none of them are major championships, it's going to raise some eyebrows.

I'm introducing Lee Westwood, who has done everything but win a major since he got his first victory in 1996.

Westwood has been named Player of the Year three times. He's been on the past seven European Ryder Cup teams. He's been the No. 1 player in the world. But like Luke Donald, who also clearly has the talent to win at the biggest events, he doesn't have a major championship to his credit.

Westy has come close, though. He has 13 top-10s in major championships including two second-place finishes just two years ago—at the Masters and the British Open. He obviously has the talent to win anywhere, but does he have the mettle to play his best when it matters the most?

So far, no.

But if he can survive the test that the Olympic Club offers and if he can plod along for three days to keep himself in the hunt—which I believe he will—he'll have yet another chance to prove his doubters wrong. At 39 years old, I wouldn't go so far to say his time is running out, but the clock is ticking on his legitimate chances.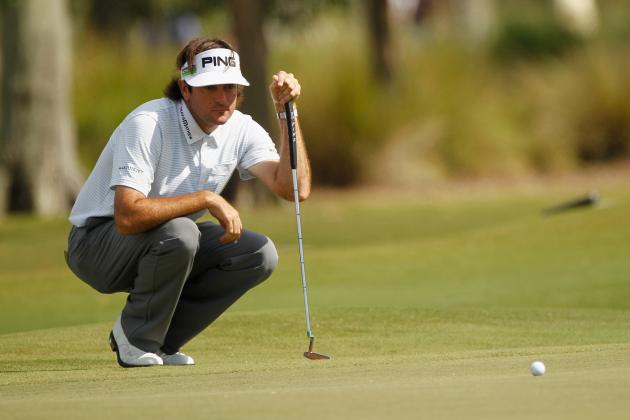 Chris Graythen/Getty Images

If Bubba Watson's gargantuan tee shots didn't draw enough attention to his game, his first major championship victory at the Masters a couple months ago took care of that.
Watson is now, without question, one of the most popular players on the PGA Tour. And while I don't see his game as tailor-made for the Olympic Club—at least not to the same extent as some of the other favorites—he does possess some of the qualities that will allow him to succeed here.
Watson is known for being able to move the ball all over the place and he'll need to bend shots to the right and left to get into the proper positions on the Lake Course. Half the holes dogleg.
And while this is by no means the longest of the US Open golf courses, it does have its moments—like the 670-yard, par-5 16th hole. This monster is the longest in the history of the tournament. There are also holes No. 1, No. 5 and No. 6. All are in the neighborhood of 500-yards as par-4s.
Watson's combination of length and shot shaping could give him an advantage on some of the toughest holes on this golf course. And his head-to-head competition with Tiger Woods and Phil Mickelson on Thursday and Friday will only serve to help him focus on getting off to a solid start.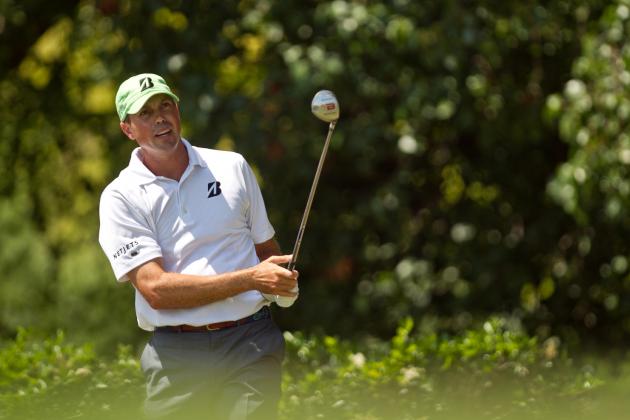 Darren Carroll/Getty Images

It's hard to believe, but Matt Kuchar has been knocking it around on the PGA Tour for 12 years now.
It just hasn't been until recently that he has started to truly play to his potential. And that would include his play in the major championships.
Kuch managed two top-10s in majors in 2010—at the US Open and the PGA Championship—and he nearly won the Masters a couple months ago, eventually finishing tied for third at Augusta. He has five top-10s in 12 events this year, including a win at what many consider the year's fifth major, The Players Championship.
That is some impressive golf.
Thus, he is currently the No. 6 ranked player in the world with a PGA Tour-leading scoring average and, without question, the game to succeed at the Olympic Club. I always look to the Ball Striking category in a player's performance stats and Kuchar is one of the best ball-strikers on tour when you crunch his Total Driving and Green in Regulation numbers.
It will serve him well in this major where I fully expect him to add his name to the Sunday leader board.
Mike Ehrmann/Getty Images

Despite two victories in 2012 thus far, Hunter Mahan is flying under the radar at the US Open this week.
Mahan has been rather quiet since his victory at the Shell Houston Open back in April. He finished T-12 at the Masters immediately after that win but he hasn't done much to get excited about since. And that makes him easy to overlook, but I think it's a mistake to do so.
First and foremost, Mahan has the game to succeed at the Olympic Club because of his consistent play from tee to green. He's No. 5 on the PGA Tour in Ball Striking and he hits his greens in regulation 70 percent of the time.
That works. I'm not concerned about Mahan's play from the tee box. Nor am I concerned about his game from the fairway. What's going to make or break him at this US Open—and this really applies to every player—is how well he putts.
If Mahan gets the flat stick going, like he did when he defeated Rory McIlroy, Steve Stricker, Zach Johnson, Matt Kuchar, Mark Wilson and Y.E. Yang at the WGC-Accenture Match Play Championship, he'll be a player to contend with on the weekend leaderboard.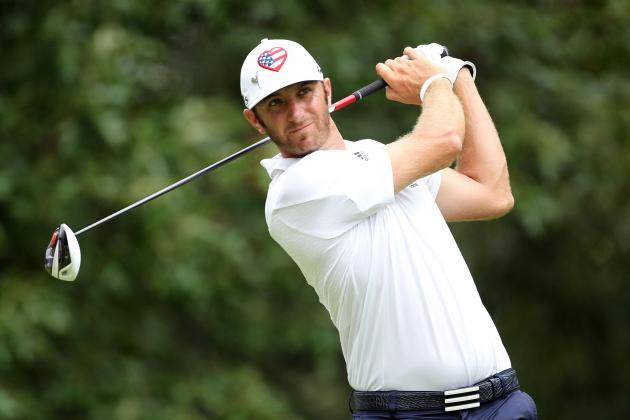 Andy Lyons/Getty Images

I hadn't given much thought to Dustin Johnson as a favorite at the US Open this year—until he won this past weekend at the FedEx St. Jude Classic, that is.
After missing two months with a back injury, I figured Johnson's return would be slowed by rust and rest, therefore eliminating him from serious consideration at the Olympic Club.
DJ returned to competitive action at the Memorial last week, finishing a respectable T-19, especially when you consider the long layoff. Then he promptly picked up his first tournament victory of the season at TPC Southwind.
Johnson had been playing some pretty decent golf before his setback. After a slow start to his 2012 season, he crafted three consecutive top tens in February but lost his momentum with the setback.
But he looked as though he had never been injured in the first place and all of a sudden, as one of the PGA Tour's brightest young talents, he's back in the discussion to challenge for a major.
Of course, the odds are against him. No player has ever won the week before the US Open, then gone on to win America's national championship of golf.