Miami Football: New Faces You Need to Know for Hurricanes 2012 Season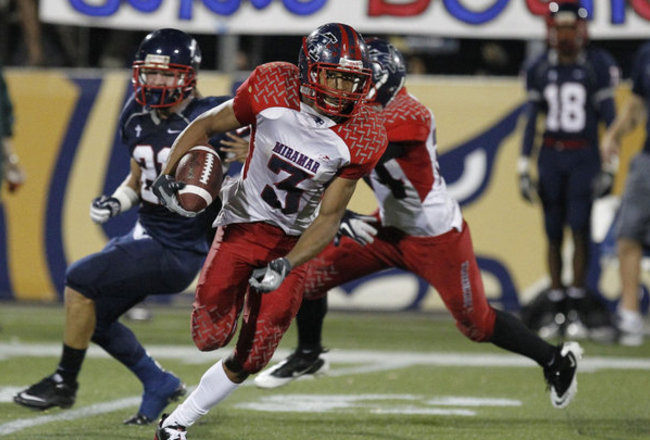 Al Golden and staff recruited 33 players to play football for the Miami Hurricanes this season. While many of them will not see the field, there are plenty of talented players who will get a lot of playing time this year, including a few of them who may actually start their true freshman season.
Out of the 33 recruited, there was one, Angelo Jean-Louis, who was unable to academically qualify for Miami and must attend a prep school. He has already stated that he will be attending Miami next year.
Jean-Louis would have definitely made this list, as the 4-star recruit from Palm Beach Central High School has unlimited potential.
Here are my top 10 fresh faces on campus you may want to get to know, since they should be seeing plenty of time on the field.
Randy "Duke" Johnson
By now, everyone who follows the Miami Hurricanes knows who Duke Johnson is. The 5-star recruit from Miami Norland High School has been a vocal leader for the incoming freshmen class.
On the field, Johnson has amazing quickness alongside impeccable field vision, possibly making him one of the best incoming freshmen running backs I can remember in a very long time.
The only knock on Duke is his size, standing only 5'9" tall and weighing just 188 pounds. I expect him to be almost 200 by the start of his sophomore season, as Miami's strength-and-conditioning unit is second to none.
Raphael Kirby
Perhaps the most talented player coming into the season is linebacker Raphael Kirby. If you want to know how good he could be, just take a look at the spring practice sessions this year.
Even though he isn't the fastest linebacker on the team, he still plays all over the field—when he hits someone, they go down.
He reminds me of Denzel Perryman, and that is a good thing considering Perryman ended the season on the Freshman All-American team.
Ereck Flowers
The first time I saw Ereck Flowers on YouTube, I was absolutely shocked that he wasn't listed as a 5-star recruit coming out of high school. He completely demolished every single defensive lineman they put in front of him.
Even during the beginning of spring he was neck and neck with Malcolm Bunche for the starting left tackle position before being moved to right tackle behind Seantrel Henderson.
Flowers is a highly skilled lineman who will no doubt get reps this season, whether it be at right or left tackle. He is just so fundamentally sound that there is no way Coach Golden can keep him off the field.
Ladarius Gunter

High School days.

I am going to be dead honest with you regarding Ladarius Gunter: I had never heard of him until he signed a letter of intent to go to Miami. I didn't even know he was a junior college transfer from Fort Scott until signing day.
Apparently, Coach Golden knew exactly what he was getting in the 2-star recruit, as he is now listed as the starting cornerback in the latest depth chart.
Gunter had a superb spring session, and at times it seemed as though there were two of him out there. He plays all over the field and is a tremendous athlete—definitely the most surprising player so far.
He will have some stiff competition this fall when Tracy Howard is thrown into the mix, but I believe Gunter has already proven he will be on the field a lot this season.
Larry Hope
Just like Ladarius Gunter, I heard very little about Larry Hope besides that he was a local talent out of American Senior High School in Hialeah, FL.
The 3-star recruit has been making waves ever since his arrival this spring. He is currently listed as a backup to Ladarius Gunter, but has shown that he will get plenty of time on the field this upcoming season.
Hope has good coverage skills and plays very well at the line.
Jelani Hamilton
You know the depth is shallow at the defensive end position when they moved Kelvin Cain from linebacker to the line before the season began this spring.
Four-star recruit Jelani Hamilton will provide even more depth at the position when he comes in this fall. Hamilton is a monster (6'5", 245 pounds) with long arms and great speed for his size.
Hamilton does struggle against double-teams, but makes up for it with his speed and superb tackling skills; something Miami so desperately needs.
Tracy Howard
There isn't much more to say that you people probably don't already know about incoming 5-star recruit Tracy Howard.
The cornerback out of Miramar High School was heavily recruited by every big-time college you can think of, but he decided to stick locally and chose Miami as his school of choice.
For those who haven't seen Howard play, there are plenty of videos out there showcasing Howard's amazing cover skills.
Out of all the freshmen coming in this year, Howard is most likely the only college level-ready player on the roster.
Malcolm Lewis
A position that Miami really needed to fulfill this season was at wide receiver, especially after the loss of their top two receivers, Travis Benjamin and Tommy Streeter.
It was even more of a question mark when 4-star recruit Angelo Jean-Louis didn't qualify to play at Miami.
The answer for who the next best freshman receiver is, is most likely down to Malcolm Lewis. Lewis is a great athlete with good hands.
He played alongside Tracy Howard at Miramar and will most likely be the first freshman off the bench.
Deon Bush
Although the safety position is pretty solid with Ray-Ray Armstrong, Vaughn Telamaque and Alonzo Highsmith, it doesn't mean they don't need anymore depth back there.
Deon Bush is a great person to have to not only add depth, but to get ready to take over the position next season when all three above-mentioned players leave Miami.
Now don't believe for one second that Bush doesn't have the skills to take over a starting safety position, because he truly does. Bush isn't rated a 4-star recruit for nothing.
Bush has great cover skills for a safety and isn't afraid to make a hit. I believe we will be seeing a lot of him on the field towards the middle/end of the season.
Tyriq McCord
Another defensive end who will come in and add depth to the position is 4-star recruit Tyriq McCord. The highly recruited defensive end from Jefferson High School in Tampa is a speed-rusher who will be used in special packages all season long.
Although he is very small for an end (6'3, 220 pounds), his quickness and feet make him one of the most dangerous players on the line. He gets off the ball fast and can be a huge factor on third down all year.
He will need to add more size to his frame, but I believe he is just too talented to keep off the field.
Keep Reading

Miami Hurricanes Football: Like this team?