Oklahoma State Football: Cowboys Will Fall Apart in 2012 Without Former Stars
June 11, 2012

Brett Deering/Getty Images
The 2011-12 campaign was a glorious one for the Oklahoma State Cowboys. However, thanks to the loss of superstar offensive duo Brandon Weeden and Justin Blackmon, among others, the 2012 season will be a struggle in a competitive Big 12. The Cowboys will not repeat as conference champions, and they may not even finish in the top five of the final standings.
Firstly, the loss of Weeden and Blackmon cannot be overemphasized. Weeden threw for 4,727 yards and 37 touchdowns last season, powering the second most potent passing attack in the NCAA. Meanwhile, the freakishly athletic Justin Blackmon electrified the country once again with 121 catches for 1,522 yards and 18 touchdowns. The two OSU legends' departures leave a gaping hole in the Cowboy offense.
Additionally, the Pokes lose wideout Josh Cooper, their second most prolific receiver last season. He finished with an overlooked 71 catches for 715 yards and three touchdowns. Combined, Blackmon and Cooper accounted for 192 catches for 2,237 yards and 21 receiving touchdowns. In terms of yards and receptions, they accounted for just shy of half of Weeden's passing output.
The offensive line also loses considerable talent. Mammoth right tackle Levy Adcock, a 2011 All-American and force on the O-line the past three years, is now with the Dallas Cowboys of the NFL. Likewise, Big 12 Offensive Player of the Year Grant Garner's presence at center will be sorely missed.
Now, the Cowboys are left with 18-year-old true freshman Wes Lunt at quarterback. Head coach Mike Gundy named the early enrollee the starter in late April, and he has mighty large shoes to fill and a very nascent offense with which to operate.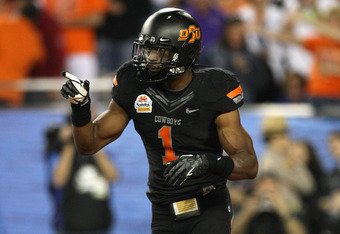 Donald Miralle/Getty Images
Lunt's transition won't be eased by his receiving corps; Tracy Moore and Isaiah Anderson are the only returning starters. In 2011, they combined for just 987 yards and eight scores. Not having a prominent threat at wideout will make life tough for the freshman signal-caller.
However, the Cowboys return stud tailback Joseph Randle, which helps. He had a sensational sophomore campaign with 1,216 rushing yards and 24 touchdowns. Also impressive last season was Jeremy Smith with 646 yards and nine scores. The two should provide spark in the ground game. But their production could sag with the absence of Adcock and Garner up front.  
Moreover, the OSU rushing attack was able to thrive last year because of the success of the passing game. A symbiotic relationship formed a scary offensive attack. With an 18-year-old at quarterback and no real receiving threat this season, Big 12 defenses will load the box and force Lunt to pass.
Sure, Lunt has potential and ability, but it's unlikely he will have considerable success as a true freshman with a thin receiving corps. Overall, with Randle the only legitimate returning offensive threat, the Oklahoma State's offense will be one-dimensional and impotent in comparison to last year's juggernaut.On the other side of the ball, a soft defense will exacerbate the issues.
Last season, OSU gave up at least 28 points in seven of 13 contests. The Cowboys overcame a bend-but-don't break defense because they fielded one of the most potent offenses in college football. Don't expect the same story this year. The loss of All-American safety Markelle Martin and First Team All-Big 12 defensive end Jamie Blatnick will hurt as well.  
Indeed, with a considerably weaker offense, Oklahoma State can't afford to be in shootouts. They don't have the endurance to win high-scoring games. But they will face many potent offenses in the Big 12.
After giving up 271.8 passing yards per game in 2011, 107th in the NCAA, OSU gets the pleasure of facing gunslingers Geno Smith, Landry Jones and Seth Doege, along with TCU's rising talent Casey Pachall. Clearly, it could be ugly for the Cowboy secondary. OU, WVU and Texas Tech all had top-10 passing attacks last season.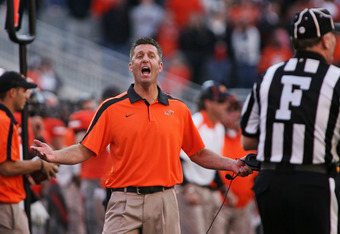 Brett Deering/Getty Images
Given their weaknesses, Oklahoma State will have their hands full with TCU, Kansas State, West Virginia, Oklahoma and a rebuilding Texas. All five of these teams are in ESPN's preseason Top 25 poll, with OU and West Virginia in the top 10. OSU should watch out for the Sooners especially. They will have vengeance on their minds in Norman after a 44-10 thrashing last season.
On the bright side, OSU has a very manageable non-conference lineup. Savannah State, Arizona and Lousiana-Lafayette should be fairly easy wins. Once the team hits conference play, though, the picture gets hazier. Likely victories should come against Kansas, Iowa State (but never a guarantee after last season) and Baylor. Granted, no contest is a sure victory; this is just speculation.
Despite the considerable challenges, it's not all bad for OSU. They face Texas, TCU, West Virginia and Texas Tech at home. They will most likely lose at least one of these games, but home-field advantage could give them a much-needed edge in close contests. The bout with Texas Tech should be particularly interesting.
Of course, Mike Gundy is one of the best coaches in the conference, and his teams will always be competitive. But considering the loss of major talent and the obstacles they'll wrestle with in the conference, it's unlikely we'll see an encore in Stillwater. The Cowboys will struggle mightily in the Big 12 this season.