Euro 2012: Heroic English Youth Put England Level with France After Two Rounds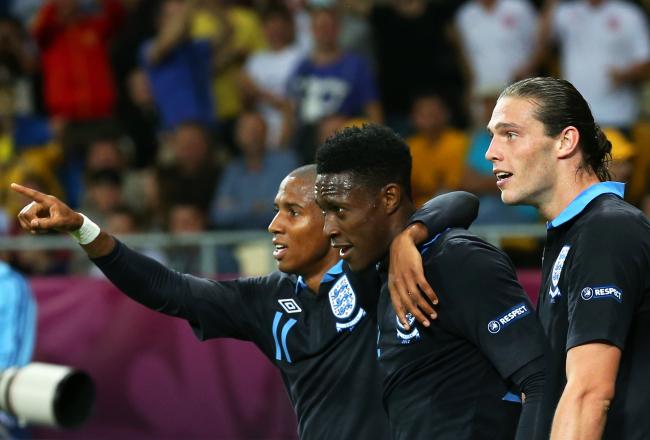 English Heroes on the Night
Alex Livesey/Getty Images
The final day of Group Stage Round 2 came to a close with a torrential downpour seeing both matches delayed. France and the Ukraine only managed to get five minutes into their match before it was delayed for just under an hour thanks to the lightning storm that engulfed Donbass Arena in Donetsk.
Once it was off and running, the Ukrainians held their own against a much more talented French squad until a flurry of two goals in three minutes from PSG's Jeremy Menez and Newcastle United midfielder Yohan Cabaye at the 53rd and 56th minutes broke the scoreless draw.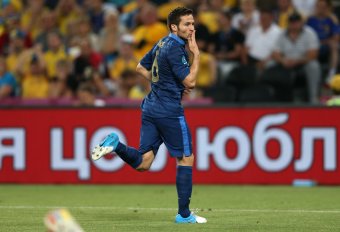 Julian Finney/Getty Images
Cabaye nearly made it 3-0 with a powerful blast that came back off the post in the 65th minute with the keeper completely beaten had it been inches more inside. France looked hard to find a third and ultimately decisive end to the match.
However, Ukraine managed to hold on and keep their goal difference in check for the time being, as it could be of vital importance.
England and Sweden were up next, with the Three Lions having never beaten the Scandinavians in more than a friendly between the two nations. Seeing captains Steven Gerrard and Zlatan Ibrahimovic as club representatives of Liverpool and AC Milan brought back happy memories of trouncing the Rossenari's hopes in 2005, but that is for another time.
Roy Hodgson went with Andy Carroll upfront as the towering ponytail of power hoped to be the difference, as the English side went to a traditional 4-4-2 in hopes of being more creative up front.
The Swedes made three changes as Johan Elmander returned to the first team, with Andreas Granqvist coming in at right-back and Anders Svensson taking up a central midfield role.
A scrappy opening to the match saw little stand out as good football other than Danny Welbeck's setup for Scott Parker at the eighth minute, and then the Manchester United forward missed at the 16th minute when he had a great chance to put his nation up early on.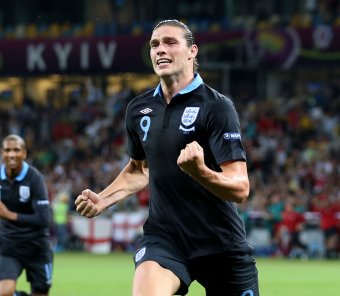 Scott Heavey/Getty Images
However, it would be the much-maligned Andy Carroll that would put the English side in front at the 23rd minute thanks to a brilliant ball over the top by none other than his Liverpool and national team skipper, Steven Gerrard.
England dropped back to ensure their goal did not result in a quick Swedish equalizer due to lack of discipline in their immediate afterglow from scoring.
However, just minutes into the second half saw the game spring back to life at a calamitous time as the back saw yet another Liverpool man involved in a great Joe Hart save.
The game was back on and no one knew that it was going to be the barnstormer it had become.
Olaf Melborg put the Swedes on top at the 59th minute 2-1 when he headed home freely from a great Sebastian Larsson cross. As the Three Lions went down, Roy Hodgson looked to Arsenal man Theo Walcott to be his super-sub at the 61st minute when he threw him on for the disappointing James Milner.
Not three minutes after he was on the pitch Walcott delivered, bringing England level at the 64th as the match went into full swing. The play wasn't pretty, but England were showing they had some fight in them.
That resilience and determination earned them another goal through Danny Welbeck, as the young forward refused to be denied acclaim alongside both Carroll and Walcott and put the Three Lions on top 3-2 at the 78th.
England would then hold on to beat Sweden for the first time in the history of the two nations competing on the international scene, and saw the Scandinavians join the Republic of Ireland as tournament eliminations after two rounds of play.
Roy Hodgson so far has gotten the job done and sees his England side atop of Group B along with France on four points apiece.
With their final match against a determined Ukrainian side in four days time and Wayne Rooney set to return against the host nation, England are now favorites to advance to the quarterfinals.
After two rounds of play, there are still multiple scenarios left to play out in the final third round of each group.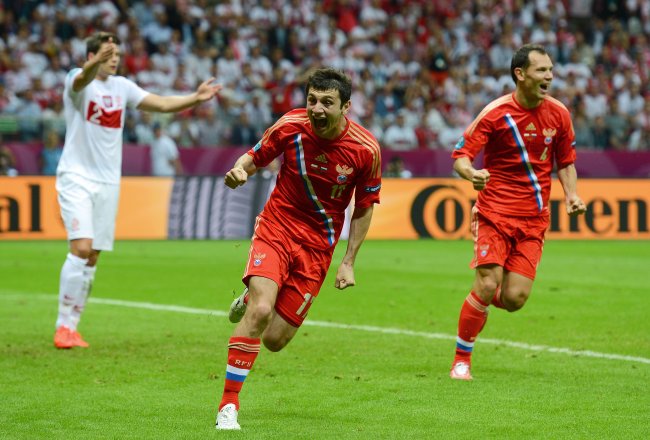 Shaun Botterill/Getty Images
Group A Report
After two rounds, Russia lead the group on four points while the Czech Republic sit on three. Host nation Poland sit on two and Greece have only one to show.
Poland's only option is to win, with any other outcome a knife in the heart to their quarterfinal dreams. The Czechs most likely only need a draw with Poland to go through. However, if playing for a draw is their plan, it could see them falter a little too much if they are not careful.
Russia look the odds-on favorites to Group A, but a loss to Greece in the final could still see them in second if the Czech Republic win against Poland. It could also see them knocked out if the Greeks were to achieve an uncharacteristic and highly unlikely victory of 5-0 to have the goal differential advantage.
Scenario 1: Russia and Poland advance with victories over Czech Republic and Greece.
Scenario 2: Russia and Greece go through with a Greek victory and draw between Poland and Czech Republic, which sees the Greeks win through goal difference.
Scenario 3: Poland and Greece advance with victories over Czech Republic and massive Russian tragedy to Grecian side. Who could be the Trojan horse?
Scenario 4: Poland and Russia go through with victory over Czech Republic and low-scoring Greek victory.
Scenario 5: Russia and Czech Republic advance with victory or draw with Greece and victory or draw with Poland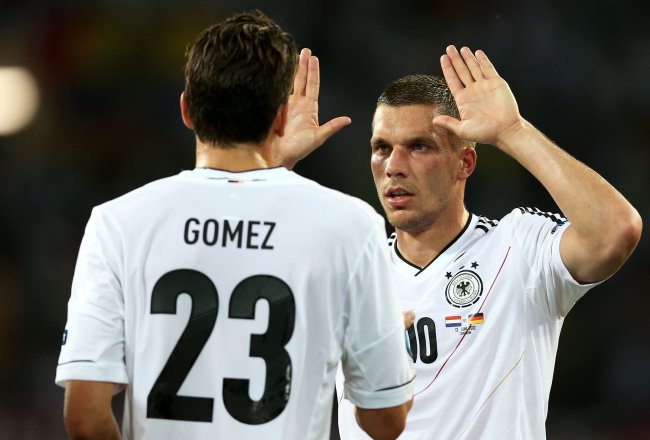 Julian Finney/Getty Images
Group of Death Report (Group B)
Germany are in the driver's seat with six points followed by Portugal and Denmark, who are on three points and equal on goal difference, while the Netherlands are close to completing their first group-stage exit since 1980 after zero points from two straight losses to Denmark and Germany.
However, in a crazy twist of events, no one has been eliminated yet. And though Germany are in front, the last day of action could still see them go home, or see the Netherlands advance.
Scenario 1: If Denmark defeat Germany, and Portugal beat the Netherlands, then it will come down to goal difference between the three.
Scenario 2: If both Germany and Netherlands win, the Germans go through and the Dutch could go through on goal difference.
Scenario 3: If Germany draw or win and Portugal win, then they both go through.
Scenario 4: If Denmark win or draw and the Netherlands win, both the Danes and Germans advance.
Scenario 5: If both games result in a draw, Germany and either Denmark or Portugal go through based on goal difference or, beyond that, to goals scored.
What a day of action we have ahead of us for Father's Day.
Alex Grimm/Getty Images
Group C Report
Fernando Torres stepped up to deliver Spain a brace in their 4-0 pounding of Ireland that could have seen more goals than it did.
The Spaniards top the group on a plus-four goal difference and four points. Croatia are also on four points but only a plus-two differential. Italy are still alive with two points, but Ireland are finished after two straight losses.
However, the Shamrocks could still cause a load of trouble to the Italians.
With the two group leaders going head-to-head in the final round, one or both of them could go through in one of three ways, while Italy still have a chance of moving on only if they finally decide to win a match after failing to be decisive against Spain or Croatia.
Scenario 1: Spain and Croatia go through with a draw and an Italy win fails to see them score enough goals to eliminate either of them.
Scenario 2: Italy goes through on goal differential with a big victory over Ireland.
Scenario 3: Spain and Italy advance with victories over Croatia and Ireland.
Scenario 4: Croatia and Italy go through with victories over Spain and Ireland.
Scenario 5: Spain and Croatia go through with Irish win or draw.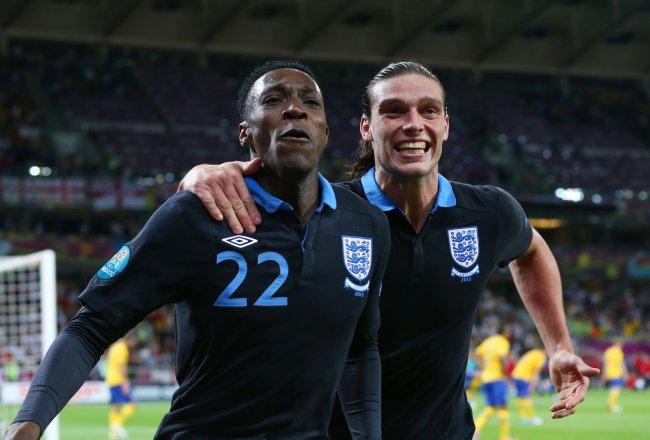 Alex Livesey/Getty Images
Group D Report
France earned a much-needed victory over host nation Ukraine, which saw them move to four points, while the hosts remained at three thanks to their victory over Sweden.
However, the real drama of the group was England's fantastic fight back to eliminate Sweden and finally break their hoodoo of playing against them in competitive matches.
It was the talented English youth trio of Andy Carroll, Theo Walcott and Danny Welbeck that won the day for the Three Lions when all they could do was believe.
The Ukraine now find themselves in need of nothing short of a victory to see them through, while both France and England can settle for draws to reach the quarterfinals.
Scenario 1: England and France go through with draws against Sweden and Ukraine.
Scenario 2: England and Ukraine go through with English loss and French loss.
Scenario 3: France and Ukraine go through with English and Swedish loss.
Scenario 4: France and Ukraine go through with French draw and English loss.
Scenario 5: France and England through with victories over Sweden and Ukraine.
What is left to come in the final four days of Group Stage action sees another host of great matches with a number of different scenarios that can still play out, with only Ireland having been mathematically eliminated.
Saturday, June 16
Group A
Czech Republic vs. Poland, Stadion Miejski, Wroclaw, 2:45 p.m. ET
Greece vs. Russia, Stadion Narodowy, Warsaw, 2:45 p.m. ET
Sunday, June 17
Group B
Denmark vs. Germany, New Stadium Lviv, Lviv, 2:45 p.m. ET
Portugal vs. Netherlands, Metalist, Kharkiv, 2:45 p.m. ET
Monday, June 18
Group C
Italy vs. Republic of Ireland, Stadion Miejski, Poznan, 2:45 p.m. ET
Croatia vs. Spain, PGE Arena, Gdansk, 2:45 p.m. ET
Tuesday, June 19
Group D
England vs. Ukraine, Donbass Arena, Donetsk, 2:45 p.m. ET
Sweden vs. France, Olimpiyskyi, Kiev, 2:45 p.m. ET
Thanks for reading. Follow me on Twitter @thedailyatz, Facebook and Pinterest.
This article is
What is the duplicate article?
Why is this article offensive?
Where is this article plagiarized from?
Why is this article poorly edited?