Philadelphia Eagles: Time to Say Goodbye to Joe Banner
June 11, 2012

Handout/Getty Images
The news came bright and early Thursday morning that Joe Banner's time with the Philadelphia Eagles had come to an end.  I saw the news from Jeff McLane of the Philadelphia Inquirer via twitter about 90 seconds after I opened my eyes that day.
On a normal day I may have sprinted to my computer to write my thoughts about it, but I was covering the French Open at the time and didn't really have the time to devote to it that I would have liked.  
As the day went on and story after story poured in on Banner, I planned on reading them.  The funny thing is I never did.  I had to drive somewhere and even turned off sports talk radio.  
I heard from friends and family and headlines that former players were voicing their negative opinions of Banner.  I knew there was probably mostly joy among Eagles fans and scorn from the staunch defenders of the Eagles organization on local message boards.
I knew this was the story that everyone was talking about.  I tried to figure out why I wasn't getting a piece of the action when I realized that after all this time I really didn't care. 
This time last year I would have been happy.  Two or three years ago and I would have been ecstatic. But on Thursday it just didn't matter to me.
Back in December and January, I was sending a lot of negative energy toward the Eagles front office.  I thought they mismanaged their roster after the lockout.  I felt that they had proven to be incapable of filling holes on defense through the draft.  I said it was time for a change of philosophy as soon as possible.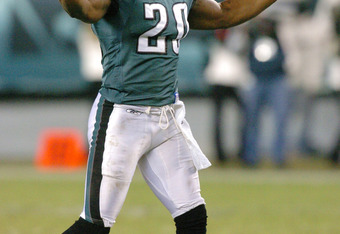 Brian Killian/Getty Images
What followed in the coming months was a departure from what I grew accustomed to.  There was no haggling over contracts.  There were no beloved Eagles unceremoniously sent packing over a few dollars or being on the wrong side of 30.
The draft came and went with almost no complaint from the fanbase.  Deserving players received contract extensions and the two pieces of bad energy they had left in the form of Vince Young and Asante Samuel were shown the door.
I wrote about the possibility of a more friendly version of the Eagles a couple months ago and here it was coming to fruition.  I know most of this has centered on things not involving Joe Banner, but think about everything that happened this offseason.  
Now think of who wasn't visibly involved in any of it.
Joe Banner.  Is it a coincidence that the most harmonious, least contentious few months in recent Eagles memory lined up perfectly with the lowest profile Joe Banner has ever kept?  I don't think so.
Exactly a decade ago, the Eagles were gearing up after losing to the St. Louis Rams in the NFC Championship game.  Fans were full of optimism.  
Donovan McNabb was a budding star.  The defense was led by elite playmakers in Brian Dawkins, Hugh Douglas and Jeremiah Trotter.  Life was good and the team was built to win now and in the future.
In the midst of that happiness was the start of a trend with Joe Banner and his iron fist.  His hardball, bargain-basement style cost the team players such as Trotter, Duce Staley, Ike Reese, Carlos Emmons and ultimately Dawkins among many others.
Sometimes they made the right decisions with letting players go but ultimately, especially on defense, they never filled those holes.  They lacked leadership and really were never an elite team after the 2004 season ended.
Maybe Joe Banner's smug, condescending demeanor was the last thing to be eliminated.  Everything feels positive around this team for the first time in eight years.  
Now before I get labeled nothing but a Banner hater, I have to give him his credit.  He helped to build the organization into the success it is today.  He helped get Lincoln Financial Field built.  He was one of the first people in the NFL to figure out how to succeed with the salary cap.
He had some really good qualities and he made his share of positive contributions to the Philadelphia Eagles.  What he lacked was a personal touch and he was completely miscast as the face of the franchise for the past decade.
Am I glad Joe Banner is gone?  Not necessarily.  Am I sad that he's gone?  No I'm not.  Joe Banner served his purpose and he has been so close to invisible that you could have forgotten he was even here anyway.
Despite all the positive things he did for the organization and in spite of all the resentment I've had toward him over the years, there is one thing we may all be thanking him for in years to come.
I can't believe I'm even thinking of saying this but I'm talking about Howie Roseman.  He was Banner's guy.  Banner groomed him.  I felt for two years that Roseman was part of a problem that would never be solved.
I'm now ready to admit that I may have judged him prematurely.  The training wheels are off now and if this offseason is any indication, Roseman knows how to handle the business end of things without pushing ill will into the locker room and onto the field.
Only time will tell and it is still way to early in his career to know for sure what Roseman is or will be. All I can say is that I have a positive view of him, his public persona and the way he handled a really big offseason.
My view of Joe Banner will never change.  He rubbed almost everyone in Philadelphia the wrong way and that will always be the way he's remembered.  That being said, if Howie Roseman can build a Super Bowl champion, maybe, just maybe, that will be his legacy.
Goodbye Joe.  Thanks for helping to lead us out of the dark days of the late 1990s.  I won't miss you but I'm not dancing on your grave either.  You served your purpose and I wish you luck on helping another football city in need.