Wisconsin Football: Why Badgers Must Not Rely Solely on Montee Ball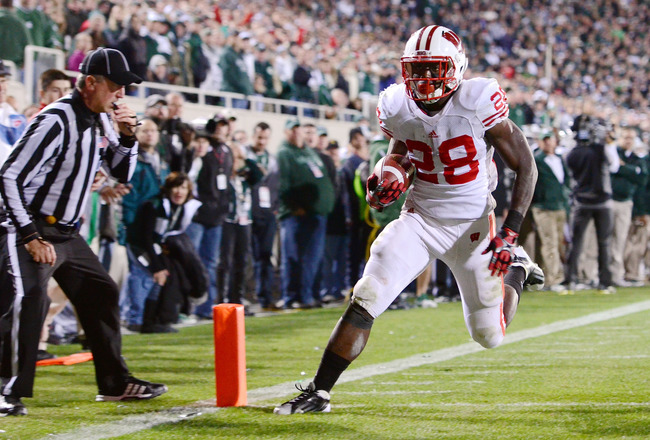 Mark Cunningham/Getty Images
Montee Ball is the Wisconsin Badgers' best offensive player.
A Heisman finalist in 2011, Ball is poised for another big season in 2012. However, the Badgers can't rely solely on their star running back on offense. The Badgers need to share the ball in order to have a successful season in 2012.
Offense Becomes One Dimensional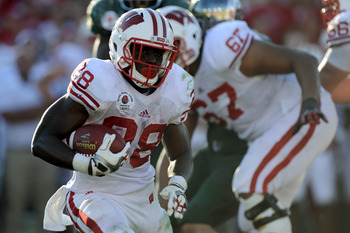 Harry How/Getty Images
The Wisconsin Badgers have the best running back in the Big Ten in Montee Ball. A Heisman finalist in 2011, Ball is poised to be the focal point of the Badgers offense in 2012.
However, Montee Ball isn't Superman.
If Montee Ball is the sole focus of the Badgers offense, opposing defenses will stack the box to stop him.
Montee Ball is a great player, but even he can't beat an entire defense by himself. By relying solely on Montee Ball, opposing defenses would be able to stifle Ball and shut down the Badgers offense, leaving them vulnerable. For the Badgers offense to be successful in 2012, they cannot rely solely on Montee Ball.
Other Weapons on Offense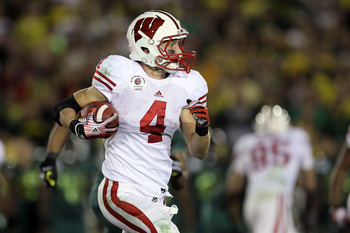 Stephen Dunn/Getty Images
Montee Ball is an incredible player.
However, he isn't the only player on the Badgers offense with talent. Wide receiver Jared Abbrederis and tight end Jacob Pedersen can dominate in the passing game and backup running back James White is also a very good back. All three of those players need to be involved in the offense.
Abbrederis and Pedersen will force opposing defenses to honor the Badgers passing game and White will be able to spell Ball and still have the rushing attack be a threat. The Badgers offense as a whole is much better with Abbrederis, Pedersen and White being involved and will guarantee that the offense dominates in 2012.
Doesn't Provide Experience for Back-Ups
Jonathan Daniel/Getty Images
As great as Montee Ball is, James White and Melvin Gordan need to see playing time in 2012.
Both are the future for the Badgers at the running back position, and they need to continue to gain experience. This experience is a necessity for the future of the program, and it will make the team better during upcoming seasons.
Instead of relying solely on Montee Ball, the coaching staff needs to have an eye on the future. Playing time for Melvin Gordan and James White will prove invaluable for them after Ball is gone and will pay dividends for the team in the future.
It's Better for Ball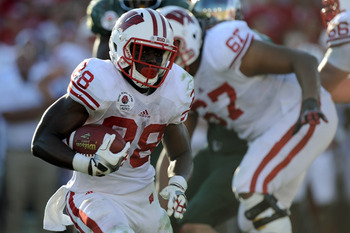 Harry How/Getty Images
By not being the sole focus of the Badgers offense, Ball is actually better off. A strong passing game keeps defenders out of the box and opens up running lanes, making life much easier for Ball. Having capable backups in White and Gordan also allows Ball to rest and stay fresh throughout the entire season. Additionally, he doesn't have to take a consistent beating, keeping him healthy for the season. All of this will allow him to put up Heisman numbers again in 2012.
As counter intuitive as it may sound, Montee Ball is better off if the Badgers don't rely solely on him on offense. Ball will be more successful with the offense sharing the ball.
Conclusion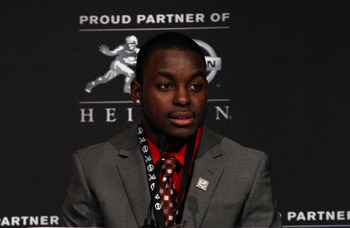 Jeff Zelevansky/Getty Images
The Badgers cannot rely solely on Montee Ball in 2012.
The ball needs to be shared in order for the Badgers offense to dominate in 2012. By maintaining offensive balance, the Badgers will be able to roll through opponent's en route to another 10-win season.
As long as the Badgers don't rely solely on Montee Ball in 2012, they will contend for the Big Ten championship.
Keep Reading

Wisconsin Badgers Football: Like this team?