Chicago Bears: Predicting Two-Deep Depth Chart, Pre-Training Camp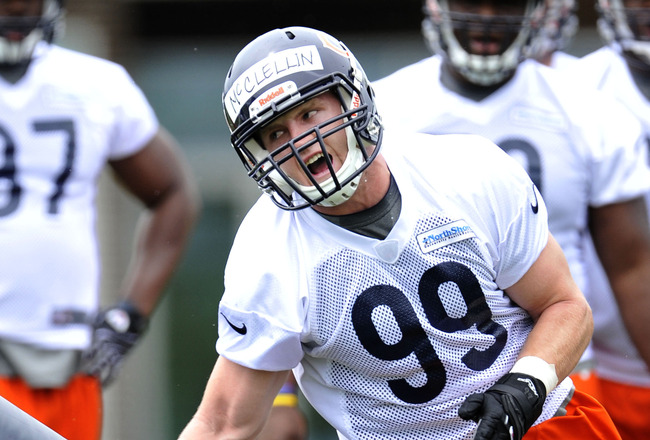 Brian Kersey/Getty Images
Under Lovie Smith, the Bears have been fairly firm about the previous year's starters and backups being listed on the depth chart hierarchy in the same order. But with new GM Phil Emery in place, there has been more willingness to change the order around a bit.
Even before the season starts, the Bears' depth chart will be different than last year and not just because of free-agent defections and signings. The Bears know they need to win now and have a great opportunity to do so, but also face a tough road with two solid teams in their own division.
So the Bears, more than ever, will not be playing politics with the roster and will instead be looking fro the player most ready to contribute. That said, of course Emery's draft picks will get a longer look than some others.
Recognizing that, I expect Shea McClellin to be atop the depth chart on at least defensive end already. Likewise, I don't believe the team is sold on Major Wright at strong safety.
Let's take a look at how I predict the depth chart will look heading into training camp and the season.
Quarterback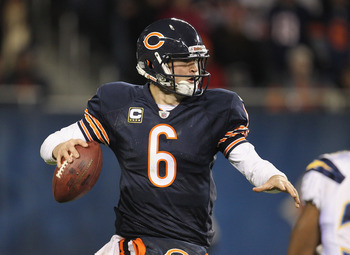 Jonathan Daniel/Getty Images
Jason Campbell
If there was any doubt about whose team this is, that has been answered with a resounding "Jay Cutler" this offseason. Mike Martz and his seven-step drop was either fired or mutually agreed to leave (depending on what you believe). Cutler's former teammate Brandon Marshall was brought in, and Cutler's friend and former mentor was hired as QB coach.
Cutler is primed to have the best season of his career. With a strong running game and improved weapons, only the offensive line (or lack thereof) can prevent the Bears QB from having a Pro Bowl season.
Meanwhile, new GM Phil Emery learned from his predecessor's mistakes by going out and signing a tested and competent backup to Cutler. Jason Campbell is starting material, but he signed a one-year, make-good contract with the Bears in hopes of landing that starting job elsewhere after the season.
Running Back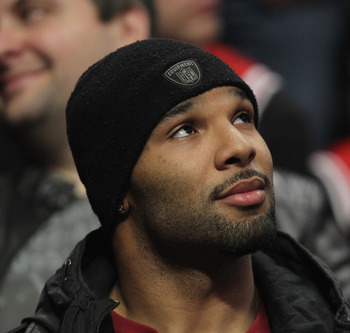 Jonathan Daniel/Getty Images
Michael Bush
In addition to providing solid depth behind Cutler at the QB position, Emery also went out and acquired Michael Bush, who had a very nice season in 2011 and offers a solid alternative to incumbent Matt Forte.
Speaking of Forte, he is No. 1, of course, though signing Bush would seem to remove some of Forte's leverage with the team. Whether he eventually signs a long-term extension or just the franchise tag, I do expect Forte to be with the team when they start the season.
However, one concern is that while Forte will work hard to stay in shape, he may not be fully ready to play when the season starts if he holds out for the entire preseason. If that's the case, Bush will be more than ready.
Even the Bears' third-string alternative, Kahlil Bell, is better than a lot of teams' backups, so the Bears are looking good at the running back position.
Tight End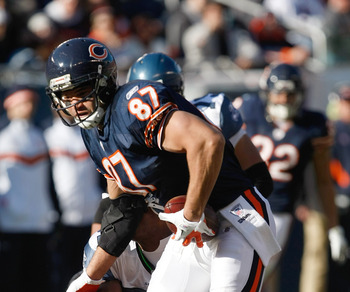 Scott Boehm/Getty Images
Kellen Davis
Evan Rodriguez
Currently, Matt Spaeth is listed as No. 2 behind Davis, but I predict that by the time the season starts, the rookie hybrid TE/fullback out of Temple, will be on the field with Davis.
Davis has an opportunity to have a breakout season with Mike Tice calling the plays. The Bears expect to use the position as more than just blocking this year, and if Davis can take advantage, he should be targeted quite a bit.
However, Rodriguez is such an interesting athlete that I can see him helping in the short passing game, especially on first down, lessening the impact of Forte and the running game. He isn't a good blocker at this point, however.
Wide Receiver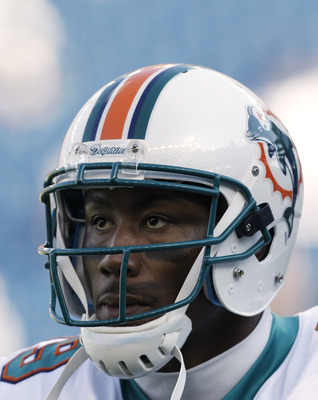 Winslow Townson/Getty Images
Brandon Marshall
Alshon Jeffery
Marshall was the Bears' big acquisition in the offseason, and he is being counted on for big things. Meanwhile, the Bears will try to find a way to get both he and rookie Jeffery on the field at the same time. But I believe that to start the season, Jeffery will start on the bench and be placed in rotation. But it won't be long before he's playing regularly.
Wide Receiver (2)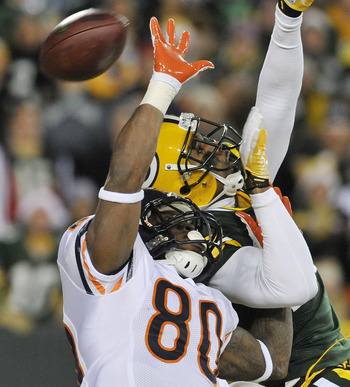 David Banks/Getty Images
Earl Bennett
Devin Hester
The depth chart has Hester listed as the No. 1 wideout, but despite all the talk of how great he looks—blah, blah, blah—we know he isn't a good receiver. Therefore, I expect Bennett to line up opposite of Marshall when the season starts.
Sure, there will be that supposed "package" for Hester, but that is merely to appease him and try to get more value out of Hester than just as a return man (even if he's the best ever at that).
Bennett, if he can stay healthy, will be an excellent slot target for Cutler, and they do seem to have good rapport when on the field together.
Longer term, I think we'll see Marshall and Jeffery on the field together.
Fullback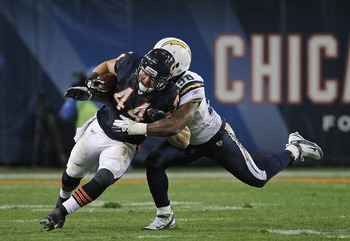 Jonathan Daniel/Getty Images
Tyler Clutts
Evan Rodriguez
Right now Clutts is No. 1 and Harvey Unga is No. 2, but I can see Rodriguez, in addition to being listed as a TE, becoming the backup to Clutts. In fact, perhaps he might even be a replacement for Clutts before the season is over.
Clutts is effective at blocking while Rodriguez is not, so that is the only downside to this equation. Still, I just don't see why the Bears would commit to two roster spots to the fullback position.
Left Tackle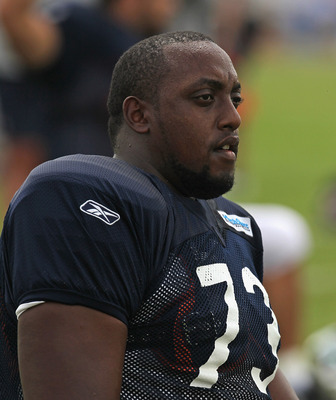 Jonathan Daniel/Getty Images
J'Marcus Webb
Chris Williams
If you read me regularly, you know how I feel about Webb. But he is only 23; Lovie Smith seems to like him, and above all, there is nobody on the roster better than he is at playing the position. So unfortunately, Webb will be at LT again when the season starts.
Having said that, I do realize that Chris Williams is being tried at tackle. However, I feel that has more to do with the health of Gabe Carimi and therefore, right tackle. Still, if Webb starts the season poorly and Cutler gets clobbered from the blind side, Williams could get the nod if he looks good in camp.
Right Tackle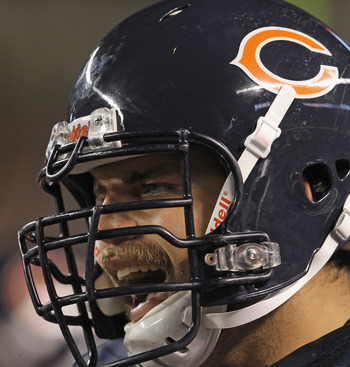 Jonathan Daniel/Getty Images
Gabe Carimi
Chris Williams
Heck, at the rate we're going, Chris Williams might be backing up all positions on the line except center. Yes, I do believe Williams will get some time at right tackle, but if Carimi is healthy, he is the starter for sure.
I tweeted Carimi last week and asked him if he would be ready to start the season, and he replied "with out doubt." Now, that's no guarantee, but let's hope he is ready, because I still think he can be a very big piece of this line's improvement this season.
The other right tackle candidates are players like A.J. Greene and Tyler Hendrickson.
Left Guard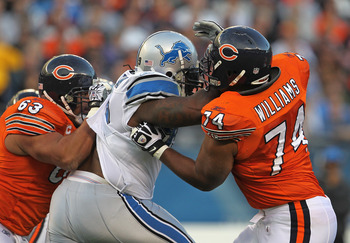 Jonathan Daniel/Getty Images
Chris Williams
Edwin Williams
It's the Williams and Williams show! Unless Carimi can't go, I believe the Chris Williams-to-tackle experiment will end, and the Bears will move him back to left guard, where he pulled adequately last season.
Right Guard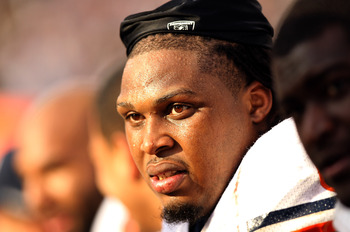 Ezra Shaw/Getty Images
Lance Louis
Chilo Rachal
Injuries forced Mike Tice to change a lot of things up last season, but if all goes well for the Bears, Louis will start the season but be on a short leash. Unless they try someone else at the position, right now Rachal is his backup.
Center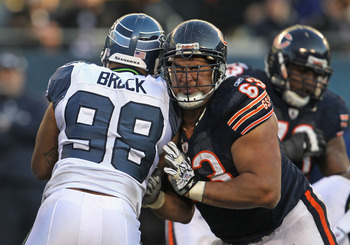 Jonathan Daniel/Getty Images
Roberto Garza
Chris Spencer
While I do still think there is a small chance that Garza could be released, that depends on how good Spencer looks under center. Obviously, he couldn't have impressed the coaches that much last year since he didn't get playing time there after a brief look in camp.
Currently, the Bears have Ricky Henry listed as No. 2 behind Garza, which is mainly because they have Spencer targeted as a starter at left guard.
Middle Linebacker
Hannah Foslien/Getty Images
Brian Urlacher
Blake Costanzo
I like Costanzo, particularly on special teams, but if he's healthy and ready to go, of course Urlacher is the No. 1 here. A lot of people don't realize just how serious of an injury Urlacher suffered last year when he sprained his MCL. Here is what Urlacher told ESPN 1000 radio in Chicago on March 20:
"There's no reason for me to rush it right now," Urlacher said. "It was nasty. The MCL and the PCL were damaged. I'm not rushing it. I'm taking my time with it. I'll be fine. Once we start running and stuff, I should be doing everything with the team.".
But knowing Urlacher, he will be ready. Longer term, the Bears are hoping that Dom DeCicco will show some promise at the Mike linebacker position, so don't be surprised if he sees some time also.
Undrafted free agent Adrien Cole is a dark-horse candidate to make the roster.
Left Outside Linebacker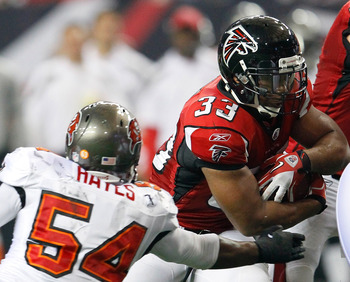 Kevin C. Cox/Getty Images
Geno Hayes
Nick Roach
In an upset, I'm picking Hayes over Roach. While Roach is listed as No. 1 on the depth chart, Hayes has been a reliable, if not spectacular player; and the Bears like what they see from him in this defense. The Bears scheme should be well suited for his strengths, so while Roach is a competent player, I give Hayes the advantage.
Hayes had 64 tackles and one interception last season vs. 38 tackles for Roach.
Right Outside Linebacker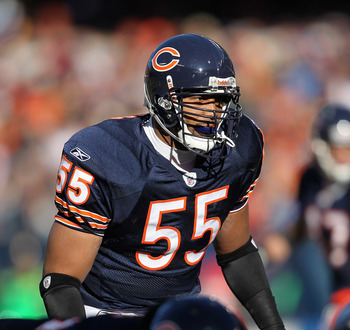 Jonathan Daniel/Getty Images
Lance Briggs
J.T. Thomas
Thomas missed his entire rookie season with injury, so the Bears will want to see if they have anything here. As a late-round pick, I'm not expecting a whole lot from him, and Patrick Trahan could steal some time here.
Briggs, meanwhile, got his contract extension, so he should be relatively happy now.
Left Defensive End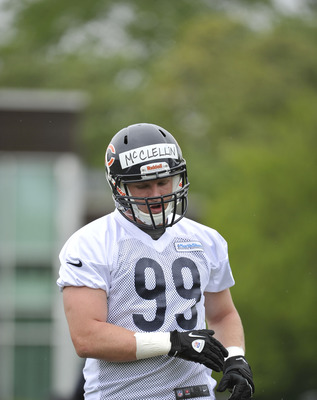 Brian Kersey/Getty Images
Shea McClellin
Israel Idonije
Idonije was re-signed but there is no question that the Bears hope that McClellin shows enough growth that he can line up alongside Julius Peppers and provide some much-needed pass rush for Chicago.
McClellin is more of a true outside LB, but has solid rushing skills; and a first-round pick is supposed to be able to contribute immediately in the NFL.
Idonije took a small step backward last season though he finished strong.
Right Defensive End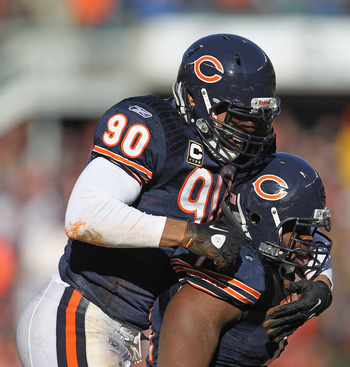 Jonathan Daniel/Getty Images
Julius Peppers
Corey Wootton
Is there any doubt? Peppers continues to carry the load, though the Bears hope to get some help in the pass rush from the rookie McClellin. Will Wootton take that next step and start to show something? He has the talent; he just has to be healthy, get an opportunity and produce.
Left Defensive Tackle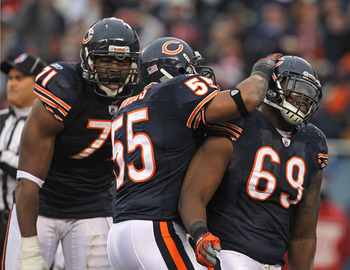 Jonathan Daniel/Getty Images
Henry Melton
Nate Collins
I'm going with a surprise pick here as Melton's backup—undrafted rookie from Virginia, Nate Collins. He has looked good in OTAs and could stick. If he does, Melton had better perform, or the Bears will let him walk after the season.
More likely, the Bears will sign Melton to an extension after he's coming off his breakout year. He wasn't always consistent and still has room for improvement, but his seven sacks tied for third among all DTs last year.
Right Defensive Tackle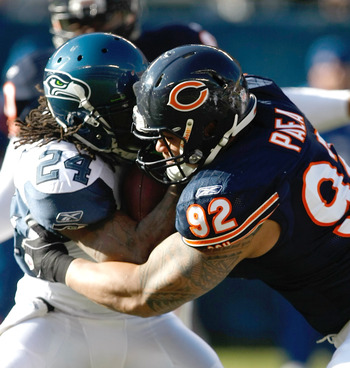 Scott Boehm/Getty Images
Stephen Paea
Matt Toeaina
Surprisingly, the Bears didn't go out and draft a DT, but I think Paea is just about ready to snatch this job away from the incumbent Toeaina, who is currently listed No. 1 on the depth chart. In the Bears defense, this position is more of a nose tackle. When he was originally drafted, the Bears thought Paea would be more suited to a 3-technique, but no longer think so.
But Paea is very strong and has a non-stop motor, while Toeaina plays intelligently with limited athleticism. Plus, Toeaina has a broken right hand. While he says it won't keep him out of mini-camp (which starts Tuesday) and will not require surgery, it has to be a factor in getting off the ball.
Left Cornerback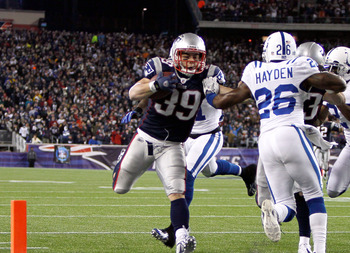 Jim Rogash/Getty Images
Kelvin Hayden
Tim Jennings
Jennings is listed as the starter on the depth chart, but if Harden is healthy (a big if), I believe he will pass up the little guy. I like Jennings—he plays fearlessly for such a diminutive man. But Hayden has starter talent. Again, there are huge question marks about his ability to stay on the field.
Right Cornerback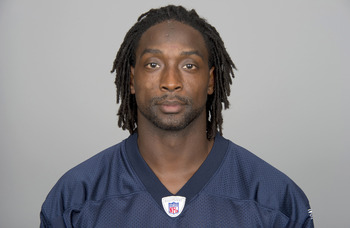 Handout/Getty Images
Charles Tillman
D.J. Moore
I like Moore in the nickle package, but Tillman, coming off his first Pro Bowl season, is obviously the man. Jonathan Wilhite and Greg McCoy will also provide some depth at the position, but the Bears will be counting on another top-notch season from Tillman.
Both Kelvin Hayden and Wilhite have starting experience, however, and both have played nickel back. With Corey Graham gone, any of them (including Tim Jennings) also could play nickel back.
Free Safety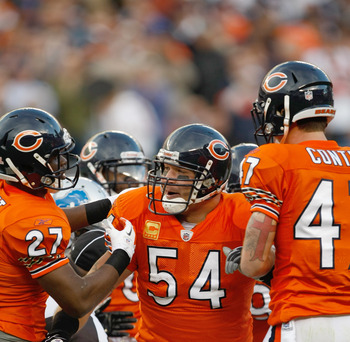 Scott Boehm/Getty Images
Chris Conte
Brandon Hardin
I realize that Hardin is listed on the depth chart at strong safety, but I think he will provide insurance at both positions. The Bears apparently are going to play him at strong, though he played free in college.
Anthony Walters and Jeremy Jones are other candidates, but Conte has this job locked down. He still has a lot to prove, but I like what I've seen of Conte so far.
Strong Safety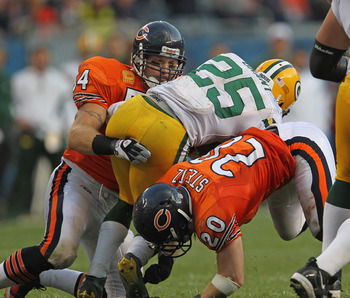 Jonathan Daniel/Getty Images
Craig Steltz
Major Wright
The current Bears depth chart has Major Wright listed as No. 1, but I believe that Steltz will win the job outright. Or should I say, out Wright?
Bad puns aside, I liked what Steltz showed late last season. Prior to that showing, I was not a fan, but I saw something in Steltz that makes me believe he can be a serviceable, albeit not a Pro Bowl, strong safety for the Bears.
Steltz knows his assignments and plays true to the defense. Wright has more upside, but makes more mistakes in coverage.
Brandon Hardin will eventually be the starter at strong safety, but it won't be right away.
Punter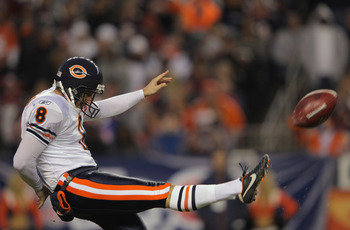 Doug Pensinger/Getty Images
Adam Podlesh
Ryan Quigley
The Bears will keep only one punter, of course, though Quigley is listed as his backup on the depth chart. Podlesh had a good season for the Bears in 2011 and is solidly entrenched as the team's punter.
Kicker
Jonathan Daniel/Getty Images
Robbie Gould
There is no two deep when it comes to the kicker on a football team. Gould is the man.
Kick Returner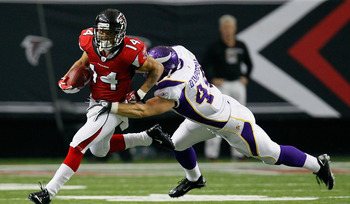 Kevin C. Cox/Getty Images
Eric Weems
Devin Hester
Back in 2007, Hester returned 43 kicks. But the last three years combined, he has returned just 33 kicks. But he did return more in 2011 than he had either of his two previous seasons, while he only returned six.
The Bears have got to get him more involved in the return game. He is one of the best of all time and with a reduced role in the offense, they simply must do whatever they can to get value out of him.
If I were the Bears, Hester would line up for every kick return. But I say Eric Weems will replace Hester (who is currently listed atop the depth chart) and will return more kicks this season.
Weems, 26, has averaged 25.7 yards per kickoff return over the last three seasons with the Atlanta Falcons. He made the Pro Bowl after the 2010 season when he returned two kicks for touchdowns—a 102-yard kickoff against the Tampa Bay Buccaneers and a 55-yard punt return against the Carolina Panthers.
Punt Returner
Hannah Foslien/Getty Images
Devin Hester
Eric Weems
Hester is the only man I want returning punts for the Bears. He is ridiculous. Weems meanwhile, averaged 9.8 yards on 32 punt returns with a long return of 42 yards in 2011.
Long Snapper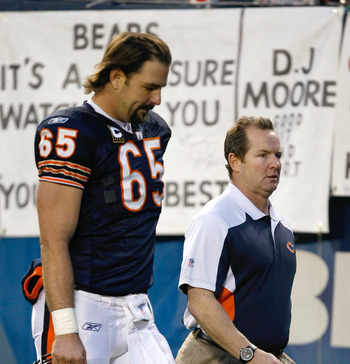 Scott Boehm/Getty Images
Patrick Mannelly
There is only one long snapper on a football team, and Mannelly is the only one who has his own website. He is coming off an injury, however, so at his age there is some question about how long he will continue in the role.
Keep Reading

Chicago Bears: Like this team?