Pacquiao vs. Bradley: HBO's Coverage Slanted Perception of Fight
Kevork Djansezian/Getty Images
I have a challenge for you fight fans. Watch a replay of the Timothy Bradley vs. Manny Pacquiao bout with the volume down, and then score the fight. Jim Lampley, Max Kellerman, Emanuel Steward and especially Harold Lederman, drastically slanted the perception of this bout for the public.
It is very difficult not to become a slave to the commentary. We respect the announcers' opinions and resumes, but at the end of the day, they reflect only one vantage point, and one opinion per person.
Even Kellerman said he spoke to three people ringside, who's opinions he trust, and they said they had Bradley winning the fight. He also acknowledges that he and the rest of the HBO team could have influenced opinions. Watch it here:
I take no exception to folks that believe Pacquiao won the fight, but it's crazy to say that he dominated, or shut Bradley out. I also take no exception to the notion that Pacquiao is the better fighter, I believe that to be true.
But when you're judging a fight, you're not judging who is the better fighter. You're judging each round individually. Pacquiao proved he was the better man early, and HBO started singing his praises from that point. It was as if every round from that point was Pacquiao's to lose, and this was based on what he had done earlier.
This is not the right mindset to judge a fight, but it's an easy one to fall into.
I personally had Bradley winning the fight, but I offer caveats to that scoring. The latter rounds that I scored for Bradley could have gone either way. I say this for two reasons: Bradley's shots weren't hurting Pacquiao, but in Bradley's defense, Pacquiao took the latter rounds off.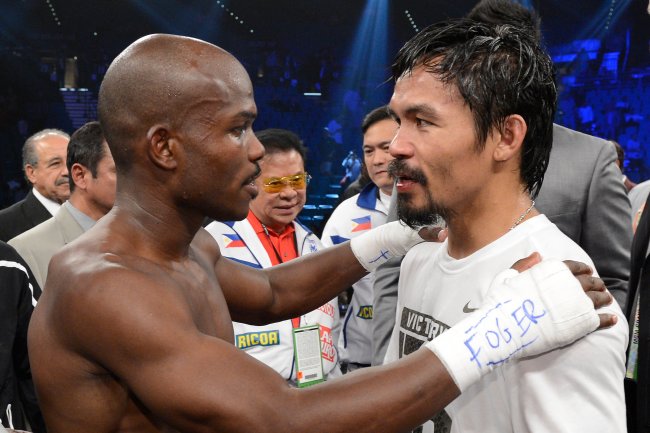 Kevork Djansezian/Getty Images
With Pacquiao doing that, he opened himself up to become a victim to the quiet rounds. Those are the rounds that are the most difficult to score. These are the rounds where no one does anything of note.
In those situations, the favorite often gets the nod, but that isn't the way it's supposed to be.
In those rounds, the more active fighter should win the round, and in my opinion, that was Bradley for the final four or five rounds.
What matters most in deciding on the winner of a fight?
HBO's biased broadcast made falling into the former tendency far easier to do. Every time Pacquiao drew back a nub, Kellerman, Lampley and Steward had to be restrained from constructing a shrine for Pac-Man.
When Bradley had flurries, albeit none of his punches hurt Manny, there was dead silence amongst the broadcast team. They may not have been wow punches, but they have to be scored.
I hear the Compubox argument, but in my opinion, that doesn't always tell the complete story. You can look at the total numbers, but that can skew the view of the fight. An overwhelming advantage in one round can give a fighter an edge in those stats, but he could have still lost more rounds than he won.
Take a look at these stats from compuboxonline.com:

Look at the total punches thrown in the last three rounds. Bradley was the more active fighter in those rounds. In the ninth round, Pacquiao threw more punches, but Bradley landed more.
Also keep in mind that when judging a fight, these statistics aren't given to judges. The decisions are based on the first-hand account, and this is the criteria and the questions a judge should ask themselves at the beginning of EVERY ROUND:
1. Was anyone knocked down?
2. Was anyone staggered?
3. Was one fighter landing more clean and effective punches?
4. Who was more active?
5. Who controlled the ring?
If none of this can be determined, it is an even round. Many of the rounds in the fight in question made it to question No. 4 in my opinion, and those were the rounds Bradley stole with his activity.
I present this information not to change the mind of those that feel Pacquiao won the fight. Obviously, that isn't a baseless argument, but don't discount the influence of HBO's presentation as a major factor in public opinion.
Follow Brian Mazique and Franchiseplay.net for reactions, analysis and news from the world of sports and sports Video Games
This article is
What is the duplicate article?
Why is this article offensive?
Where is this article plagiarized from?
Why is this article poorly edited?