Manny Pacquiao vs Timothy Bradley Results: Controversy Kills Sport's Credibility
June 10, 2012

Jeff Bottari/Getty Images
Boxing has turned into a joke.
As the whole world saw Manny Pacquiao winning 11-of-12 rounds Saturday night, I was pretty convinced Pacquiao was going to be announced the winner of his prize fight against Timothy Bradley. 
Boy was I wrong. Well, the whole world was wrong.
In a stunning split decision, the judges gave the fight to Bradley, and the decision has now killed boxing's credibility.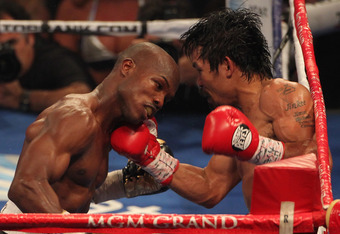 Jeff Bottari/Getty Images
I've said from the beginning that Pac-Man or Floyd Mayweather Jr. can't lose prior to their super fight, if it were to ever happen. I was convinced that any close fight would probably go Mayweather or Pacquiao's way to ensure that the pay-per-view rates stayed through the roof.
Nope.
Apparently not even decisive victories go their way.
Pac-Man was robbed last night. Bradley even admitted that he would have to watch the tape to see if he won. 
Really?
When was the last time you heard that one? It was an absolute joke of a night in the world of boxing and they should be ashamed.
Now we will have to wait for the rematch against Bradley, and I could care less. I hate to say something is fixed without actually knowing, but this was pretty close to being fixed.
And as far as Mayweather is concerned, I could care less if I saw that fight too. 
It's like the loser of the AFC Championship Game going up against the winner of the NFC Championship Game. It wouldn't make a lot of sense. 
Any feelings of excitement I had towards that fight was shot last night. 
But then again, who really knows if we were going to see that fight anyway. I mean, we've only been waiting half a decade to see the two best fighters in the world go at it. 
Only in boxing would you see something so asinine.