Georgia Football: What You Need to Know About Bulldogs WR Michael Bennett
Scott Cunningham/Getty Images
Before the 2011 season, Georgia fans were talking about how much of an impact Isaiah Crowell was going to have on the Bulldogs' offense. Crowell put up solid numbers and won SEC Freshman of the Year, but he did not have the kind of impact fans were expecting.
Michael Bennett, on the other hand, did not have as much hype coming into the season, but he made play after play, after play. He did not make the All-SEC team, but the team recognized his efforts as he was awarded Newcomer of the Year.
He's not as explosive as Malcolm Mitchell and not as experienced as Tavarres King, but he's very important to the offense and could have a huge year in 2012.
Here's what you need to know about Bennett moving forward.
He's Not a Possession Reciever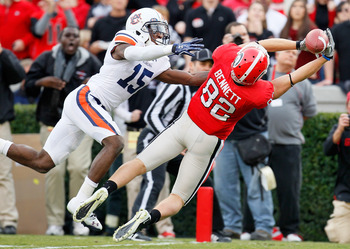 Kevin C. Cox/Getty Images
Based on his size and speed, many would think that Bennett is a possession receiver. That is simply not the case as Bennett can make the deep catches and has the ability to beat SEC defensive backs when he needs to.
A perfect example of that was when the Bulldogs took on Auburn and Bennett made a diving over-the-shoulder catch. That catch, and really that game, put Bennett on the map.
He Has the Potential to Be a No. 1 Receiver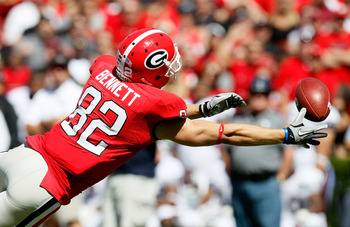 Kevin C. Cox/Getty Images
This is not to say he will be a No. 1 receiver, but with the work he has put in the last two years, Bennett could be the prime target for Aaron Murray or any UGA quarterback.
As mentioned earlier, Bennett does not have elite speed, but he does have great hands and the ability to get open. The way that the Georgia offense is built fits Bennett because they like to run the ball and throw off of play action.
There are receivers on the roster that will be brought in to stretch the field, but having a guy like Bennett is vital to any offense and he proved that last year.
He's Was Underrated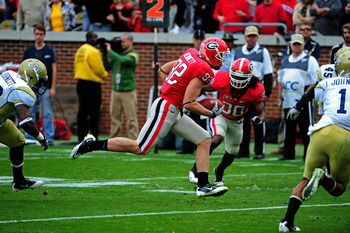 Scott Cunningham/Getty Images
Rivals and Scout make a living off of rating players and when Michael Bennett came out of Alpharetta High School in Alpharetta, Ga, he was given a 3-star rating by both websites.
That is solid, but if Bennett continues to improve and build off what he did last year, he will undoubtedly prove that ratings aren't always the best way to determine the skill set of a receiver. Bennett is playing at a 4-star level at least.
Maxpreps and his high school coach had it right when they said Bennett was one of the most underrated players in Georgia.
Predictions for 2012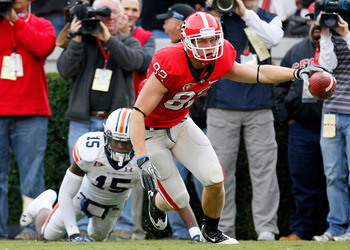 Kevin C. Cox/Getty Images
The wide receiver position is deep and Bennett will be the No. 3 option behind King and Mitchell. So to say he will have 1,000 yards will be tough.
However, he will see more action on the field because Murray does trust him, and with Mitchell playing defense the coaches may want to give Bennett more time to give their No. 2 wideout a breather.
If Bennett does see more time on the field, there is no reason he can't have 45-to-50 catches for 600-700 yards and five to eight touchdowns.
Predictions for Career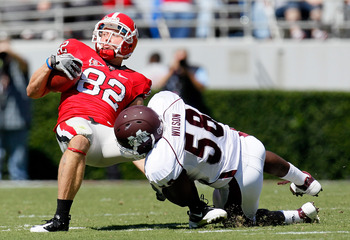 Kevin C. Cox/Getty Images
Bennett is already off to a solid start to his career, so he is looking to have a better 2012, 2013 and 2014 season. Will he be an All-American when his career is over? It's hard to say, but First-Team All-SEC is a possibility after the 2013 season.
By that time, Bennett will have made his way to the starting lineup full time and will see a lot of passes coming his way.
Murray may be gone by that time, but whoever is in at QB will have a fun time throwing to Bennett between the hedges.
Keep Reading

Georgia Bulldogs Football: Like this team?