LA Dodgers: 5 Reasons the Dodgers Will Still Be in First Place at Trade Deadline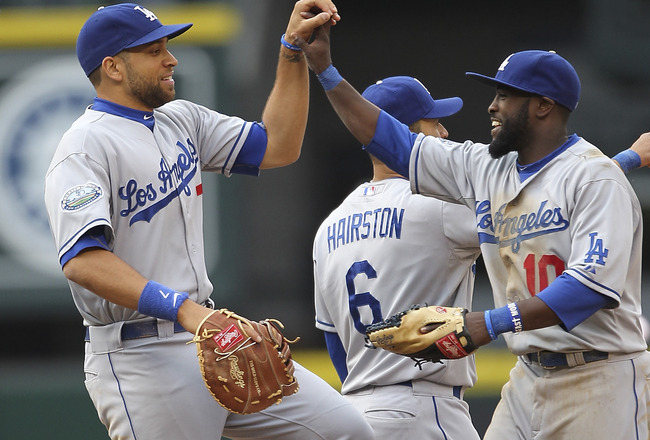 Otto Greule Jr/Getty Images
If you would have told last season's struggling Dodgers that they would be in first place in the National League West and have the best record in baseball in June, they might have let out a giggle of disbelief.
Yet, to the surprise of the Blue Crew and fans, that is exactly the case. The Dodgers have the best record in baseball, over the American-League-champion Texas Rangers, and also have the best home record as well at 21-9.
However, consistency is a difficult feat in all sports, especially in baseball, and many factors must remain aligned in order for the Dodgers to maintain their current pace.
Here's why the Dodgers will indeed uphold their current pace and will still be in first place by the July 31st trade deadline.
1. Starting Rotation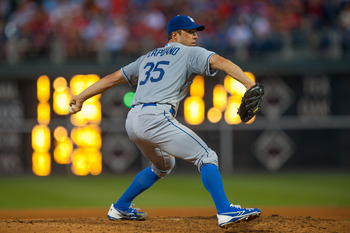 Rob Tringali/Getty Images
The Dodgers' offseason moves to acquire Aaron Harang and Chris Capuano have proved fruitful so far.
Los Angeles currently has one of the best starting rotations in the National League.
Last year's Cy Young Award winner Clayton Kershaw is having an average year by his own standards but is still sporting a 2.65 earned run average and has earned five wins in 13 appearances.
While Chad Billingsley and Ted Lilly have performed solidly within their usual capacity, Capuano and Harang have exceeded their expectations as middle-rotation starters.
At 33, Capuano is having the best season of his career so far with a team-leading eight wins (he won a total of 11 in 2011 and has only once had a winning record in his career (2005: 18-12 with Milwaukee) and a 2.82 earned run average.
Harang has had solid outings as well. While he hasn't been dominant and will probably never replicate the nine consecutive strikeouts in his early-season outing, he has substantially improved each outing and puts the Dodgers in a good position to win games.
With Kershaw at the helm and the middle of the rotation holding its own weight, the Dodgers offense will continue to be put in a good position to win ballgames.
2. Bullpen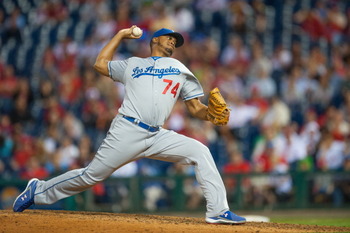 Rob Tringali/Getty Images
The Dodgers' bullpen hasn't been amazing this season and has collapsed at times.
That established, the starting rotation has been so solid that there hasn't been very much pressure on the bullpen.
As a result, Don Mattingly and pitching coach Rick Honeycutt haven't had to dig too deep into the bullpen.
Former closer Javy Guerra has proven to be better suited as a middle reliever and has adjusted well to his new role in the bullpen.
With Guerra now holding leads set by starters, current closer Kenley Jansen has come up big and helped the Dodgers pull out some close wins.
The Dodgers' bullpen isn't comprised of the most dominant relievers in the MLB, but they can and will continue to get the job done with Jansen closing out games.
3. Run Manufacturing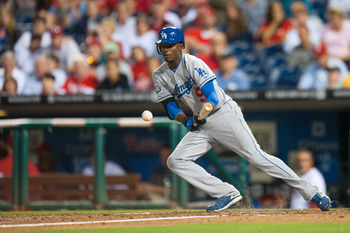 Rob Tringali/Getty Images
It's no surprise that the Dodgers are in the Top 10 in the offensive categories of runs (ninth: 260), batting average (fifth: .266), and on-base percentage (third: .338).
This team can flat-out produce runs.
The Dodgers are very team-oriented and place their focus in taking the course of action that will give their team the highest chance of succeeding.
This credit, again, also resides in the management, but regardless of where it stems from, it works.
Some call it small ball, but it's simply just good baseball. They are bunting, hitting sacrifice flies and stealing bases to advance into scoring position.
The best news of all for Dodgers fans is that all of this successful run manufacturing is coming while Matt Kemp is sidelined with a hamstring injury.
If the Dodgers can continue produce runs the way that they are when Kemp returns, the sky is the limit.
There is a slight risk that they may depend on Kemp too heavily when he gets back, but they should be just fine after keeping the offense afloat without him for weeks.
In addition to having Kemp out, key guys in the lineup, Dee Gordon (.229 BA .271 OBP) and James Loney (.256 BA .330 OBP) have yet to get it going.
When those two get hot, which they eventually will, the Dodgers will be set.
4. Competition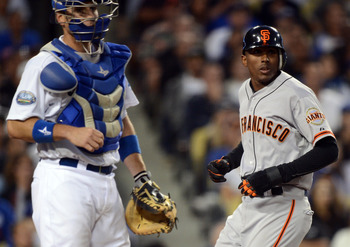 Harry How/Getty Images
Although it's only a few months into the season, the National League West is shaping up to be just as mediocre as it has been in the past few years.
The division has only three real contenders (Dodgers, Giants and Diamondbacks), and the other two (Rockies and Padres) don't stand a realistic chance of being at the top tier of the division.
The Giants have been heating up after a slow start and have worked their way within four games of the Dodgers.
San Francisco is particularly threatening with slugger Pablo Sandoval back from injury and Buster Posey stroking the ball well now.
In addition to their dangerous offense, the Giants also have a solid pitching staff despite Tim Lincecum's rocky, atypical start to the season (2-6, 5.83 ERA .257 BAA).
However, the Giants and the Dodgers have very similar schedules for the duration of June, which should keep the teams around the same position in the standings.
In addition, the Giants have a rougher schedule in mid-July, which should keep the Dodgers at the top of the NL West.
The two will face one another for a three-game series starting July 27, which will be very decisive in the standings.
Lost in this conversation is Arizona, who could sneak up on both teams. However, if they did so, it would take a while and plenty of fortune, as the Diamondbacks are currently eight-and-a-half games back with a 29-30 record.
5. Collective Effort
Otto Greule Jr/Getty Images
Perhaps it's because the Dodgers don't have a star-studded team, but the players work hard for a collective effort every single game and seem to always strive toward team-oriented goals.
The credit may reside with Don Mattingly, who seems to keep his players calm and level-headed.
Minor league call-ups like Elian Herrera, Ivan De Jesus and Alex Castellanos (to name a few) are hardworking utility men who seem to genuinely want to be on the field at all times.
There is energy in this team that hasn't been there for quite some time. Guys are up at the plate hacking away as though it were their last at-bat. Relievers are getting pumped up like never before.
This collective effort and enthusiasm is a key intangible that will keep this team rolling if it continues.
The Dodgers appeared to be surfacing from their tremendous start to the season at the end of May, when they were swept by the Brewers at home and then lost a series to Colorado.
That resiliency, that collective effort brought them back to sweep the Phillies on the road, which was huge for the franchise, considering that such a feat hadn't happened against the Phillies in decades.
They got no-hit on the road against Seattle in the first game of the series and came back the next game and easily beat them.
It's the willingness as a team to come out and show up to play every day that gives the Dodgers an edge that will keep them rolling.
Keep Reading

Los Angeles Dodgers: Like this team?