UFC 150: Frankie Edgar, the P4P Rematch King, Faces Henderson in Another Rematch
June 10, 2012

When former 155-pound Champion Frankie "The Answer" Edgar fights Ben Henderson this August, it will be his third straight rematch involving UFC gold.
The numbers are pretty staggering.
The lightweight title has been up for grabs a total of five times since April 2010, with the Edgar-Henderson rematch this August being the sixth. By the time the dust settles on Edgar-Henderson 2 later this summer, Edgar's trilogy of title rematches will have consumed the Lightweight title for nearly two-and-a-half years.
That in itself is not such a big deal—especially when you consider that Edgar has put on some highly entertaining fights lately.
But here's the condemning part for "The Answer."
In his four title defenses, Frankie Edgar has managed only two victories.
For the life of me, I can't think of another MMA fighter with three straight rematches, let alone three do-overs involving a much-coveted UFC title. But looking at the history of Edgar's last three fights, his rematch three-peat becomes less and less surprising.
When Edgar defeated "The Prodigy" B.J. Penn for the title back in 2010, he didn't win himself many fans. By stifling Penn, "The Answer" dethroned an ever-popular champion with a shifty boxing style pejoratively labelled as point fighting.
I once heard his style called "Foxy Boxing."
Supporters of "The Prodigy" were confident that the first fight was a fluke, and that Edgar would be outclassed in the rematch. Of course, Edgar would go on to dominate Penn-Edgar 2, this time controlling the fight from bell to bell in late 2010.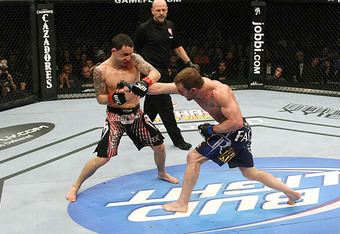 Fast forward four months to January 1st, 2011, and Frankie Edgar is ready to defend his title against Gray Maynard.
Despite the lack of fan interest, Edgar-Maynard 2 turned out to be an instant classic. After getting dropped multiple times in the opening round, Frankie Edgar exhibited one of the most striking displays of heart in the history of MMA, surviving Maynard's early onslaught before winning enough of the next four rounds to force a draw.
Edgar's passion was incredible—he absolutely refused to be knocked out. Bleeding from every hole in his face, "The Answer" found a way to keep answering the bell.
That night, Frankie's heart became legendary.
Of course, the controversial nature of Maynard-Edgar 2 led to Frankie's second straight rematch involving the 155-pound title.
Their third fight opened just like the second, with Maynard once again battering "The Answer" on the feet. Edgar's prospects looked grim, but somehow the champion remained conscious.
What followed was one of the sport's greatest moments of poetic justice.
In the fourth round, Edgar miraculously stunned his rival with some quick punches and then swarmed his way to a rare TKO-stoppage. It was the only finish in nearly 12 hard-fought rounds between the two men.
For the second straight fight, Edgar showed the kind of guts that can define a fighter's career. There were comparisons to another comeback king, the late Arturo Gatti, and UFC-boss Dana White began mentioning Edgar among the sport's P4P bests.
That was his second immediate rematch in a row, and when Edgar lost to Ben Henderson on the scorecards four months later, it should not have been a surprise when the UFC opted for yet another rematch atop the 155-pound heap.
Now I love a good rematch as much as the next guy, but in my mind, Henderson controlled enough of their first fight to secure a pretty solid unanimous decision victory.
Sure, it was a close fight, but not all close fights deserve an immediate rematch. The decision was reasonable enough that the promotion could provide Henderson a new challenger without much public backlash.
But what choice did the UFC really have?
Besides a rematch with Edgar, the UFC could have matched Henderson against fellow-WEC alumni Anthony "Showtime" Pettis, a young fighter who was making some serious waves by finishing the ever-tough Joe Lauzon via a highlight-reel headkick.
As some added incentive, Henderson and Pettis had already competed once before, battling over the WEC Lightweight title in a back-and-forth fight in December, 2010 that saw Pettis win a Unanimous Decision victory, topping off a solid performance with a Mortal-Kombat-esque flying headkick at the end of the fifth round.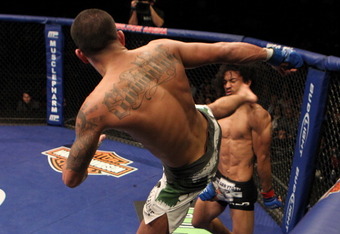 So why did the UFC opt for yet another rematch atop the 155-pound ladder, besides believing that Edgar had actually won the first fight?
Pettis-Henderson 2 was probably not the best choice for a promotion that has been struggling with dwindling pay-per-view sales (keep in mind that none of Edgar's title fights have sold that well, either).
On top of this marketing aspect, Pettis is still a relatively unknown, and unproven, commodity.
But Pettis will have to wait in line in the UFC's crowded lightweight division. 
After obliterating perennial-challenger Jim Miller at UFC on FOX 3, Nate Diaz has officially been named the next title-challenger, with the Stockton bad-boy slated to face the winner of Edgar-Henderson 2 sometime in the fall (providing a three-month turn around).
Nate would make for a great, and highly-marketable, first defence for Henderson's newly-minted title, but up until he became the first man to finish Jim Miller, many questioned Diaz's level of high-quality victories.
Now the increasingly-popular Diaz will be sitting on the shelf for up to six months, which is not the best tactic if you're trying to develop a fighter's star power.
The only logical reason for having Diaz wait out a shot is that the UFC sees superstar potential in the younger Diaz brother and doesn't want to risk him losing before he can fight for a title.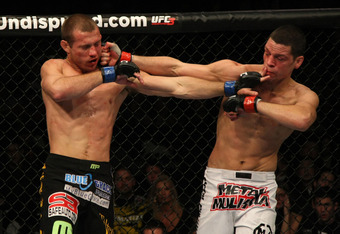 But what if Edgar pulls off a close decision: Does the UFC push Henderson-Edgar 3?
Probably not.
In the end, keeping the Lightweight title picture congested is a smart long-term decision for UFC matchmakers (especially since there was no clear-cut Lightweight challenger at the time of Edgar's defeat, although Diaz has since become everybody's favorite Huckleberry).
Unfortunately for fight fans, many promising—and marketable—155-pound fights have tumbled down the mountain while four lucky men have repeatedly battled for the title over a span of two years.
Booking Edgar-Henderson 2 kept the belt rolling while the UFC takes their time developing prospects like Anthony Pettis and Nate Diaz.
What makes the most sense for the UFC right now is to schedule a true No. 1 Contender's match between Nate Diaz and Athony Pettis sometime this summer, and potentially promoting the match alongside the Henderson-Edgar rematch at UFC 150 this August.
It's about time UFC gets things moving in their 155-pound division, and keeping Nate Diaz on the shelf for six months is not the answer.