Stanley Cup Playoffs: Los Angeles Kings Cannot Afford to Panic
June 10, 2012

Bruce Bennett/Getty Images
The Los Angeles Kings seemed unbeatable on the road. Tonight, the world found out that the Kings were mortal.
For the first time in the 2012 Stanley Cup playoffs, the Kings lost a road game, making their record 10-1. That record is still the best road record in any playoffs of any sport. The Kings should be proud of what they have done. 
But being proud still should not be enough, as we have seen in many other teams. When it comes to playoff time, teams that were good seemed satisfied; those that had to fight tooth and nail to get into the playoffs were the ones that wanted more. The Kings were the latter in the majority of these Stanley Cup playoffs.
The Kings were predicted to lose to the President's Trophy winning Vancouver Canucks in five games. The Kings won in five. They were supposed to lose to the Central Division champion St. Louis Blues. They swept them. When it came time for the face the Coyotes, they were deemed the favorites. Their play was a little more spastic and uncharacteristic of the Kings, but they managed to beat the Coyotes in five games.
But in the Finals, they have been outworked by the underdogs.
Even though the Kings were up in the series 2-0 coming into LA for Game 3, the Kings had been severely outworked by the Devils. The only reason they were in both games was because of Jonathan Quick and a few good breaks. If the Devils had the same breaks, the Devils may have been up in the series 2-0 rather than the opposite.
Game 3 turned out to be a blowout for the Kings, but that can be attributed to the electric crowd in the Staples Center. Hockey may be the sport where players can feed of the crowd the most.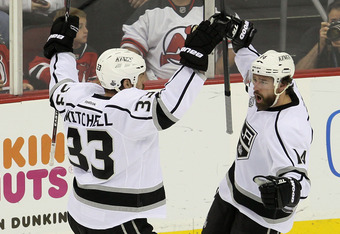 Jim McIsaac/Getty Images
But being one win from the title, and being in that role where they are expected to win, is why the Kings are now in their current funk.
They haven't been in this position since the middle of February. They have had to prove that they deserved to be in the playoffs.
But now the tables have turned.
The Devils are the ones who are proving that they deserve to be in the Finals. They are the ones showing that they are capable of winning the Cup, that when the bounces go their way they can win games, too.
The key for the Kings is to get back in the "Screw the World" mentality that brought them into the 8th seed and that motivated them to beat the Canucks and the Blues. One road loss is not the end of the world for this team. They are one win away from hoisting Lord Stanley's Cup on their home ice and throwing a party rivaling the turn of the millennium.
Great moments are born from great opportunity.