Celtics vs. Heat: Chris Bosh's Inspired Play Must Carry into NBA Finals
June 10, 2012

Mike Ehrmann/Getty Images
The Chris Bosh who scored 19 points in the deciding Game 7 must be the Bosh who shows up in the NBA Finals.
Bosh's scoring and consistent presence on the glass paced Miami's attack, and Miami will be nearly impossible to beat if this perimeter-minded Bosh continues to present matchup nightmares for the opposition.
Boston nearly handled the assault, and they probably would have if Bosh had not erupted.
Let's look at Bosh's Game 7 and how his performance will impact Miami's success against the Oklahoma City Thunder.
Keys to Game 7 Success
Bosh and Dwyane Wade ran the high pick-and-roll with stunning precision. They dissected Boston's defense by relentlessly executing one of basketball's simplest plays.
Ordinarily, Bosh is considered a solid face-up shooter. For his career, he shoots 29 percent from beyond the arc.
But in Game 7 Bosh found his stroke. He knocked down three of his four tries from distance, finished with an outstanding 8-of-10 shooting night in a little over 31 minutes of floor time, and made Miami's pick-and-roll that much more versatile.
Instead of counting on Wade's penetration, or Bosh down low, the Celtics also had to worry about Bosh stepping outside.
Undoubtedly still hindered by his abdominal strain, the southpaw's emotional performance in Game 7 gave Miami the added boost it needed to push by Boston. Winning the next series will be even tougher.
Bosh's Impact on NBA Finals
The Thunder have the length, and athleticism, in the frontcourt to slow Bosh down. But at the very least, Bosh neutralizes one of Oklahoma City's big men.
He will be a handful even if he just dwells in the low-post area. If he brings his new-found range to the finals, the edge swings undoubtedly in Miami's favor.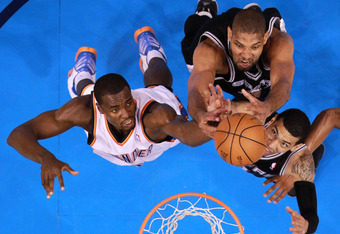 Ronald Martinez/Getty Images
Serge Ibaka will have no problem guarding the big man. He is lanky, athletic and has a high motor, but the Thunder need Ibaka's intimidating presence in front of the rim.
Making perimeter shots will yank Ibaka from where he is needed most for the Thunder. Kendrick Perkins is tough, and strong, but he will not own the paint by himself.
Erik Spoelstra shouldn't change anything—bring Bosh off the bench, give him 25 to 30 minutes and enjoy his instant impact.
Immediate boosts off the bench are an underrated asset. Bosh's star-caliber abilities could give the Heat a decisive edge in the NBA's championship series.