Belmont Stakes 2012: Union Rags Deserves to Leave Barbaro Behind Him
June 10, 2012

Rob Carr/Getty Images
Before the Triple Crown, the hype around Union Rags wasn't just about the talent of the horse, but about his trainer's previous charge as well. If anyone isn't aware of Michael Matz' past Triple Crown superstar, he was the trainer of the 2006 Kentucky Derby winner Barbaro. Barbaro broke down in that year's Preakness Stakes only a few hundred feet out of the gate.
While Matz tried to make it clear before the Kentucky Derby that Union Rags wasn't Barbaro in any way except for his coloring, the comparisons still came. Even today after Union Rags' victory, neither horse nor trainer can shake the shadow of Barbaro.
Some of today's articles list not only Matz's Derby win, but the fact that he is the trainer of the "ill-fated" Barbaro. However, any mentions of Barbaro's breakdown or anything else other than the horse giving the trainer his Kentucky Derby win shouldn't be mentioned when it comes to Union Rags' win.
It's not just unfair to the trainer's accomplishments six years after the breakdown; it's also unfair to his current horse.
Yes, Barbaro was important to horse racing. After his exciting career and his fight to survive, he captured many hearts and even grabbed a somewhat cult-like following with some fans. But Union Rags is not Barbaro, nor is the horse trying to take his place.
Union Rags may have followed a similar schedule to Barbaro on the way to the Kentucky Derby, but he has also stepped out of the Barbaro mold both with results and his schedule.
Union Rags has the same trainer, but instead of focusing on one of Matz's previous charges, instead focus on what the trainer has done with this year's horse. Not only did he train this horse to a nearly undefeated two-year-old season; he also got the horse to run—and win—farther than many thought possible.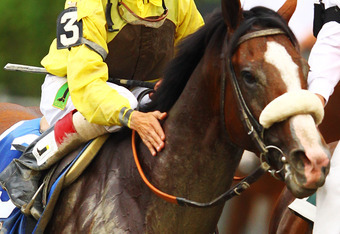 Al Bello/Getty Images
Barbaro was a good horse, but it's time to let Matz's new superstar take the limelight all by himself. Union Rags showed as a two-year-old that he could be something special, and his Belmont win shows an even brighter future for him in the coming months and, hopefully, years.
But until the horse is let out of the shadows of former horses, he will never be able to develop full credit for what he has accomplished
Letting Union Rags forge his own path isn't an insult to Barbaro; it's the reward this year's Belmont winner deserves after his gutsy win today. For Matz fans, it's time to let the trainer focus on his new superstar and leave a tragic time in his life behind him.
Union Rags and Michael Matz ended an exciting Triple Crown season in a spectacular way. It's the least racing fans can do to enjoy their successes without thinking of what Matz's other Triple Crown race winner could have done if he had the same chances.