Argentina vs. Brazil: Back-to-Back Losses Show Selecao Dominance Is Fading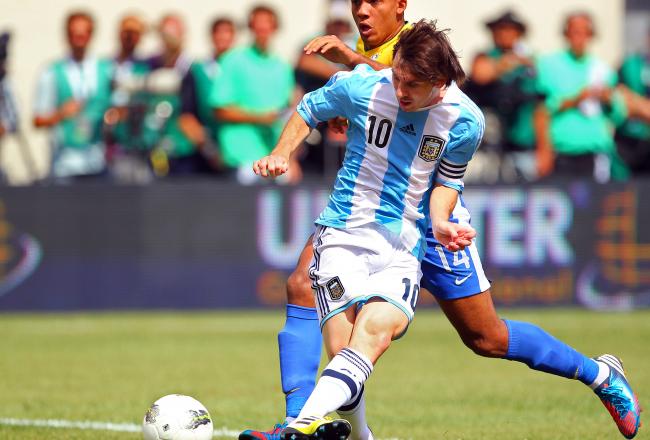 Rich Schultz/Getty Images
Brazil suffered a 4-3 loss to Argentina on Saturday, and in doing so, showed that their dominance over the rest of the teams from North, Central and South America is fading.
A 2-0 loss to Mexico was enough to make that case, but now that they've lost back-to-back games against the other top teams in the continent, it's clear that Mano Menezes' squad is not the clear-cut class of the Western Hemisphere.
The Brazilians are ranked No. 5 in the world, two places ahead of Argentina, but they didn't play that way Saturday at MetLife Stadium.
They were shown up by Lionel Messi, as he notched a hat trick—including the game-winner—in a thrilling effort that saw him dominate the Brazilian back line. Of course, Messi is the best player in the game today, but if Brazil want to have any semblance of confidence against Alejandro Sabella's team in the future, they need to figure out how to prevent a three-goal outing from him.
Highlights from Argentina vs. Brazil
For years now, Brazil have been atop their competition from the Americas, but now it seems as if the talent gap is decreasing. With the likes of Messi, Javier "Chicharito" Hernandez and Diego Forlan leading Argentina, Mexico and Uruguay, respectively, Brazil won't be distancing themselves from their nearest geographical competition any time soon.
The Brazilian defense was porous at best in the loss to Argentina, and they appeared largely outclassed by the Argentinian attackers. Messi will outclass almost anybody, but it's not like they didn't know it was coming.
That's what was nerve-wracking about the loss. They were unable to stop Messi when they knew he was the man to stop.
The offense was high-powered, but the loss serves as a testament to the fact that the Brazilians need their defense to be effective if they want to win games. They can no longer rely on their superior speed and quickness to beat teams. They must incorporate more strategic and technical aspects into their game plan when they play the other top teams in the Americas.
Most teams in the world fail to stop Messi when they try, but Brazil are better than most teams. Brazil will be hosting the 2014 World Cup, so they don't have to worry about qualifying, which could be a reason for their lackluster effort in this friendly.
However, they do have to worry about stopping Argentina if they are unfortunate enough to meet them at any point during the 2014 tournament.
None of this is a knock on Brazil's collective talent as a football squad, nor is it meant to say that they are not one of the top teams in the world. It is just merely a declaration that Brazil should be threatened by Argentina, Mexico and Uruguay much more than they were in previous years.
Which team is the most dangerous?
If Brazil want to defend their home turf and go deep in the 2014 World Cup like they are expected to, they will need to figure out a way to neutralize the young attackers of Mexico, Argentina and Uruguay.
Menezes still has one of the most talented teams in the world, but it wouldn't come as a shock to see one of the aforementioned teams win a big game when it actually counts down the road.
This article is
What is the duplicate article?
Why is this article offensive?
Where is this article plagiarized from?
Why is this article poorly edited?