NCAA Baseball Super Regionals 2012: Predictions for Stanford vs. Florida State
June 9, 2012

The Stanford Cardinal and Florida State Seminoles will battle one another in the Tallahassee Super Regionals for the chance to move on to the next step in the 2012 College World Series. 
Both teams have played at a high level all year long thanks to some MLB-level talent on their rosters, and the competition will be fierce. 
Three players from these two schools were taken before the second round of the 2012 MLB draft, and there are plenty of other talented players that have helped them combine for a record of 87-31.
Here are three bold predictions for the series between Florida State and Stanford.
Stanford's Mark Appel Will Pitch a Shutout 
Appel was selected by the Pittsburgh Pirates with the eighth pick in this year's MLB draft. He could have easily been the No. 1 overall selection, and many mock drafts had him being taken there by the Houston Astros. He is a legitimate ace who can shut down opposing lineups on any given day.
Appel has gone 10-1 so far this season with an ERA of 2.27, according to CollegeSplits.com. Additionally, he has more strikeouts than innings pitched—127 to 119. He is a dominant pitcher who is one of three finalists for this year's Golden Spikes Award, which is given to the nation's top amateur player.
Bold Prediction: I predict that Appel will rise to the occasion against the Seminoles, pitching a complete-game shutout that will include at least ten strikeouts.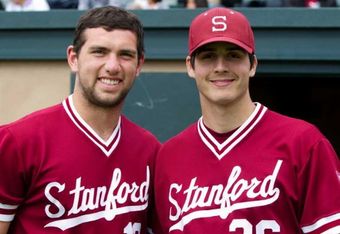 Stanford's Stephen Piscotty Will Be the MVP
Piscotty was taken by the St. Louis Cardinals with the No. 36 overall pick of this year's MLB draft. He is a reliable hitter and fielder as a third baseman, but that's not all he does for the Cardinal.
Piscotty is also a strong pitcher for Stanford, though he won't be filling that role in the big leagues. This year, he registered a record of 6-2 as a pitcher with a 3.05 ERA, according to CollegeSplits.com. Combined with his productivity on the offensive side of things, Piscotty is going to be the deciding factor that pushes Stanford over the top to beat Florida State.
Bold Prediction: I predict that Piscotty will hit over .400, drive in at least five runs and win a game as a pitcher in this upcoming series against the Seminoles.
Stanford Will Win the Series
Florida State, led by center fielder James Ramsey, isn't going to be pushed around. They are the No. 3 seed in the field for a reason, and they are a force to be reckoned with. That being said, Stanford's pitching will ultimately be too good for them to overcome. 
The Seminoles will win one game, but in the end they won't win the series. 
Final Prediction: Stanford will win the series, two games to one.