Manny Pacquiao vs. Timothy Bradley: Final Projected Score Card for Epic Showdown
June 9, 2012

Kevork Djansezian/Getty Images
The stage is set for Manny Pacquiao's showdown with underdog Timothy Bradley at the MGM Grand in Las Vegas tonight (June 9) at 9:00 p.m. EDT. 
Between Bradley's intense vegan diet, Pacman's humble rediscovery of his faith and, of course, the confident display of trash talking, boxing fans are finally ready to witness a pay-per-view showdown that promises to be worth the wait. 
After struggling with a narrow defeat of Juan Manuel Marquez last November, Pacman appears to have lost his form. If he wants to walk away with a victory over Bradley, he'll need to regain his former dominance that initially made him the prominent fighter that he is today. 
And for the 28-year-old Bradley, his young professional career has produced an undefeated 28-0-1 record, but he has never faced a fighter of Pacquiao's magnitude. 
If Bradley wants to win the first major contest of his career, he'll have to prove that his youth is truly an advantage, and he'll have to establish himself as the hungrier fighter. 
Which fighter will come out on top, and will the champion win in a dominating fashion? 
Let's predict the scorecard and outcome of tonight's match. 
Round 1: Pacquiao 10, Bradley 9 
We'll give the edge to Pacquiao in the first round due to his experience.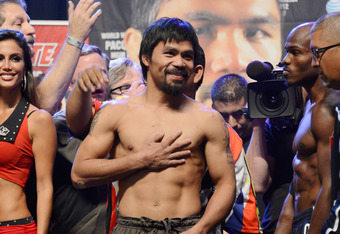 Kevork Djansezian/Getty Images
Both fighters will be pumped up entering the first round, but the inexperienced Bradley may be caught up in the moment, causing a temporary loss of focus. Although, he won't exactly roll over, either. 
Round 2: Bradley 10, Pacquiao 9
After settling down and adjusting to the Vegas crowd, Bradley is still well-rested and able to bounce back with a victory in Round 2. 
Round 3: Pacquiao 10, Bradley 9
After slipping in Round 2, Pacman bounces back and pulls ahead of Bradley in the Round 3, although neither fighter is showing dominance at this point. 
Round 4: Pacquiao 10, Bradley 8 
The first three rounds force the fighters to show just a slight bit of fatigue. Pacquiao uses his experience to overpower Bradley in this round, which turns out to be the first lopsided round of the match in Pacquiao's favor.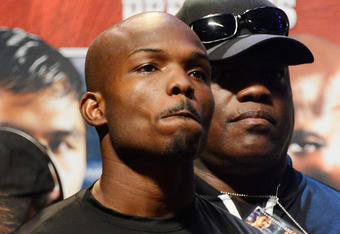 Kevork Djansezian/Getty Images
Round 5: Bradley 10, Pacquiao 9 
Bradley uses a disappointing Round 4 as motivation and is able to best Pacquiao in Round 5. Pacquiao is outmatched in this round, but stays strong. 
Round 6: Pacquiao 10, Bradley 8 
Bradley's Round 5 resurgence is short-lived. Pacquiao comes out determined midway through the fight and looks for the knockout. He dominates the round, but Bradley is still able to stay on his feet.
Round 7: Pacquiao 10, Bradley 9 
Bradley goes down in this round, but is able to quickly get on his feet after a short count. Other than that slip-up, he is able to hang with Pacman. 
Round 8: Pacquiao 10, Bradley 9 
Pacquiao wins his third consecutive round. Bradley gets bested in this round, but he began to show life in the final seconds. 
Round 9: Bradley 10, Pacquiao 9
After finding his groove toward the end of Round 8, Bradley carries the momentum over to Round 9 and outfights Pacquiao for the first time since Round 5. 
Round 10: Bradley 10, Pacquiao 9
Bradley begins to show some consistency and is able to win his second consecutive round. Pacquiao is showing significant fatigue at this point. 
Round 11: Bradley 10, Pacquiao 8
Bradley's youth and the age difference of the two fighters are more visible than ever in this round. Bradley stays strong and knocks Pacquiao down as he pieces together his best round of the night. 
Round 12: Pacquiao 10, Bradley 8 
After Bradley puts together a resurgence late in the match, his efforts are wasted. With a potential upset staring Pacman in the face, he enters the final round and displays a dominant performance over a stunned Bradley. 
Score: Pacquiao 114, Bradley 110
Winner: Manny Pacquiao (Unanimous Decision)