Euro 2012: Klaas-Jan Huntelaar Should Start for the Netherlands vs. Germany
June 13, 2012

Doug Pensinger/Getty Images
On Saturday, the Netherlands fell to Denmark 1-0 in what has been the biggest upset so far in UEFA Euro 2012. It was a rather disappointing result for the Dutch, who performed so well four years ago in the European Championship and were the runners-up at the World Cup in South Africa.
There are plenty of reasons why the Dutch failed to win that fixture. They were miserable with their shooting ability, shooting off target a mind-boggling 22 times. They lacked urgency, especially after conceding the goal to Denmark. They also failed to use the "anti-football" tactics that have worked wonders for Oranje at the World Cup and in qualifying.
Fingers have been pointed at many different players, especially Arjen Robben. Granted Robben has struggled during the past several months, missing penalties against Borussia Dortmund in a critical Bundesliga match, and in the Champions League final to Chelsea.
But Robben does not deserve to have too much blame. Some have criticized his decision to take a shot that hit the woodwork when there was an open Robin van Persie on the wing. But that criticism is unfair; Robben was on his strong left foot and in a position that he legitimately could have scored from.
Furthermore, if the Bayern Munich winger scored, would there be any criticism for his decision making on that play? Probably not.
Robben's stats show that he in fact had a better match than many of us would believe. Altogether, Robben completed 86 percent of his passes. Robben completed 21 of 25 passes in the attacking third. And he also created five chances.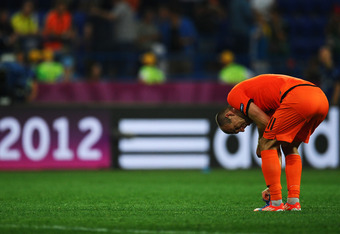 Lars Baron/Getty Images
We could also criticize van Persie for a poor match. Sure, half of his shots were off target and he probably should have scored at the end of the first half when he was given a golden chance. But similar to Robben, van Persie had an impressive offensive performance. Altogether, the Arsenal winger completed 96 percent of his passes, including 14 of 15 inside of the attacking third. He also created two chances.
Both Robben and van Persie must play against Germany. They are two of the best attacking players in Euro 2012. But they are going to need help.
Luckily for the Netherlands, they have an added dynamic weapon; Klaas-Jan Huntelaar.
Over the past year, Huntelaar has been in the best form of his career. The Schalke striker scored 48 goals in 47 matches. He also was the highest goalscorer during Euro 2012 qualification with 12 goals in eight matches.
It is easy to admire what the PSV product has done this past year. Huntelaar got Schalke into the Champions League by leading them to a third place finish in the Bundesliga. After years of injuries and misfortune, Huntelaar can now consider himself to be among the best strikers in the world.
Considering that the Dutch are facing elimination with a loss, they need to capitalize on any chance that they can get. Fortunately, Huntelaar is a goal poacher of the highest order; he scored on 32 percent of his shots this past season in the Bundesliga.
Considering that the Dutch will not move away from the 4-2-3-1 style that they have become accustomed to using under Bert van Marwijk, someone will have to go if Huntelaar will enter the lineup.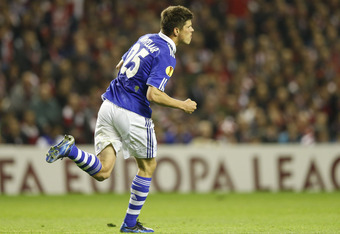 Angel Martinez/Getty Images
The player who should find his way out of the starting lineup is Ibrahim Afellay. Though he is a dangerous playmaker, Afellay was unable to produce. In 71 minutes, the Barcelona winger only created one chance and missed the net on all five of his shooting opportunities. Let's also not forget that Afellay may not be at full match fitness after tearing his ACL last September.
What the Dutch could do against Germany is move van Persie into Afellay's spot on the left side. It in fact could be a move that pays massive dividends considering van Persie had nine assists, 92 key passes and attempted over 200 crosses with Arsenal this past season.
Should van Persie get tired, both Afellay and Dirk Kuyt are available as substitutes. But van Persie is more than capable of putting together a strong performance at the wing. He can create opportunities, something the Dutch will need against a strong German defense.
With Huntelaar's poaching abilities and three great creative forces in the attacking part of the midfield (van Persie, Robben and Wesley Sneijder), the Dutch will stand a much better chance of beating their biggest rivals.