Belmont Stakes 2012: Why Casual Fans Still Have a Reason to Tune in
June 9, 2012

Rob Carr/Getty Images
By now, most sports fans have heard the news that I'll Have Another was forced into early retirement, which ends the horse's shot at becoming the first Triple Crown winner since 1978. 
Horse racing, one of the all-time classic American sports, has experienced a significant decline in popularity among non-gamblers, who have decided to spend their time observing more mainstream spectator sports. 
But believe it or not, even though the Triple Crown threat has been removed from this year's Belmont race, there are still reasons why the casual fan should turn on the television and tune in. 
Here are some of the more intriguing highlights of this year's race.
Going the Distance
Unlike the Kentucky Derby and Preakness Stakes, the Belmont Stakes is a mile and a half long, which adds another quarter mile to the race. 
Most of the current horses are trained for the shorter races, which don't require as much stamina. 
With this in mind, the Belmont race requires the jockeys to approach the event with a new and unfamiliar strategy, which inevitably results in unpredictability. 
As a result, the race is capable of producing surprise winners and upsets. If you're looking for an unexpected ending, the Belmont Stakes is the race you want to watch.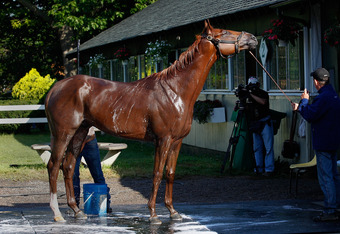 Rob Carr/Getty Images
I'll Have Another's Loss Is Another Horse's Gain
I'll Have Another is suffering from tendinitis, which spoils our chance to witness the first Triple Crown winner in over 30 years.
While the injury will force the borderline fan or anyone with mild interest to avoid the race, it actually spices things up.
With no clear favorite in line, it gives the fans a chance to pick a winner based on their own research and gut feeling, rather than picking a winner based on hype from the media.  
A sporting event is always more entertaining when the winner is unpredictable, regardless of the sport. 
Dullahan vs. Union Rags
I'll Have Another entered the race as Vegas' favorite, but his absence will clear the way for a fierce showdown between two other horses who are now favored by the gambling world. 
Dullahan is the 9-5 favorite and is expected to take home a victory, while Union Rags is looking at 3-1 odds. 
Dullahan finished third in the Kentucky Derby, while Union Rags was victorious in the Champagne race at Belmont Park last October, which means he has experienced previous success on the Belmont track.
The fight between the two favorites is certainly something to keep an eye on.