Toronto Maple Leafs: Odds That the Top 8 Marlies Players Crack Leafs' Roster
Claus Andersen/Getty Images
It's that time of year again.
With both the NHL and AHL playoffs officially over, it's time for every team to decide exactly what alterations need to be made to their current roster in order to become a more competitive team for next season.
For teams with some of the top prospect pools in hockey (like the Maple Leafs), some roster spots can be filled from within the organization.
When a team's AHL affiliate makes a deep playoff run and comes within four wins of winning the Calder Cup (once again, like the Maple Leafs affiliate), it becomes all the more likely.
Here we'll take a look at just how likely it is for each of the top Marlies players to make the jump to the NHL next season.
Korbinian Holzer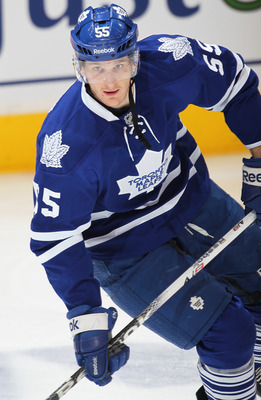 Claus Andersen/Getty Images
Korbinian Holzer is probably the most NHL-ready defenseman on the Toronto Marlies roster.
This doesn't necessarily mean that he'll be playing in Toronto come October, however.
It can be argued that Holzer doesn't need any more minor league seasoning and that he is ready for NHL action, but the current situation on the Maple Leafs' blue line may prevent him from occupying one of the Leafs' roster spots.
With Dion Phaneuf, John-Michael Liles, Carl Gunnarsson, Jake Gardiner, Luke Schenn and Mike Komisarek already locked up for next season and the possible return of Cody Franson and signing of Justin Schultz, the chances of Korbinian Holzer playing for the Leafs on a full-time basis next season aren't very good.
This is why a lot of people love to use Holzer as trade bait.
Odds Holzer cracks the Leafs lineup in October: 20:1

Nazem Kadri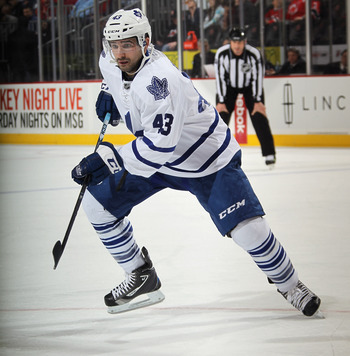 Bruce Bennett/Getty Images
It's been a few years now that Leafs fans have been waiting patiently (okay, some haven't been patient at all) for the much-hyped seventh overall selection in 2009 to permanently fill one of the Leafs' 12 starting forward slots.
While some may be calling for the youngsters to be traded and labeling him a "bust" already, others know that he's still only just finished his second year of professional hockey. A case could be made that he was mismanaged by former head coach Ron Wilson.
Whatever the reason, it appears as though Kadri's game (and attitude) have made great strides under the tutelage of Toronto Marlies coach Dallas Eakins.
With the Leafs potentially making a big move this offseason that may take up a good chunk of cap space, promoting Kadri to a full-time role with the big club would be a great move in terms of improving the team in a cost-efficient way.
A good training camp and preseason will go a long way for Kadri to ensuring he plays with the Leafs all season in 2012-13.
Odds of Kadri cracking the Leafs lineup in October: 3:1

Matt Frattin
Rick Stewart/Getty Images
Matt Frattin is the surest bet to be a Toronto Maple Leaf in 2012-13.
After spending well over half the season with the parent club this year, Frattin is all but certain to be a starter for the Leafs from October to April (and hopefully beyond) in 2012-13.
While he only managed to put up 15 points, Frattin was often on the ice when chances arose, but he had trouble finishing those opportunities.
With another year of hard work and experience under his belt, Frattin is sure to become a mainstay in Toronto for years to come.
Odds of Frattin cracking the Leafs lineup in October: 2:1
Ben Scrivens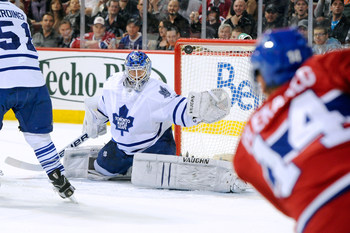 Richard Wolowicz/Getty Images
Determining Ben Scrivens' chances of being a Toronto Maple Leaf in 2012-13 is tougher than setting the odds for the rest of the players in this slideshow.
This is because there are a few factors that will play into whether there is a spot for Scrivens this fall.
First, if Toronto brings in a new No. 1 goaltender, it leaves one less spot on the roster, and Scrivens will have to compete for the backup role with current Leafs netminder James Reimer.
There's also the possibility that Burke decides to move James Reimer this offseason (though he insists that Reimer is still the goalie of the future for Toronto), which would just about guarantee that Scrivens becomes the backup goalie in Toronto this season.
Odds Scrivens cracks the Leafs lineup in October: 8:1

Jerry D'Amigo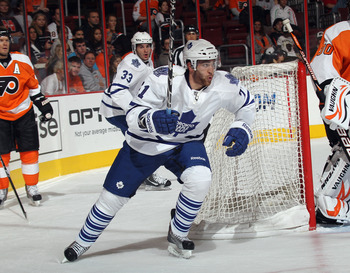 Bruce Bennett/Getty Images
While Jerry D'Amigo may have surprised many during the Marlies' playoff run and given Leafs fans cause from optimism, it is crucial to remember that he is still a year or two away from being a potential contributor for the Maple Leafs.
The sixth-round pick from 2009 has already surpassed expectations, increasing his output this year for the Marlies and being an intricate part of their early playoff successes.
D'Amigo will need another year to develop in the AHL, however, to improve upon his 41-point season.
He may be in line as one of the first call-ups of 2012-13, but he won't be starting the year with the Leafs.
Odds of D'Amigo cracking the Leafs lineup in October: 50:1
Nicolas Deschamps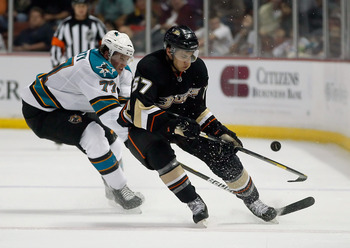 Jeff Gross/Getty Images
The 35th overall pick in the 2008 draft seems to be underrated by many.
Most places you see discussions on the Maple Leafs top prospects, Deschamps' name doesn't usually come up.
This is probably because of the fact that the Lasalle, Quebec native only put up 53 points in 111 games in the time he spent with the Syracuse Crunch of the AHL.
There is, however, a reason that Anaheim drafted the youngster with a fairly high second-rounder, and Marlies fans caught a glimpse as to why when he joined Toronto this season.
Deschamps was able to post 30 points in 40 games and began to show some promise at the professional level.
While others may have written Deschamps off, there is still a good chance that he may be able to become an effective NHL contributor.
Problem is, it won't be this season.
Odds of Deschamps cracking the Leafs lineup in October: 50:1
Mike Zigomanis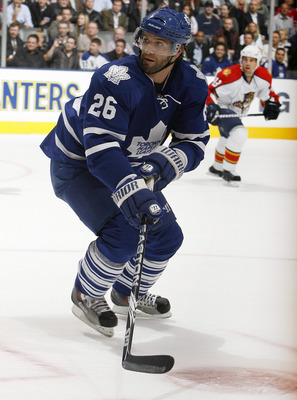 Abelimages/Getty Images
After the last two seasons of being a productive center for the Toronto Marlies, Mike Zigomanis is sure to be given another look for the fourth-line center job this season.
The main obstacle for Zigomanis will be the fact that the Leafs already have a plethora of bottom-six centers on the roster (David Steckel, Tim Connolly, Matthew Lombardi).
Zigomanis, though, could be the most well-rounded of them all.
He can win faceoffs like David Steckel, skate as well or better than Connolly and Steckel, and he's shown over the past two seasons that he has improved his offensive numbers to potentially serve as an NHL center.
Odds of Zigomanis cracking the Leafs lineup in October: 10:1
Joe Colborne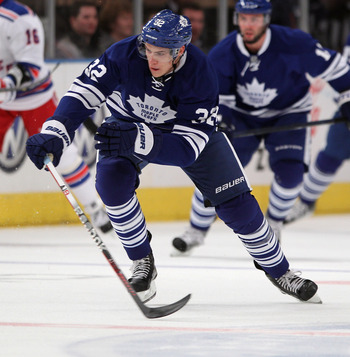 Bruce Bennett/Getty Images
After getting off to an incredible start this year in the AHL, Joe Colborne seemed to lose his footing as the season progressed and put up some anemic numbers as the season came to a close.
With the revelation that he actually has a wrist injury that requires surgery, some of Colborne's struggles later in the season can be forgiven.
Unfortunately, it still seems like he may be a year or two away from joining the Maple Leafs and having a successful NHL career.
Odds of Colborne cracking the Leafs lineup in October: 20:1
Keep Reading

Toronto Maple Leafs: Like this team?