Belmont Stakes 2012: Long-Term Effects of I'll Have Another Failing to Compete
September 24, 2016
Rob Carr/Getty Images
The devastating and disappointing retirement of I'll Have Another shocked the racing world yesterday.
It was only the third time (and the first since 1936) that a horse had been in contention for the Triple Crown and been scratched prior to the last leg.
Sure, trainer Doug O'Neill and owner Paul Reddam made the right decision by pulling their champion colt, but what does this mean for the future of thoroughbred horse racing in the United States?
1. Trainers need to alter their methods.
Training a Triple Crown hopeful in today's racing world is not what it was twenty years ago. In modern training, horses are fragile, pampered beings. Never will a three-year-old stakes winner have raced near five times as a two-year-old. They will most likely only prepare for the Triple Crown with one or two races in order to win money.
The exception, however seems to be California-trained horses who race in the graded stakes series (San Vincente, San Felipe, Santa Anita, among others) at Santa Anita Park prior to the first Saturday in May.
It is this fragility that have made thoroughbreds much less resilient. This tendency toward being a flash in the pan is the reason the Triple Crown refuses to anoint a champion. After their run at the three-race classic, horses usually only race five to ten more times before retirement. To put this in perspective, Affirmed (our last Triple Crown winner) ran a total of 29 times in his career. This will almost never be seen again unless training methods are changed.
2. The uber-sensitive Belmont Park security measures will be more popular.
Trainers complained about the lock-down at Belmont Park. Routines were interrupted, moods were tense and buttons were pushed. With the scratching of I'll Have Another, fans can rest assured the measures worked. The only thing more heartbreaking than a horse being robbed of their chance at glory, is breaking down after starting that chance. Enter Big Brown.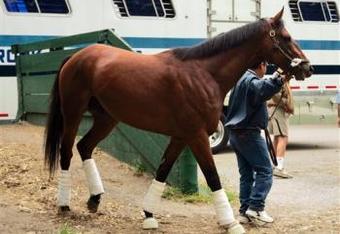 Big Brown was touted in 2008 as being racing's savior. After two dominating performances in that year's first two legs, Big Brown was destined to take the Crown. At Belmont Park, however, fans witnessed the outcome of fatigue, improper training and overpowering drug regimens.
The debate is still warm as to why Brown was pulled up by jockey Kent Desormeaux. Some allege that Big Brown had a hoof problem prior to racing that went unnoticed or unsaid. Some believe a loose horseshoe was to blame. Others concur that the steroid regimen given by trainer Rick Dutrow simply took an ill-effect. Whatever the reason, that horse would not have been able to race if this year's Belmont regulations were in place.
Regulations ensured fans that horses were properly taken care of medically and trainers were properly observed to keep integrity intact. Who knows if the now-infamous O'Neill would've tried to race I'll Have Another even with a slight concern? It would have been the bigger disappointment to see the colt pulled up in his last race.
With regulations like the ones we saw this year in place, horse racing can return to some sort of purity. Horses can be prevented from breaking down and trainers will be held accountable for good and bad decisions.
3. The Triple Crown is not the greatest accomplishment in horse racing.
In American thoroughbred racing, the Triple Crown is the pièce de résistance. In other countries, however, that can applied to a number of prestigious races.
The Dubai World Cup features better-trained horses racing for a chance to win the largest paycheck of any horse race in the world. The British Classic series features older, more historic races like the 1,000 and 2,000 Guineas and the Epsom and St. Leger Stakes.
The Breeder Cup in the United States is even seen by most horse racing fans as the hallmark of the season.
Trainers and owners especially want the exposure of the Triple Crown, but the existence of other prestigious races shows there are better prizes and bigger money to be won. Horse racing is becoming an increasingly globalized sport. Countries like the United Arab Emirates, Japan, Great Britain and France all love thoroughbred racing at least as much (if not more) than Americans. It is this attitude that has relegated the American Triple Crown to the lower ranks of the horse racing industry.