Where Philadelphia Phillies, Playoff Contenders Would Be If Season Ended Today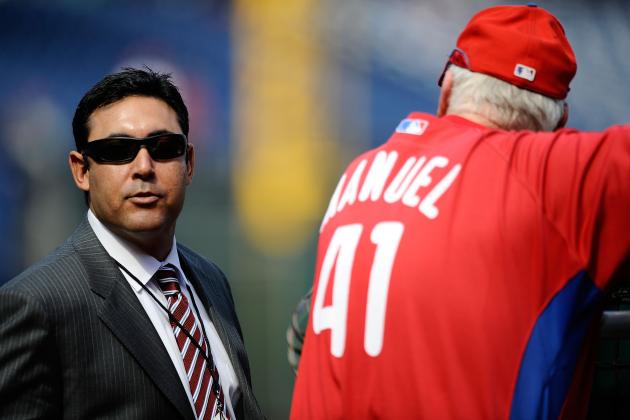 Jeff Zelevansky/Getty Images

One-third of the season has come and gone and the Phillies have spent the majority of it in last place in the NL East.
It's not the start that Ruben Amaro or Charlie Manuel envisioned. There is still plenty of baseball to play, but it's typically the 40-game mark that determines what kind of team you have.
If the Phillies do not get anything from Ryan Howard and Chase Utley and if they constantly have a starting pitcher on the DL (first Cliff Lee, Vance Worley and now Roy Halladay), then this team is probably right where it's going to stay.
They project to finish the season with a 78-84 record after their 9-6 win over the Baltimore Orioles last night. Their only hope for the 2012 season are comebacks from Howard, Utley, and Halladay....and they must come back and play at something approaching an All-Star level.
With that being said, here is an updated look at how the postseason would look if the season ended today:
Begin Slideshow

»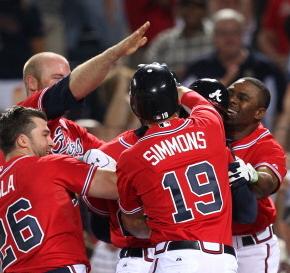 Mike Zarrilli/Getty Images

A rematch of the very entertaining 2010 NLDS would be, if the season ended today, a one-game playoff in Atlanta.
In any other year, Tim Lincecum would be the obvious choice to take the mound for the Giants—but not in 2012. Matt Cain would probably get the ball as he presently carries a 2.41 ERA and a 0.94 WHIP.
Actually, playing in Atlanta might be a bonus for San Francisco, which has hit just six....yes SIX home runs at home all season. They have hit 35 on the road.
The Braves have been up and down this season but are back on the upswing. Brandon Beachy has a sparkling 1.98 ERA, but I'm still not sure he strikes fear into teams, nor do I think he would get the ball for this game.
The Atlanta starter would probably be Tommy Hanson.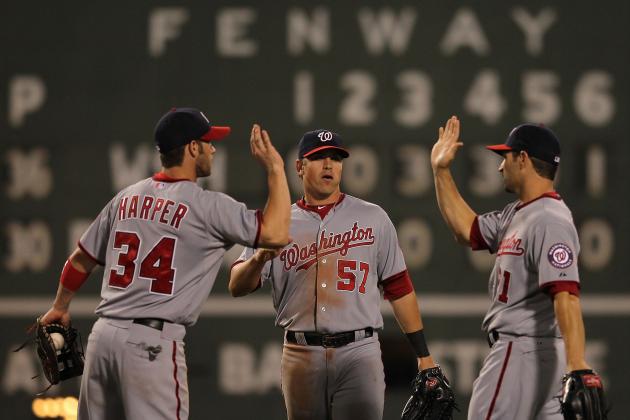 Jim Rogash/Getty Images

The five-game series would open with two games in Cincinnati with the final three in Washington.
The Reds are a formidable 17-11 at home and slug 60 points higher there. That's not exactly an award for the NL East champs. The rotation of Johnny Cueto, Mat Latos, Bronson Arroyo and Homer Bailey does not strike fear in anyone, however.
A big question for the Nats is whether Stephen Strasburg will still be pitching at that time. Washington has a deep rotation, and Strasburg has been dominating, but if the Nats stick to their 160-inning limit with Strasburg, it may cost them a chance to win the NL East.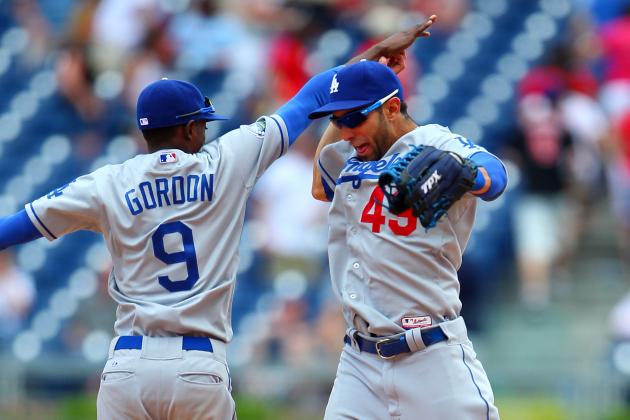 Rich Schultz/Getty Images

Don Mattingly is pushing all the right buttons, and his personality is perfect for this group.
Either one of these matchups would be intriguing but a Giants-Dodgers series would be quite delicious. Arguably the second biggest rivalry in baseball behind the Red Sox-Yankees, the two teams haven't met in the postseason since 1962, when San Francisco won a best-of-three playoff series to clinch the National League championship.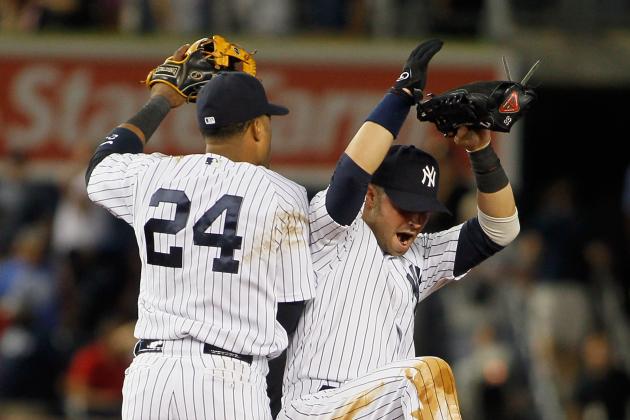 Mike Stobe/Getty Images

An AL-East battle.
The last time these two teams met in a postseason series, Jeffrey Maier became a household name. The O's are nearing the Pittsburgh Pirates in number of consecutive seasons with a losing record, but Buck Showalter has them off to a great start.
Having said that, the O's have stalled of late and are unlikely to return to their earlier pace as the season progresses.
The Yankees would have CC Sabathia for this one-game matchup, and that would be an advantage over anyone the O's trot out there.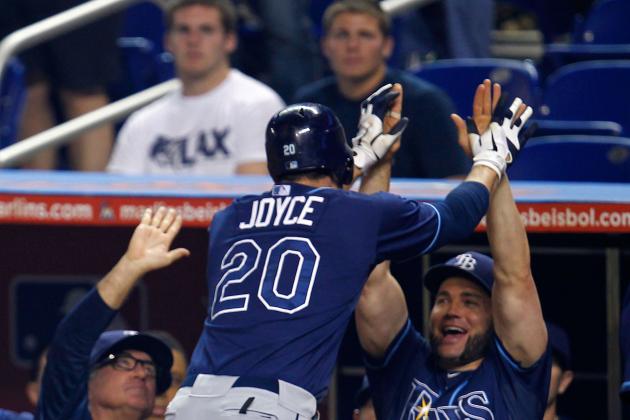 Sarah Glenn/Getty Images

A rematch of the 2008 NLDS that resulted in the Rays first ever postseason series win.
Games 1 and 2 would be in Chicago, where the Sox haven't played so well in compiling a 15-17 record.
But a strong top of the rotation would make Chicago a playoff threat. Chris Sale has been sensational, with a 2.30 ERA and 0.98 WHIP, since moving to the starting rotation. Jake Peavy appears to be all the way back to his Cy Young form.
Tampa Bay would be favored, but it definitely wouldn't be a slam dunk. The Rays don't hit much—they currently have a .235 team batting average—but they hold opponents to a .237 average.
This could be a terrific series.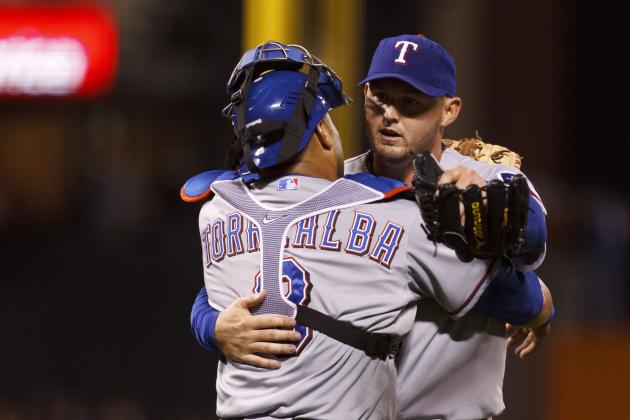 Jason O. Watson/Getty Images

What's the reward for having the best record in the American League?
How bout Games 1 and 2 in Yankee Stadium. That's what the Rangers would get if the Yanks beat the O's in the one-game playoff.
Something is off about that, but it is what it is, as far as 2012 is concerned.
Yu Darvish would get a chance to prove that he is worth all of that money if he helps Texas win the World Series—the one final hurdle the Rangers must clear lest they be compared to the Buffalo Bills.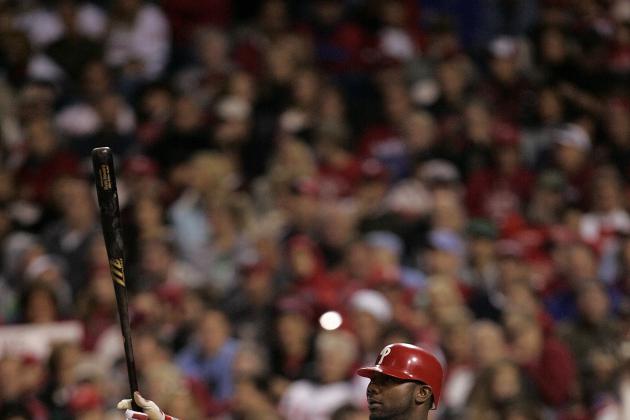 Rich Schultz/Getty Images

There are some things that need to happen to get the Phillies into the postseason for the sixth consecutive season.
1) Not only do Howard and Utley need to return, they need to be very close to the players they were the last six-plus seasons.
2) Halladay, Lee, and Hamels need to be the formidable one-two-three punch as they were in 2011 (provided Halladay returns healthy).
3) A solid right-handed reliever needs to be acquired. Chad Qualls has proven he can't do the job and Michael Stutes is a question mark.
4) Shane Victorino needs to forget about is upcoming free agency and play at the level to which he is accustomed.
5) Jim Thome needs to adjust to being a pinch hitter off the bench in the mold of Greg Dobbs and Matt Stairs. His body can't play first.
If the above happens, the Phillies can once again have a monster second half of the season—like they have had each season during their magical five-year run.