Belmont Stakes 2012: Evaluating New Favorites with I'll Have Another Scratch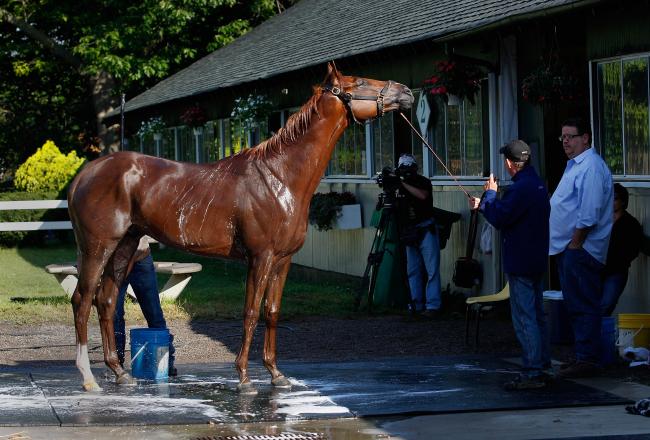 Rob Carr/Getty Images
Some say nobody is interested in watching the Belmont now that I'll Have Another has been scratched. I say, all the more opportunity to see what some of the other horses in the field are truly made of.
On Friday, with just over 24 hours remaining until the third leg of the Triple Crown, trainer Doug O'Neill announced that his star colt would be retired after suffering tendonitis in his leg. Now, without I'll Have Another's speed in the mix, it's any horse's game. Every single contender in the field is well-rested and hungry, and they know how wide open this race is.
Here's a look at the new front-runners now that I'll Have Another is down and out.
Dullahan
Dale Roman's entry was the second-favorite before I'll Have Another was axed, and many believed he was the only horse with the speed and the stamina to contend with the front-runner. Now, he's the 9-5 favorite to get the win.
Check out Dullahan's performance in the Kentucky Derby, where he finished third.
The one thing Dullahan has that I'll Have Another did not is plenty of rest, which will serve him very well on the 1 1/2-mile track in Elmont, N.Y. This is the longest, toughest, most grueling leg of the Triple Crown, and rest is crucial. Dullahan hasn't raced since the Kentucky Derby on May 5, when he finished third behind I'll Have Another and Bodemeister.
Now that neither of them is in the hunt, there's nothing stopping Dullahan from emerging with the victory on Saturday—except a No. 5 post position, which is exactly where he started at Churchill Downs. It's not the worst gate, but it's not the best, either.
For Dullahan, it hopefully won't matter. He's a horse who likes to hang back and make a big push at the very end of the race, so as long as he doesn't get caught too wide on the turns in the early going, this should be his race to lose.
Unstoppable U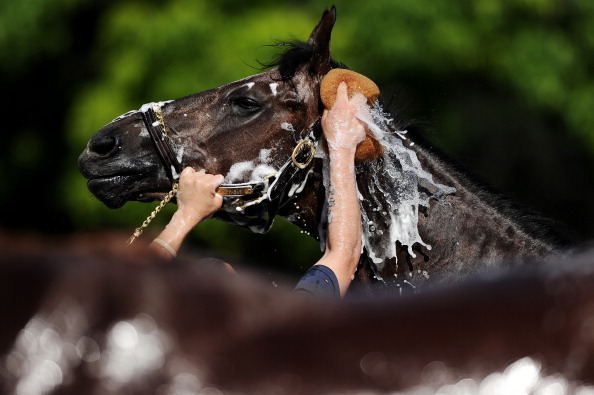 Patrick Smith/Getty Images
In terms of post position, Unstoppable U has it pretty good, starting out of Gate No. 2. With 30-1 odds, he's still a long shot to emerge with the win on Saturday, but so was I'll Have Another when he bested Bodemeister at Churchill Downs a month ago.
One big plus for Unstoppable U is the fact that he's saddled by Ken McPeek, trainer of the horse who still owns the biggest upset in Belmont history, according to the Thoroughbred Times' Frank Angst. That would be Sarava, who won back in 2002.
Another advantage: Throughout his career, Unstoppable U has trained at the Belmont track, which is a massive edge, according to McPeek. He told Angst:
You have to train over this track to win over this track. It's nicknamed 'Big Sandy' for a reason, and if we don't get any rain between now and Saturday, I think it's going to give an edge to horses who have been here.
Unlike Dullahan, look for Unstoppable U to shoot out to an early lead. Without the biggest speedster of them all in the mix anymore, he might just be able to hold onto it.
Union Rags
Who will you put your money on?
The horse who gained the most from I'll Have Another's untimely demise was Union Rags, who was the second-favorite at the Derby a month ago before choking like A-Rod with the game on the line. Michael Matz's horse finished seventh at Churchill Downs and hasn't raced since, skipping the Preakness in order to prepare to take down I'll Have Another at the Belmont.
Now, he won't have to. Instead, he'll have to contend with Dullahan down the stretch.
Union Rags is an allegedly talented horse who's been the victim of poor positioning in his past losses in the Kentucky Derby and in the Florida Derby. Now that he's breaking out of Gate No. 3, there are no excuses. He's going to need speed to beat Dullahan and redeem himself after a tough couple of months. With I'll Have Another out of the mix, this is a very conservative pick to win it all.
This article is
What is the duplicate article?
Why is this article offensive?
Where is this article plagiarized from?
Why is this article poorly edited?