Brock Lesnar's Future in WWE Is Bleak and It's Entirely Vince McMahon's Fault
June 8, 2012

Jon Kopaloff/Getty Images
According to multiple sources, Brock Lesnar has "nuclear heat" on him for his recent appearance at the UFC 146 pay-per-view event.  Vince McMahon is apparently irate at the former UFC heavyweight champion because Brock did not clear the appearance with him first, which Vince most likely would not have approved.
So what did World Wrestling Entertainment, a multi-million dollar company, do in return? Simple, they took cheap shots at him on-air.
Big Show made sure to say he is a "fighter, not a sports entertainer" and Triple H removed the arm cast he was wearing to sell the injury that Lesnar inflicted on WWE TV.  This is also the reason that you haven't heard Brock Lesnar's name mentioned on television and why Paul Heyman is nowhere to be seen.
My, my...how things have changed since the day after WrestleMania, huh?
Brock returned the day after WrestleMania 28 to one of the loudest ovations in recent company history and proceeded to seemingly set up a money-making feud against John Cena.  Fast forward only two months later and Brock is being written off as a prima donna, a handful backstage, and someone who isn't worthy of the money they are making.
This is 100 percent WWE's fault too.
Brock Lesnar, as I have written in the past, came in with a massive amount of mainstream credibility, a real-life sports background, and a fanbase who would have definitely followed him back to WWE.  So what does Vince McMahon do with his newly acquired star?  He immediately jobs him to John Cena in his first match back in ten years.
Wow, what a creative genius.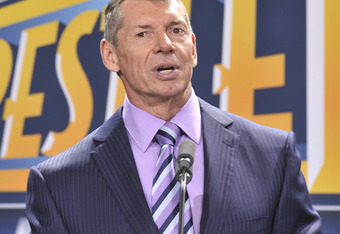 Michael N. Todaro/Getty Images
Then, rumors started that Brock Lesnar was going to be used to put over "future stars" because he was never going to return full-time.  First of all, who exactly are these "future stars" that Brock Lesnar needed to lay down for?  John Cena?  The guy who has been on top of Raw since 2005 and is so stale that he's in danger of growing mold?
Next in line was Triple H.  Hunter is certainly the last guy on Earth who needs to go over Brock Lesnar, considering he's not a full-time wrestler either and he's married to the boss's daughter for crying out loud.
What, was WWE going to ask Brock Lesnar to lay down for Zack Ryder?  How about the Miz?  Maybe Kofi Kingston could use the rub, right?  Don't make me laugh.
Brock Lesnar is your superstar.  He's the guy you can make money off of, not by having John Cena beat him then crack jokes afterwards.  The problem is that WWE doesn't want to make money off of Brock Lesnar, they want to repay him for leaving the company and actually succeeding outside of wrestling.
You see, Vince McMahon doesn't want anyone to succeed outside of his little pro wrestling bubble.  He wants them to have to rely on him for their income, to be completely devoted to WWE, and to pay the ultimate price when they leave the promotion.
That's exactly why news came out that wrestlers backstage were upset that the Rock was in the main event slot at WrestleMania.  Both the Rock and Brock Lesnar can afford to take a decade off from wrestling then return and be the biggest stars in the promotion once again.  That's not Rocky and Brock's fault, that's Vince McMahon's fault.
So where are we headed?  Well, Brock will do the job to Triple H, Hunter will get to have another 20-minute interview segment where he proclaims himself the greatest of all-time, that damn good, blah blah blah and Brock will go back to being made fun of on TV. 
Then we can maintain the status quo where Raw's consistently achieve under 3.0 ratings, the same boring people are still on top and audiences are bored to death by cookie cutter matches and promos for the rest of eternity.
Here comes the pain, indeed.