UFC on FX 3: Predictions You Can Take to the Bank
Mark Kolbe/Getty Images

UFC on FX 3 takes place tonight from South Florida with an exciting night of fights. Headlining will be a flyweight semifinal in the tournament which will crown the first ever champion in that weight division.
Ian McCall meets Demetrious Johnson in a rematch, with the winner fighting Joseph Benavidez later this year for the belt. The first fight was extremely close, with it ending in a draw.
Also on the card will be top Brazilian prospect Erick Silva taking on tough-as-nails Charlie Brenneman. Silva looks to erase the memory of a controversial DQ loss he experienced in his latest outing against Carlo Prater.
Here are some predictions you can take to the bank for tonight's event.
Begin Slideshow

»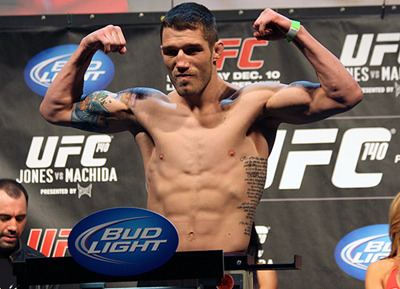 mmajunkie.com
Jake Hecht showed promise in his first fight with the UFC, but stumbled quickly in his second fight against TJ Waldburger. Hecht is still skilled no matter which way you look at it.
Sean Pierson has struggled against wrestlers so far in his career, which will play right into Hecht's game. Expect Hecht to play it safe, using his wrestling en route to a decision, which will earn Pierson his walking papers.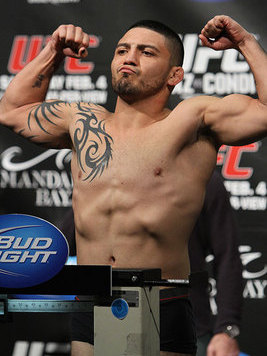 MMAweekly
Two fights in a row on the preliminary card will feature prospects from the Team Jackson camp, as Henry Martinez and Buddy Roberts take on Bernardo Magalhaes and Caio Magalhaes.
Martinez lost a close fight in his debut, fighting up a weight class on short notice against Matt Riddle. He is taking on the one-dimensional Bernardo Magalhaes, who can only fight on the ground. Martinez will pick him apart on the feet and win the bout, effectively earning Magalhaes his pink slip.
Meanwhile, teammate Buddy Roberts will make his debut against fellow first-timer Caio Magalhaes. Magalhaes is skilled, but Roberts' experience, gameplan and well-roundedness will carry him to a victory over the dangerous Magalhaes.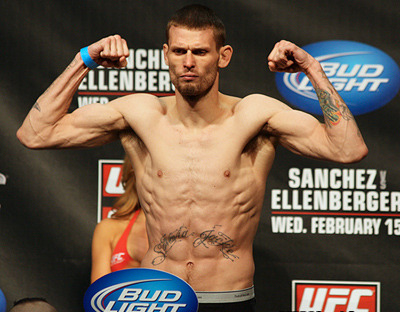 mmajunkie.com
Tim Means said he wants a "Jerry Springer" type fight with Justin Salas, after sharing a locker room with him at his last fight. It wasn't Salas that rubbed him the wrong way, but Salas' coach Trevor Wittman.
Expect just that to happen. Means is a former King of the Cage champion in multiple divisions who completely picked apart Bernardo Magalhaes in his debut. Look for him to sprawl-and-brawl against Salas, who will have his moments, but drop a decision to the sharper Means.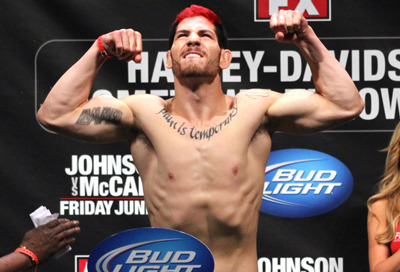 mmajunkie.com
Jared Papazian put on a great fight in his debut against Mike Easton, but fell short in a close affair. Now with a full training camp, Papazian will be even more dangerous as he takes on Ultimate Fighter alumnus Dustin Pague.
Papazian will work his complete game to get inside on Pague and explode with power punches. Expect him to clip Pague with a huge punch, earning the knockout victory in the first or second round.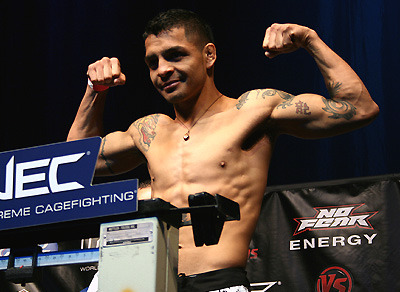 mmajunkie.com
Leonard Garcia knows how to put on an exciting fight — that cannot be denied. His brawling style has seen him constantly throw caution to the wind and throwdown with every ounce of strength in his body.
He will meet another guy who likes to stand and bang in Matt Grice. Expect for a brawl to break out, but for the iron-chinned Garcia to dish out more punishment en route to a knockout victory.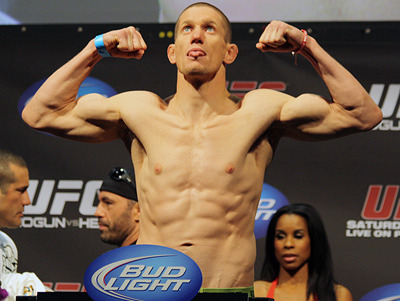 mmajunkie.com
Seth Baczynski has flown under the radar for much too long, and tonight he will continue his winning ways against Lance Benoist.
Benoist is a great prospect, but right now Baczynski is hot and looks like he could be a solid middleweight for years to come. Baczynski will land a big punch, jump on a stunned Benoist and earn a tap out in the second or third round.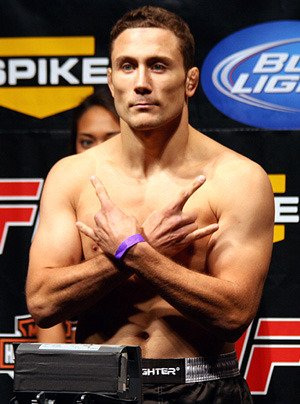 mmajunkie.com
Mike Pierce is following in Chael Sonnen's footsteps and calling out Brazilian fighters. In fact, that is how he got tonight's fight with Carlos Eduardo Rocha.
Pierce will have a tough fight on his hands tonight, but his wrestling and underrated boxing should be enough to earn a win against the crafty grappler that is Rocha. Expect for Pierce to win and continue to call out Brazilians in his post-fight interview with Jon Anik.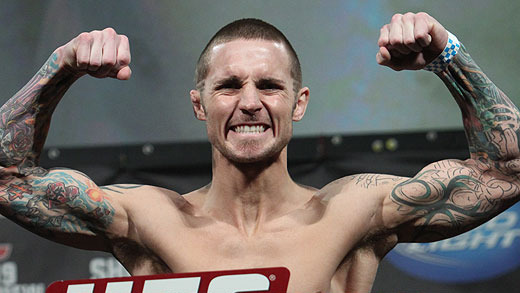 MMAweekly
Kicking off the main card on FX will be a bantamweight war between Scott Jorgensen and Eddie Wineland. This fight has "Fight of the Night" written all over it.
This will be a chess match, which will see Jorgensen gunning for takedowns and Wineland using his sprawl and boxing skills to hold off "Young Guns." This fight will go to decision, but your guess is as good as mine as to who will earn the judge's nod.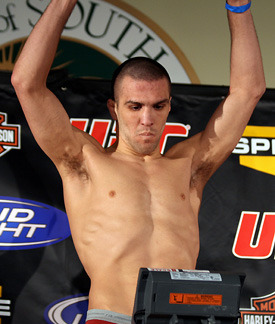 mmajunkie.com
If I were a professional fighter, I would fear fighting Josh Neer more than most fighters. He is a man of few words, he is intense and he is skilled. That is a lethal combination.
His career resurgence in the UFC has been nothing short of marvelous, as he elbowed Keith Wisniewski into a bloody mess and choked out Duane Ludwig in brutal fashion. He has a tough test tonight in Mike Pyle, but expect his hot streak to continue through smart fighting combined with scattered brawling.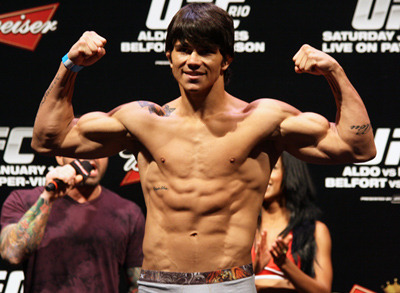 mmajunkie.com
Erick Silva has spent just over a minute in two outings in the UFC, and he has been nothing short of marvelous, to say the least. The Brazilian prospect has completely manhandled Luis Ramos, as well as knocked Carlo Prater's head off (although it was a controversial DQ).
Charlie Brenneman is as tough as they come, but Silva has shown unstoppable so far. Expect Silva to connect on some brutal punches, putting Brenneman away by knockout.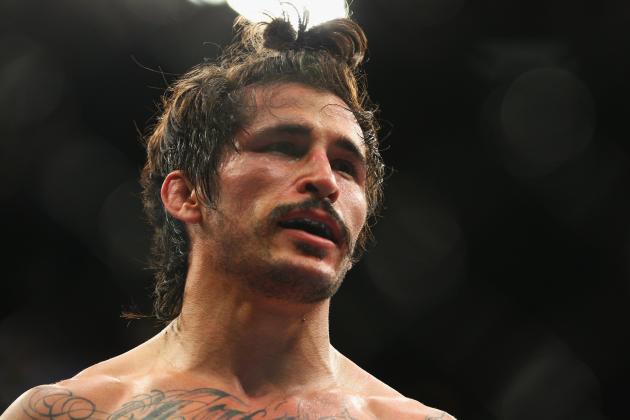 Mark Kolbe/Getty Images

The main event will be the Fight of the Night, as Ian McCall and Demetrious Johnson will go as hard as they can for the duration of the fight. In the end, I think McCall will prevail and earn his title shot against Joseph Benavidez.
McCall will use his solid clinch game and better grappling ability to control Johnson. He will not earn a stoppage here, but he will get close at points, which will be a credit to Johnson's toughness.