Joey O'Connor Talks Ohio State Football
June 8, 2012

Standing 6' 4" 295 lbs., out of Windsor, Colo., Joey O'Connor was one of five offensive lineman recruits in the 2012 class.  O'Connor was considered one of the top recruits in Penn State's class before the scandal ripped the heart out of State College.  Needing O-line depth, O'Connor visited Ohio State and committed shortly after. He took some time to talk to us before he left for Columbus.
How devastated were you by the Penn State scandal?
JO: It was tough. Decommitting was one of the toughest most heartbreaking decisions I have ever made. I was in shock when I first heard the news; then I was really hurt.  Thankfully, I was focused on the season to win the Colorado State Championship, which helped take my mind off of this tragedy (O'Connor's team ending up winning the state championship). Starting the recruiting process again was not easy but everything happens for a reason; don't know why it happens but it happens for a reason.
After you committed to OSU, were there other schools that tried to flip you?
JO: Yes, Iowa and Cal were trying to get me to change my mind. Once I committed and took an official visit, I knew OSU is where I needed to be to start my college career.
---
What attracted you to OSU?
JO: When I was looking at colleges, some guys love the state-of-the-art facilities, weight rooms, etc. These did not matter as much to me. I wanted to see the integrity of the coaches and tradition. The tradition of OSU is unbelievable. I love the Big Ten, its smash mouth style and I wanted to play in the Big Ten.
Coach Meyer and the rest of the staff are great people that do not think recruits are just pieces of meat. They care about our families and care about who were are as people - not just chess pieces they move to win football games.
Were you always into football?
JO: Actually, no, I played hockey for 11 years. I did play some football in middle school but it was mostly hockey. In high school, coaches thought I could do well at football so I started focusing more on football then.
Tell me about your hockey career?
JO: I was bigger than most kids and would have families yell at me for fear that I would hurt their child. I was almost always the biggest player on the ice. I was so big, I needed to bring my birth certificate with me to prove I was as old as I was! Police have escorted me off the ice due to parents heckling and wanting to fight my parents. When I was 15, they let me play with the 18-year-olds so I would not have such a size advantage.
Has hockey helped football?
JO: It has. In hockey, quick feet, being aggressive, the nastiness of being aggressive, helping people up after the whistle blows, all are necessities that have helped me with football. I played defense in hockey so I developed the instinct to help me protect the goalie. This mindset is very helpful when playing on the O-line.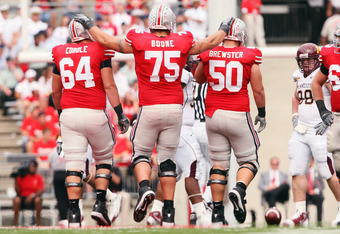 Jamie Sabau/Getty Images
Did people like Camren Williams, Noah Spence and Tommy Schutt recruit you?
JO: I went to PSU camps last summer and Camren Williams was there and we talked. He and I clicked and talk quite a bit. Camren talked to me a little bit and he told me that he saw a lot of things he loved at PSU that he sees at OSU.  He helped me as he took more visits but once I went to OSU, it sealed the deal. Tommy Schutt  and I talked, he also said OSU has similar things that PSU had to offer.
 
What is Ed Warinner like?
JO: Great guy, all about family and wants to coach. He is a visual learner like me, so it is easy for me to receive his instruction. He loves to coach and has to see things and how they are done before you do them. We hit it off and we talk to each other once a week. He cares about his players.
OSU fans have recently been disappointed by a couple of decommitments while also missing on prospects like Ethan Pocic and Jaylon Smith.  Michigan is also up to 21 commitments and current No. 1 class. What would you say to Buckeye Nation to help comfort them? 
JO: I feel like coach Meyer and OSU is the best coaching staff around. They want the best players but also the right players, not just the most athletic but also the right type of person on and off the field.  The coaches will put the best team together, I have no doubts. 
Have you watched or seen film of any of your fellow offensive line commits of the 2012 class? Who most impresses you?
JO: I know Taylor Decker the most - we did our official visit together, and he went early in spring and has been telling me what it is like. He works really hard. I am excited to get to know what the other linemen are like.
What position do the coaches say you will play?
JO: Center and guard. I have been working on snapping the ball.  But I will play wherever they need me. If they want me to kick, I will kick.
What will your major be?
JO: As of now, Criminal Justice.
Thank you Joey for your time.  We look forward to watching you on the field the next four years and wish you the best of luck.
Michael Chung is a Correspondent for Bleacher Report, Sports-at-Work and Silver Bullet. Unless otherwise noted, all quotes were obtained first-hand or from official interview materials.