Updated Predictions for the I'll Have Another-Less Belmont Stakes Field
June 8, 2012

Jamie Squire/Getty Images
With the absence of I'll Have Another from the Belmont field, the race becomes wide open.  The Doug O'Neill-trained colt reportedly has the beginning of tendinitis in his left front leg and O'Neill would rather not take any chances, according to the Daily Racing Form.  With the obvious favorite sitting the race out, top contenders now have a much better chance to take home the trophy.
Dullahan
Dullahan will be the betting favorite come post time.  He was already the second choice and now stands to try and dominate the field.  Trainer Dale Romans welcomed the role of spoiler, but will now have to take to the role of top-dog.  
The field still, in my opinion, does not set up for Dullahan to win.  If the Belmont has taught horses a lesson in 143 runnings, it is that a horse caught lagging too far back on the 1.5-mile track is not likely to make up the distance.  Late-charging horses like Dullahan have fared well in the past, but his style of running too far back at the head of the stretch is concerning.  I still predict Dullahan to run second in this one.
Union Rags
As the field loses competitors, Union Rags' chances get better.  Traffic and bad trips seem to haunt this colt, and they have prevented him from running well in recent months.  Trainer Michael Matz has been eagerly awaiting a clean trip for his colt, and with only 10 other horses to worry about, he might get it.  Union Rags still has attitude and speed issues, but his odds of finishing in the money are much greater.  I expect Union Rags to finish third on Saturday.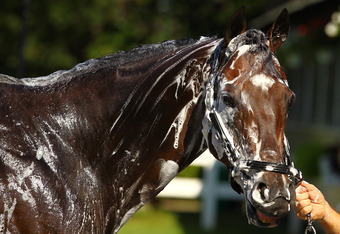 Al Bello/Getty Images
Paynter
Paynter will likely set the pace out of the gate.  He's also likely to lead well into the second turn. However, as with most speed horses, Paynter is set up to fade down the stretch.  Especially at one-and-a-half miles, the Baffert-trained colt just doesn't have the stamina needed to outlast horses at this distance.  However, with one less horse to hold off, I expect Paynter to finish fourth on Saturday.  Also, the field sets up for him to make a run at third place, so including him in a trifecta wouldn't be a bad move either.
Street Life
Street Life has been my (excuse the pun) dark horse leading up to the Belmont.  I love that he's run every one of his workouts on the Belmont track and come from a champion sire in Street Sense.  His pedigree and workout history point to being able to handle the distance and pace in the Grade I race.  Look for him to place as high as second in this one.
Because my previous wagering guide had I'll Have Another included, here are some adjusted wagering suggestions:
Lock: Dullahan to Show or Place (but not to Win)
Risky: Street Life To Win
Exacta: 1- Street Life 2- Dullahan (Box would be ideal)
Trifecta: 1- Street Life 2- Dullahan 3- Union Rags
Risky Trifecta: 1- Street Life 2- Dullahan 3- Paynter
Superfecta: - 1- Street Life 2- Dullahan 3- Union Rags 4- Paynter