I'll Have Another Injury a Crushing Blow to Dying Sport and American Dream
June 8, 2012

Patrick Smith/Getty Images
It wasn't that long ago that horse racing was right there with baseball in terms of being the country's national sport. Baseball has dropped off a bit, but remains extremely popular. Horse racing, on the other hand, has plummeted down the totem pole.
Now, with I'll Have Another scratched from the Belmont Stakes, there is no recovery in sight.
According to the horse's trainer Doug O'Neill on The Dan Patrick Show, I'll Have Another will not be able to chase the Triple Crown after suffering an injury. When asked if I'll Have Another had run his last race he said, "If I had to wager … I would say yes."
It has since been announced that I'll Have Another has indeed been retired.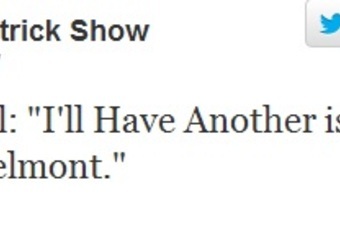 Interest has waned in horse racing over the years, and part of that has been due to the lack of a Triple Crown winner. No horse has turned in a hat trick since Affirmed in 1978, although several have had chances.
I'll Have Another could have been on the verge of greatness, but now represents another false prayer for the struggling sport.
Sports fans in general love to see an athlete excel at their craft. There have been many very good horses since Affirmed, but none that could captivate the nation. I'll Have Another may have been the horse to do it, though, as he is a true underdog story.
He entered the Kentucky Derby as a 15/1 shot with little fanfare, but he came roaring from behind to defeat the favored Bodemeister. He did the exact same thing at the Preakness as he once again made a late bid to foil Bob Baffert's colt.
I'll Have Another was all about making comebacks, so he was the perfect candidate to lead the comeback of an American institution.
Running three major races in a 35-day time frame makes it very difficult for horses to win the Triple Crown. The average horse runs once every 30 days, according to The Jockey Club, so it is truly asking too much for one horse to beat the best competition three times in a row in just over a month.
Although it has yet to be confirmed, Brian Beckner of Yahoo Sports Radio is reporting that I'll Have Another suffered a torn tendon during his morning workout. Perhaps it was due to the massive workload he had to endure, but I'm sure there will be plenty of speculation regarding his trainer.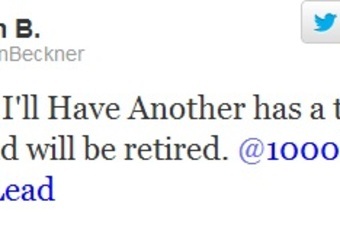 O'Neill was set to serve a 45-day suspension following the Belmont Stakes after one of his horses tested positive for increased carbon dioxide levels in 2010, according to Joe Drape of the New York Times.
O'Neill has several violations on his record, but I'll Have Another has always checked out fine. Still, you never know if O'Neill may have done something to make the horse more susceptible to injury.
There is no guarantee that horse racing would have been chic again had I'll Have Another won the Belmont Stakes, but it certainly couldn't have hurt.
When horses like Funny Cide, Smarty Jones and Big Brown were going for the Triple Crown, the nation was captivated. Once they lost, though, horse racing faded back into irrelevance. 
That figures to be the case once again now that I'll Have Another is out of the running. Hardcore horse racing fans will still care about the Belmont, but legions of casual followers who would have watched to see if I'll Have Another could make history are no longer going to tune in. 
People love to see underdogs do great things, and I'll Have Another could have been that underdog. Instead, his legacy was cut short, and horse racing will suffer the consequences.
Until a horse conquers the Triple Crown like Affirmed did in 1978, it will remain a fringe sport in the United States.
Follow @MikeChiari on Twitter