Michael Kidd-Gilchrist NBA Combine 2012: Measurements and Video Highlights
June 8, 2012

Kevin C. Cox/Getty Images
Michael Kidd-Gilchrist will be one of the top-three players in the 2012 NBA Draft when his career is over. 
He's getting an opportunity to prove his worth at the 2012 NBA Combine and he's making every second count.
Here are some of Kidd-Gilchrist's measurements, video highlights and much more from the combine.  
Profile:
Height: 6'7" 
Weight: 233 pounds 
School: Kentucky
Date of Birth: September 28, 1993
Position: Small Forward
Stats: 11.9 PPG, 31.1 MPG, 49.1 FG%, 25.5 3FG%, 74.5 FT%, 1.9 APG, 7.4 RPG, 0.9 BPG, 1 SPG
Measurements according to ESPN's Chad Ford. 
Without shoes: 6' 5.75"
With shoes: 6' 7.5" 
Player weight: 232.8 lbs 
Wingspan: 7'0" 
Standing reach: 8' 8.5" 
Body fat: 7-percent
Hand length: 9 inches
Hand width: 10 inches
Video Highlights
You can't teach hustle, leadership and work ethic. It's something that somebody learns throughout childhood or is given at birth. When these qualities are accompanied by world-class talent, we are talking about a special player. 
Kidd-Gilchrist has everything you want in a top-five prospect. 
Strengths 
Slashing
Kidd-Gilchrist's ability to get to the rim will translate to the NBA. When Kentucky needed a bucket, Kidd-Gilchrist drove to the cup and scored big-time buckets.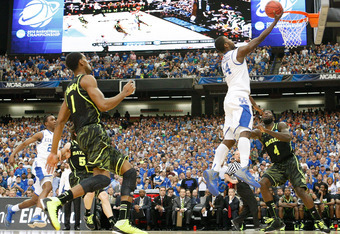 Kevin C. Cox/Getty Images
His ability to drive is one of the best in the entire draft class.
Strength
What makes Kidd-Gilchrist incredible slashing to the basket is his ability to finish plays. His strength and body frame allows him to absorb contact and still finish the play. This is especially the case on the block, in traffic and when he grabs offensive boards. 
His body is NBA ready, and it won't take long for him to get accustomed to today's league. 
Defense
Kidd-Gilchrist's wingspan is 7'0". Kidd-Gilchrist's 6'7" size, his athleticism, will to win and wingspan is incredible. 
He can lock any player down, and he wants to defend the opposing team's best offensive player.  
Will to win
Kidd-Gilchrist competes at a high level. You'll see him on the floor, diving after loose balls. You'll see him ask to defend certain offensive players. When you need a basket, he'll make a play.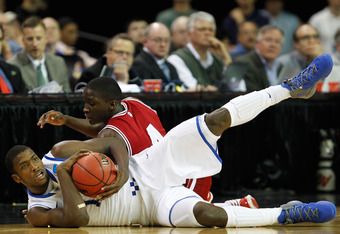 Streeter Lecka/Getty Images
He leads with his play. When teammates see how hard he is competing they can't help but try to mirror his attitude and will. 
Weaknesses 
Outside shooting
Kidd-Gilchrist shot 25.5 percent from beyond the arc in his freshman year at Kentucky. He obviously has time to grow into a shooter because of his work ethic, but it's an area of concern. 
Similar to San Antonio's Kawhi Leonard, improving behind the arc can happen in the turn of a year. Leonard shot only 21 percent in his freshman year at San Diego State and 29 percent in his sophomore year.
But in his rookie season, Leonard shot 38 percent in the regular season and 45 percent in his first postseason.
Kidd-Gilchrist can improve in that area, it's just going to take some work this summer. 
Prediction where he lands
Kidd-Gilchrist is a top-five pick in the 2012 NBA Draft. Charlotte needs to take a hard look at him at No. 2 because he has star quality.