Pacquiao vs. Bradley: Breaking Down What Desert Storm Must Do to Upset Pac-Man
June 8, 2012

David Becker/Getty Images
If Timothy Bradley has an ultimate responsibility in his fight against Manny Pacquiao at the MGM Grand in Las Vegas, it is to show up prepared to throw down. As a sizable underdog, the greatest pressure Bradley faces—for his career in the long run—is to put on an exciting fight that will increase his future notoriety and marketability.
Of course, Bradley (28-0, 12 KOs) will want to do more than this. Considering his pedigree and record as undefeated, twice unified junior welterweight champion, Bradley's omnipresent and magnetic self-confidence is well-founded, and he has every right to assume that if he sticks to his game plan he will win the fight.
In his most recent fight against Juan Manuel Marquez, Pacquiao (54-3-2, 38 KOs) appeared vulnerable, especially to Marquez's counter right hands. While it would be presumptuous to assume that the Marquez fight definitively signified that Pacquiao is ripe for the picking, Bradley should view the result with confidence as he heads into his own bout with "Pac-Man."
Bradley's boxing skills and instincts as a fighter have been overlooked during this promotion, and it is objectively reasonable to expect that he can give Pacquiao a tremendous fight or even win.
Let's find out what Bradley needs to do to pull off the upset.
Double the Jab
Bradley possesses a quality jab, and while the punch might not land at an eye-catching or alarming rate, he skillfully uses the blow to set up his straight right hand and other combinations.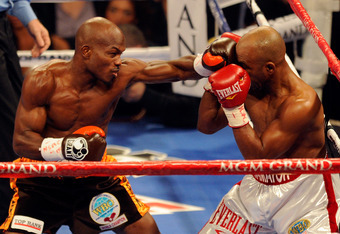 Ethan Miller/Getty Images
Because of Bradley's compact style and solid fundamentals, he is a naturally difficult target to hit cleanly. Still, if Bradley advances without purpose—i.e. without a strong jab—he will be susceptible to straight left hands from Pacquiao, as well as counter right hooks.
To avoid getting peppered as he goes on the offensive, Bradley needs to employ a stiff jab and double the punch. Pacquiao is crafty, and his lateral movement allows him to dart away from danger and counter with dazzling combinations from unconventional angles. The first thing a double jab accomplishes for Bradley is that it helps keep Pacquiao relatively stationary and inside his crosshairs. 
Another advantage to using a strong double jab is that it also acts as a smokescreen for straight right hands. Bradley's strongest punch is his straight and overhand right, and since he isn't as skilled a counter-puncher as Marquez, he will need to use his jab to help create openings for his most damaging shot.
Circle to the Left
Ring generalship will be crucial to the outcome of this fight, regardless of how long it lasts. As an orthodox fighter, Bradley must ensure that his lead left foot gets outside of Pacquiao's right foot—Pacquiao, of course, is a southpaw.
If Bradley is able to get his left foot outside of Pacquiao's right, he will create angles for his overhand right and shorten the distance the punch has to travel to make significant contact. This strategy naturally plays into Bradley's strengths, as his right hand is generally his most powerful and accurate punch.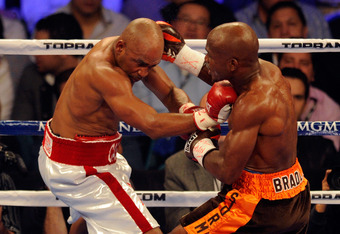 Ethan Miller/Getty Images
Circling to the left will also enable Bradley to increase his distance from Pacquiao's left hand. Whether he's throwing a straight shot or a hook, Pacquiao's left hand has been devastating throughout his career, and Bradley would be advised to put as much distance between himself and Pacquiao's signature punch.
If Bradley combines leftward movement with feints and a double jab, he might force Pacquiao to lunge and expose himself in an effort to land his left hand. Should this occur, Bradley will be in an optimal position to counter with his right hand or possibly hook off his left jab.
Regardless of how Bradley chooses to attack, intelligent movement to create openings for his right hand could perhaps lead to Marquez-like success against Pacquiao.
Get Inside and Make it Ugly
Bradley is capable of boxing off his back foot, and he has shown instances of precise counter-punching. Still, he is not in Marquez's league as a counter-puncher, and it would be a mistake for Bradley to simply stay on the outside and try to outfox or out-quick Pacquiao.
Obviously, Pacquiao is no slouch as a counter-puncher, and he has had tremendous success in dissecting opponents who move forward against him because of his unconventional punching angles and hand speed. When Bradley moves forward, however, the difference should be in how quickly he closes distance as opposed to simply plodding towards Pacquiao for an attack.
Bradley needs to make sure he uses intelligent offense when moving forward. Given that he has shown the ability and determination to win ugly exchanges on the inside, Bradley would be advised to maul Pacquiao when he gets close enough and use judicious clinching and wrestling on the inside to gain advantages.
This could also have the effect of stagnating Pacquiao's offense. If Pacquiao is able to keep Bradley at the end of his punches, it could be a shorter night than expected for "Desert Storm." That said, by taking the fight into the trenches, Bradley can negate Pacquiao's power by disrupting his punching leverage.
It might be ugly, but it could be an effective strategy if utilized in spots.
Go to the Body
This category follows from the previous one and is basically contingent on Bradley being able to get close enough to Pacquiao to inflict damage. One of Pacquiao's best attributes is his lateral movement, and body punching is one of the most effective ways to negate this edge.
Bradley is already a committed and quality body puncher, so expect this to be built into his game plan. If Bradley is able to get into Pacquiao's chest, he can rip body shots to keep Pacquiao stationary and set up opportunities to go upstairs. Through sustained body punching, Bradley can hopefully force Pacquiao to drop his hands, which could make Pacquiao's punches laborious, as they would be thrown from more obvious angles.
It is certainly a mistake to headhunt against Pacquiao. If Bradley does this, he will be countered into submission, so it is crucial that he establishes his body attack from the outset. Even if he uses single jabs and straight shots at first, he must ensure that he exhibits a strong intent to work Pacquiao's body.
Timothy Bradley has underrated speed and boxing ability. If he combines his naturally endowed gifts with a game plan grounded in sustained and solid fundamentals, we could be looking at an upset on June 9.