Boston Red Sox: Why a Renewed Daisuke Matsuzaka Could Lead a Red Sox Playoff Run
June 8, 2012

Rich Schultz/Getty Images
Boston Red Sox fans will never forget the 2006 image of Daisuke Matsuzaka landing at Hanscom Air Force Base in Bedford, Massachusetts on a private plane after signing a six-year, $52 million deal.
There was even a little Red Sox logo painted on the tail of the plane.
Something special was in the air that day.
Even the little wave he gave to the media from the back of an SUV with heavily tinted windows had an aura of mystery around it. He was like a head of state or a Faberge egg. Maybe he was a little bit of the two: something important, something very expensive.
Fans were giddy with excitement after the Red Sox landed the Seibu Lions ace who threw some mysterious pitch nicknamed the gyroball.  
Signs around Fenway Park were written out in Japanese to welcome the new supposed Red Sox ace. There was talk of serving sushi next to the hot dogs and beer at Fenway.
Boston's new hardball savior had arrived, right?
Well, not really.
To be fair, no one could have lived up to the massive hype that surrounded Matsuzaka. He became more myth than man.
When the man revealed himself, Boston fans felt let down. He was not bad. He just was not the myth fans had imagined.
But what the Red Sox need right now is simply a fraction of that myth. Or to put it more directly, they just need him to be a solid fifth starter.
There is nothing mythical or magical about being a fifth starter, but just ask Daniel Bard how easy the job is.  
Matsuzaka now finds himself penciled in to take the mound against the Washington Nationals on Saturday. A gyroless fifth starter who suddenly finds his importance to the Red Sox at an all-time high.
Matsuzaka has had success in the past and there's no reason to believe he can't match some of his former numbers.
He may never match his 2008 numbers when he went 18-3, with a 2.90 ERA and 154 strikeouts. He placed fourth for the Cy Young award that year.
But Bobby Valentine and company would take the 2010 version of Matsuzaka when he went 9-6, with a 4.69 ERA and had 133 strikeouts. He ate up 153.2 innings.
If Matsuzaka can repeat those 2010 numbers, it would completely put to rest any thought of inserting Bard back into the rotation. Bard may not like it, but he has an arm built for the bullpen and he had to be sent down to Triple-A Pawtucket.
If Matsuzaka can become a solid fifth starter, it would give the Red Sox a lot of leeway on where and how to use Bard. Bard was a dominant setup man last season and most likely will return to that role when he finishes his stint in Pawtucket.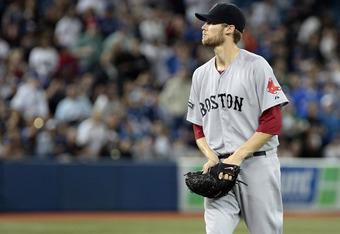 Abelimages/Getty Images
Matsuzaka as the fifth starter with Bard in the bullpen would give Boston a formidable pitching staff. A playoff-caliber pitching staff. 
Matsuzaka is returning from Tommy John surgery and has had success rehabbing in Pawtucket.
According to ESPN, 
He's been solid in six starts with Triple-A Pawtucket, carrying a 3.0 K/BB to go along with a 3.49 ERA and 1.02 WHIP in 28.1 innings. Matsuzaka could stick in the rotation the rest of the way given the general struggles of the Boston rotation this season.
Click to watch Matsuzaka pitch for Pawtucket. 
If he can bring those numbers with him to Boston, the Red Sox will finally have a legitimate one through five rotation. That is the stuff playoff teams are made of.
It's something they have not had all year, and Bard never really seemed fit for the role.
While Bard had his good moments, his numbers were trending the wrong way. Before being sent down he was 5-6 with a 5.24 ERA in 55 innings pitched.
But his last start was the performance that sent a shiver down the collective spines of Red Sox Nation.
On Sunday, Bard walked six, allowed five runs and hit two batters. All in 1.2 innings.
He has not been what the Red Sox had hoped for.
Nick Cafardo of the Boston Globe wrote:  
His fastball may hit 94 miles per hour on occasion but he's mostly at 92-93, a far cry from the guy who used to hit close to 100 as a reliever. Nobody expected him to keep that up as a starter, but the hope was that he could reach back for 98 when he needed it. There's been none of that.
But Matsuzaka is returning. Not on a private plane this time. Not quite a savior. He's simply a renewed pitcher who may just be good enough to help the Red Sox charge into the playoffs.