Chicago Cubs Make Mistake Not Calling Up Anthony Rizzo for Interleague Play
June 8, 2012

I am officially beginning to question some of the recent decisions by the Cubs' front office. Not only have several offseason acquisitions not panned out, most notably Chris Volstad, but several inactions have also come back to nip the team in the butt.
For example, would the Cubs have tried harder to unload Matt Garza if they knew by June they would have the second worst record in baseball?
His value has certainly dropped with a 2-4 record and a 3.99 ERA. He has 61 strikeouts to 21 walks, but he isn't pitching with the ace efficiency that the team was hoping to capitalize on.
And while it is impossible to argue that one draft pick is better than the next, all anyone could talk about prior to the draft was how badly the Cubs needed pitching.
When the Astros surprised everyone and passed on Stanford ace Mark Appel, it appeared the Cubs would add the young pitcher who appears on the fast track to the big leagues.
He ultimately fell to the Pirates at No. 8.
Appel would have been the team's top pitching prospect, a Chris Sale-esque player who got to the big leagues quickly and efficiently.
But they are playing the long game with this young outfielder Albert Almora, who if he is like most high-schoolers, won't even sniff the major leagues for another five years.   
It is becoming abundantly clear that 2012 is the year the Cubs should try new things. At least they should be.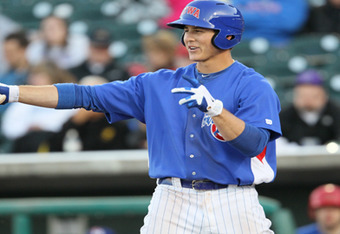 Anthony Rizzo is having one of his best professional seasons, yet he continues to linger around in Triple-A.
He is hitting .363 with 17 home runs and a .427 OBP through 196 at-bats. He has struck out just 37 times, drawn 20 walks and has 16 extra-base hits.  
The Cubs simply don't know where to play him.
They still feel financially tied to Alfonso Soriano, obligated to run his $18 million salary out on the field as much as physically possible. I thought Soriano would see less time now that Theo Epstein is in charge. That just hasn't been the case.
With interleague play kicking off once again tomorrow, the Cubs will be heading to Minnesota for a nice three-game series. They already announced that Soriano will be the DH, allowing him to rest his deteriorating knees.
It is hard to justify sitting Soriano, seeing as he has hit nine home runs since May 15th. But with Soriano on the DH, this would be a great time to put LaHair in left field and call up Rizzo.
This lets teams know Soriano is essentially being shopped, and hat the Cubs are moving ahead with the future.
If he doesn't play well, then send him right back down like nothing happened. It will be a quick litmus test unlike the pressure filled scenario of "okay you are here for good."
Let him get his feet wet in the mild-mannered Minnesota summer.
He is actually on a bit of tear right now, hitting .419 with two home runs and six RBI in his last 10 games. He could be the spark the Cubs ride into the All-Star break, allowing them to assess how they want to finish the 2012 season —as sellers or holders.  
How much worse can it get?
Let's just hope Rizzo stays healthy down in Triple-A. An injury to him down there would almost be as devastating as if he was with the Cubs at this point.