Detroit Lions: Young Players Must Learn from Their Mistakes 'The Lion Way'
June 8, 2012

Leon Halip/Getty Images
Although many feel the Detroit Lions organization should come down hard on the young players who have had problems this past year, the Lions Brass have prior transgressions that will not allow for harsh public punishment.
Ndamukong Suh, Mikel Leshoure, Titus Young, Nick Fairley and Johnny Culbreath have all had problems that many view as worthy of severe sanctions.
Suh with "The Stomp" and crashing his car in Portland; Leshoure, Fairley and Culbreath for their impersonations of Jeff Spicoli and Young with his personality flaws are all examples of less-than-mature actions from young men still in need of further grooming.
But the men who sit directly above these players in the Detroit Lions' chain of command also have had similar episodes of questionable judgment.
Lions President and Chief Financial Officer Tom Lewand was pulled over near Houghton Lake after a Lions golf outing back in 2010 and was charged with DUI. Struggling to maintain his 18-month sobriety after years of drinking, Lewand relapsed and blew double the legal limit when he was arrested. 
Substance abuse is difficult to overcome, whether it's alcohol or drugs. The light cast on K2 in recent weeks should remind everyone that the legality of a vice does not determine its hold on a person. 
I have repeatedly written how important Jim Schwartz is to the organization; at times I feel his long-term effect might be greater than Barry Sanders', but he too has imperfections that have hurt his chances for sainthood.
We all remember his altercation with Jim Harbaugh after the loss to San Francisco and the ensuing rundown between the two coaches. Schwartz did not appreciate the one-upmanship Harbaugh tried to give him and made sure he knew it.
But beyond that, Schwartz has had shouting matches with Dez Bryant and others that are well-documented—he's not afraid to speak his mind. Although it might not be politically correct, I appreciate his passion, and I think his players do as well.
Schwartz coaches with a chip on his shoulder and will bump his gums when he deems it necessary, so how can he come down hard on Young for similar actions? Do as I say, not as I do is a pretty disingenuous sell.
Additionally, NBC analyst and former New England Patriot Rodney Harrison went on national television and implied Schwartz is a dirty coach and used Schwartz's time with the Tennessee Titans as an example. 
Remember, these two are not 20-somethings; both, according to Oklahoma State's Mike Gundy, are men—they're 40. 
Through it all, the organization has not scolded either of their leaders publicly; on the contrary, it supported them and gave them reassurance, even when the league thought otherwise.
So, why should we now expect either Lewand or Schwartz to drop the hammer on their players in front of the media when they personally have been given public reprieve by ownership?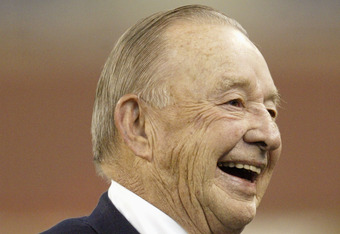 Tom Pidgeon/Getty Images
I'm not saying William Clay Ford Senior is the reason for all the offseason problems—far from it. But there is something to be said about the trickle-down effect in an organization.
There's nobody (outside of my father) I would be happier for if the Lions finally did get a Lombardi Trophy than Bill Senior. But let's be frank here, if you've seen the aging process for Mr. Ford, it is apparent he is more familiar with libations filled with gin-soaked olives as opposed to strawberry smoothies.
It's pretty difficult to waggle your finger in disapproval at an employee for substance abuse while your other hand steadies a martini glass—the warning rings a touch hollow.
Former assistant coach Joe Cullen knows this well. He showed up at a Wendy's drive-thru in his birthday suit, and then was busted for a DUI the next week. All he got was a one-game suspension.
With regards to Schwartz and his fiery attitude, how can Ford complain about that? He's suffered through decades of disappointment as he scratched checks to coaches who had long since been shown the door, but were still pulling a paycheck from the Lions.
Now, he finally has a guy in charge who is getting things done, and you think he's going to question his methods?
Like Colonel Jessup said in A Few Good Men, "I would rather you just said thank you and went on your way."
What's really important is not how the situation is handled, but rather the results from the punishment, or lack thereof. The organization chooses to handle its business internally—utilizing a code blue, if you will.
Lewand has done nothing to embarrass his family nor his employer since his incident and has continued to flawlessly execute his position as lead bean-counter. Getting long-term deals for Calvin Johnson and Stephen Tulloch were major components of the successful contractual offseason.
As for Schwartz, most are looking forward to the coaching fireworks when the Lions make the road trip to Candlestick Park,—yes I still call it Candlestick—but if Schwartz wants to set an example for his young players, the interactions between the two coaches will be the biggest non-issue of Week 2.
Let's not forget that Lions first-round selection Riley Reiff was busted for public intoxication at Iowa, and nobody blinked an eye to his previous run-in with authorities.
Probably because we all had, or nearly had, our own night fielding questions from campus police in college—but more likely is the fact that time has passed since then, and Reiff has been what Schwartz called "a model citizen."
The Lions have had locker rooms filled with choir boys and none of them finished with a winning record and they certainly never had a shot at hanging a banner.
There's nothing wrong with a little gristle on a steak; a cut of beef too lean lacks flavor, and a locker room too pure lacks street cred.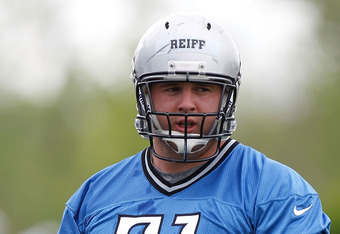 Gregory Shamus/Getty Images
Most winning football teams have a few black sheep—men you don't want dating your sisters or daughters, but you definitely want them on your sideline come Sunday. If the cost of getting more games in the win column means dealing with a few personal faux pas, all decision-makers in Allen Park should be ready to shoulder the burden.
Just as long as the team makes it a priority, in their own way, to use the offseason headlines as life lessons for the youngsters and ensure they are not a detriment to the team this fall.
It's no different than having your child tumble from a chair or touch a warm pot. You don't want them to suffer, but sometimes it's better they learn through an experience that doesn't severely hurt them and serves as a deterrent to similar actions in the future.
The finest engines Ford Motor Company produces do not piece themselves together in a purified vacuum. There are a few employees who must get some dirt and oil under their nails to ensure a quality Blue Oval product.
The Detroit Lions are no different, and hopefully the young players will take advantage of the public coddling policy of the Lions, learn from their mistakes and clean up their acts before the regular season begins.