Jaromir Jagr: Why He Should and Will Re-Sign with Philadelphia
June 8, 2012

Jim McIsaac/Getty Images
The contract negotiations between Jaromir Jagr and the Philadelphia Flyers have gotten quite a bit of attention as of late. 
At first, it appeared the two were headed in different directions following a second round playoff loss to the New Jersey Devils. 
As reported by TSN (citing a report in the Czech Republic), it now seems as though the two are back on track and headed towards a renewal. For numerous reasons, I believe a contract renewal is the best for both sides.
Jagr is set to turn 41 next season. Last year, we learned that even the all-time greats like Jaromir start to decline at this age. That said, Jagr can still play. In entering what might be the last season of his career, it's important for Jagr to play with those he has chemistry with. He would be taking a gamble in going to a new team, as there's the possibility of it not working out. 
On the Flyers, however, Jagr already has proven chemistry, giving him the best chance at one last year of success. 
Next, we have Claude Giroux. Giroux is one of the most dynamic, explosive and talented players in the league. There's no questioning how much Jagr valued playing alongside Giroux. In fact, the enjoyment he found as a linemate even seemed a bit excessive to some, as cleverly depicted in this article by fellow featured columnist Bill Matz. If the claims in this article are in fact true (which I see no evidence to the contrary), it would make complete sense for Jagr to re-sign with Philadelphia. 
So now let's talk about leadership and the contract that Jagr is expecting.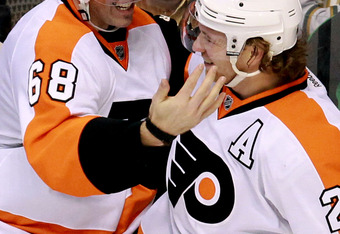 Ronald Martinez/Getty Images
It was also reported on TSN television that Jagr wants a contract earning similar to what he made this past season, which was $3.3 million. 
That seems about right for a player who puts up 54 points in 73 games. But, for those that think it's too much, consider this: Philadelphia has one of the youngest talent pools in the NHL, with many players expected to develop into stars. If Jaromir Jagr can use his experience as one of the best players to ever play the game to lead and mentor these young stars and guide them, while at the same time picking up attractive numbers, is it not worth it?
It isn't just the direct contributions that make Jagr so valuable, but the indirect things that help the team as a whole improve. 
On the same TV report, it was mentioned that Jagr is requesting a guarantee to be on the top two lines. Whether this is true or not has yet to be seen. 
But I must say, if this is true, Jagr may be overstepping his boundaries on this one. 
First off, no 41-year-old has the right to demand this, whether a legend in the game or not. The truth about the NHL is that since the lockout, it's more designed for younger players. 
In addition, Jagr has no reason to ask for this. I mean, the third/fourth lines on the Flyers aren't exactly deprived of contributing. After all, I don't recall seeing Wayne Simmonds or Matt Read complaining about their 40+ points during the regular season. And I certainly don't recall any issues for Brayden Schenn when he picked up nine points in the playoffs and was an essential piece to their success. 
Jaromir Jagr will have a successful year with the Flyers, whether as a first liner or a fourth, a scorer or a mentor. It simply makes sense.