Subway Series Complete Weekend Preview: Matchups and What to Watch for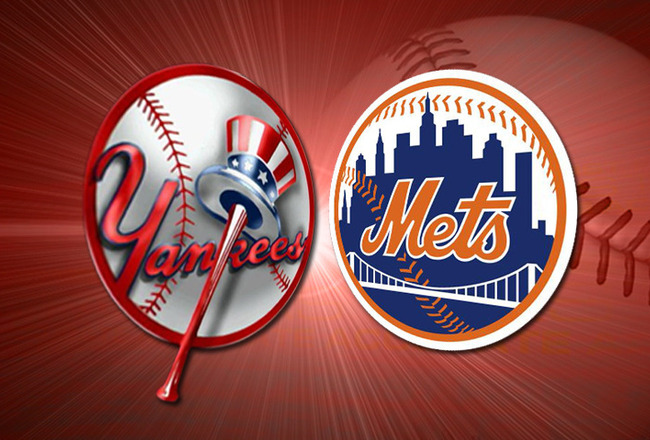 Photo via RiverAveBlues.com

This weekend is about as good as it gets for the first Subway Series matchup of the season.
The New York Yankees will welcome in the New York Mets for three games in the Bronx in a matchup of teams who are among the best in their respective divisions.
The Yankees hold the upper hand in the last eight games these two teams have played against each other, entering play on Friday with a 6-2 record. The Mets, however, have not had a team in the past couple years that is meshing as well as it is now.
So who will come out on top in this series?
The Mets sit in third place in the NL East, but only by 1.5 games with a 32-26 record, while the Yankees find themselves in second in the AL East, by a half game at 31-25.
A lot of the Mets' success has come because of the man they put on the mound, and the Yankees look for their starter to pitch against his own league as he had in years past.
Johan Santana vs. Hiroki Kuroda, Friday 7:05 P.M.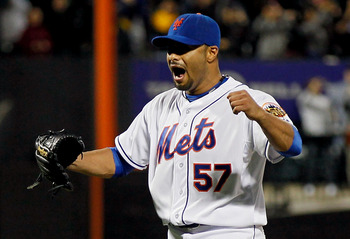 Mike Stobe/Getty Images
Johan Santana (3-2, 2.38 ERA) was dominant in his last outing, throwing a no-hitter against the defending World Champion St. Louis Cardinals. After having his start pushed back due to the number of pitches throw in that game, he receives the nod on the opening night of this series.
Santana goes against one of the Yankees' offseason acquisitions, Hiroki Kuroda (4-6, 3.82 ERA) on Friday night. Kuroda has allowed two or fewer runs in seven of his 11 starts this season. Santana has been spectacular and is hitting his stride, coming into the game with back-to-back shutouts in his last two starts.
What to Watch For
Big bats in the Yankees lineup have not fared well against Santana in the past. In their careers against Santana, Curtis Granderson is 1-for-15 with six strikeouts and Alex Rodriguez is 5-for-29.
Robinson Cano and Derek Jeter, on the other hand, have scorched Santana. Cano is 8-for-22, good for a .364 average, while Jeter has owned Santana, hitting .455 and 15-for-33.
The Mets' leading hitter, David Wright, is 6-for-14 (.429) in his career against Kuroda. The way that Wright is hitting this season, it is imperative that Kuroda takes a different approach to Wright at the plate.
Dillon Gee vs. Phil Hughes, Saturday 7:15 P.M.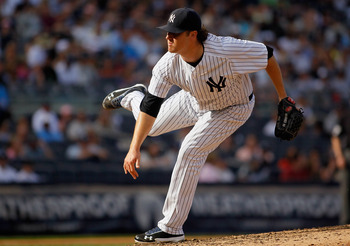 Mike Stobe/Getty Images
Phil Hughes (5-5, 4.96 ERA) is coming off his best start of the 2012 season, a complete game in which he allowed one run to the Detroit Tigers. He looks to continue his quality performance when he takes on Dillon Gee (4-3, 4.48 ERA), who is also coming off a solid performance in his last start.
Both of these guys are capable of throwing great games, but both are also susceptible of getting lit up.
This is certainly the most likely of the three games to have some runs scored from both sides.
What to Watch For
Gee has maintained a great strikeout rate this season, mowing down 65 batters in 70.1 innings. He has given up more than a hit per inning, however, so there is certainly potential for the Yankee bats to come alive if they can hit with runners in scoring position.
Hitters have been teeing Hughes up for home runs this season, as he has allowed 13 home runs, seven of which came at Yankee Stadium. Since 2009, Hughes has allowed a stunning 39 home runs in the Bronx.
The Mets' lineup has the pop to take advantage of Hughes if he falls back into this trend.
Jonathon Niese vs. Andy Pettitte, Sunday 1:05 P.M.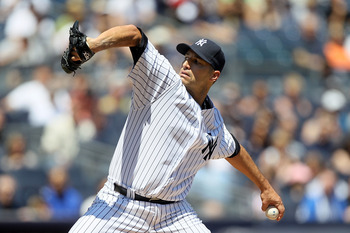 Jim McIsaac/Getty Images
Andy Pettitte (3-2, 2.78 ERA) has been arguably the Yankees' best pitcher since he returned to the big leagues on May 13. He has struck out eight, nine and, in his last outing, 10 batters in a game since his return.
He will face Jonathon Niese (4-2, 4.11 ERA), who is coming off a 10-strikeout performance of his own in his last start. He will have his work cut out for him in this one.
The Yankees are second in the majors with a .270 average against lefties this season.
What to Watch For
The final game of a series is pivotal for both teams: The winner gets to be heralded during the week while the losers have a sour taste in their mouths until the next time the two teams meet.
The final game might be a close game, something the Mets and Yankees are familiar with in their past meetings. Both of the lefties on the mound have the potential to stifle an offense and with the series potentially on the line, they should be at their best.
The winner of this game will have that good feeling until these two teams meet again, on June 22 at Citi Field.
Keep Reading

New York Yankees: Like this team?