NBA 2012: Why the Utah Jazz Are the Next Oklahoma City Thunder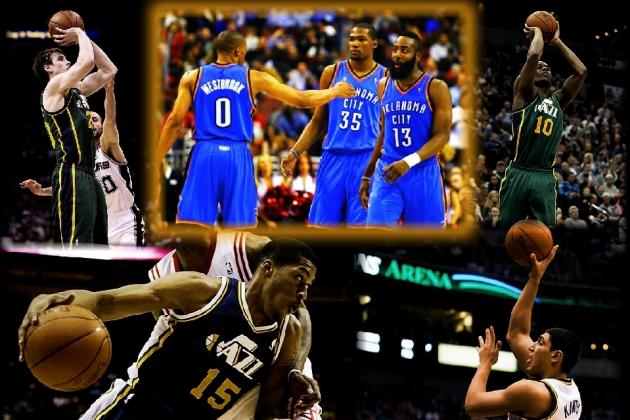 It's that time of year again, and Jazz news and content is almost nonexistent!
Here's your fix.
I always find myself exploring new ideas, speculating and offering seasoned opinion on all things Utah Jazz (and the draft, too) at this time of year. There's just nothing else to do.
Now, bare with me as I explore the following popular quote:
The Utah Jazz are the next Oklahoma City Thunder.
Crazy, I know. "Jazz-fever-induced," I know. Wishful thinking, I know.
But, nothing is impossible, right? We have Reggie Miller's eight points in nine seconds to prove us that! So please, read on.
Begin Slideshow

»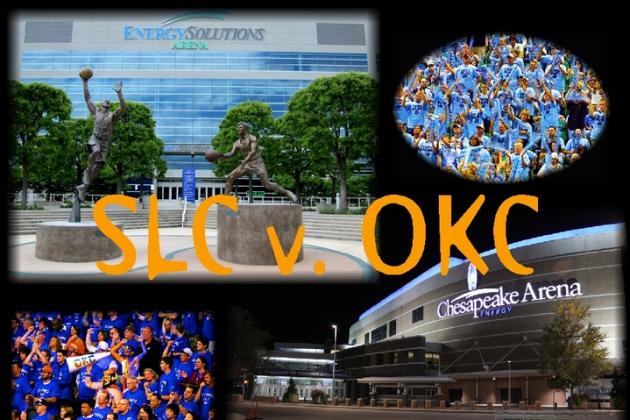 Salt Lake City population: 1,145,905. Oklahoma City population: 1,252,987.
Eerily similar in metro-area size, both Salt Lake City and Oklahoma City offer only one professional sports team from a popular league such as the NBA or NFL.
Several analysts have explained that, even though the teams have had their struggles, the fan support in their respective cities is unparalleled. Their fan support is unparalleled because, rather simply, there's no one else there to cheer for.
Fans in the Salt Lake City and Oklahoma City (even collectively the Utah and Oklahoma) areas, can pledge their full allegiance to a single, hometown team. For example: when the Thunder's record reflected a 3-29 start in their first season in OKC, the Chesapeake Energy Arena continued to sell tickets and fill seats.
Again, when the Jazz traded Deron Williams and coach Jerry Sloan resigned in 2011, fans' morale and encouragement never wavered.
The devotion and unheralded support of fans is an undeniable similarity between the Utah Jazz and Oklahoma City Thunder.
It's also a strong basis to build on.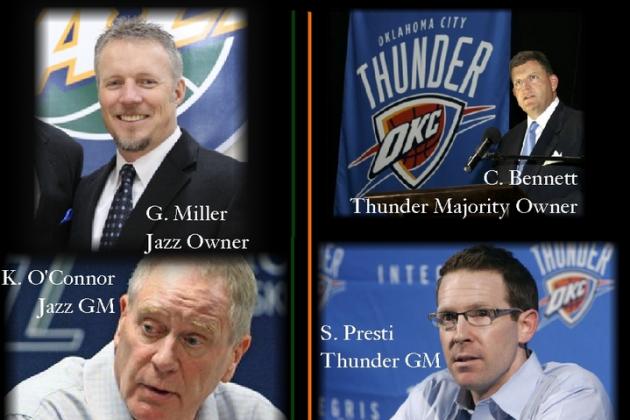 Far too often, good management and business execution is taken for granted on the professional sports level—especially in the NBA.
Both the Utah Jazz and the Oklahoma City Thunder have sterling front offices—including renowned (see next slide) general managers, Kevin O'Connor and Sam Presti.
Each front office has taken its limited small-market capabilities and produced a maximum turnover. Even as we speak, the Thunder are participating in the 2012 NBA Finals.
The Jazz have been there in the past and hope to be seen there in the not-so-distant future.
And, of course, none of this is possible without precise team management.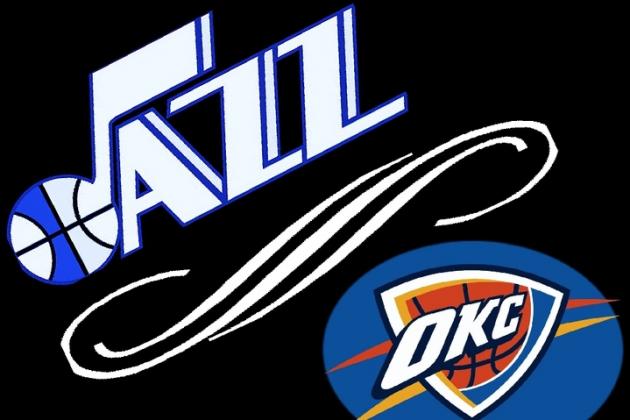 Trade reputation. Intimidation. Respect of other teams, peers and analysts. These are all important factors in comparing Utah and Oklahoma City as contenders (or future contenders).
The Utah Jazz are a consistent playoff team with a "do things the right way" mentality and old-fashioned standards. The Oklahoma City Thunder recently burst into the spotlight by propelling themselves to the NBA Finals—finally losing 1-4 to the Miami Heat.
I believe the Thunder have that same "do things the right way" mentality, seeing as the team stated that they modeled themselves after the San Antonio Spurs—a team that is constantly compared to Utah in terms of winning and being old-fashioned, but also in terms of being a reputable franchise.
You don't win an NBA championship or go further than the first round of the playoffs without having an elite reputation around the league—intimidation and respect as well.
Both the Jazz and Thunder have that reputation.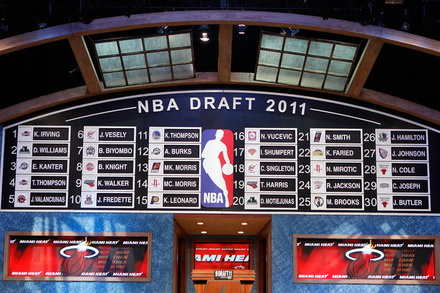 Competitive teams that have become good through trade or free agency (think Miami Heat/Boston Celtics), lack the bonding and experience of a team forced to face the early adversity of losing before becoming a winning team.
Look at the Thunder. They reflected a 3-29 record to begin their first season in OKC, and now, with minor roster changes, are contending for a championship.
Utah fell apart last season, beginning with a 6-18 record under then-interim head coach Ty Corbin, but shrugged it off, learned from their mistakes and pushed themselves into the 2012 playoffs this year.
Both teams are at different stages of development, but you can't deny the eerie similarities.
Neither Salt Lake City or Oklahoma City is a free agent (or trade) destination. Both cities are fairly small and have a mellow atmosphere with little nightlife.
This causes their respective teams to take a different approach to building a team—through the draft. A better approach, I might add.
Building through the draft, you can form a roster that develops together and strives for a collective goal without distraction; moreover, ego and personality clashes are far less common.
This isn't true for teams such as the Lakers, Celtics and Heat, who seem to always have some kind of issue regarding players, coaches and/or staff involvement.
Of course, I'm not saying that teams need to be built entirely from the draft—more likely just their core. Trading is a valuable tool that needs to be used by all teams to fill their needs and enhance their performance.
However, bringing together powerhouses through trade and free agency will always be a shortcut to doing so through the NBA draft.
The Thunder's core of drafted players include Kevin Durant (2007, second overall), James Harden (2009, third overall), Russell Westbrook (2008, fourth overall) and Serge Ibaka (2008, 24th overall).
The Jazz's core of drafted players include Enes Kanter (2011, third overall), Gordon Hayward (2010, ninth overall) and Alec Burks (2011, 12th overall). Utah still owns a top-six protected pick from Golden State in next year's draft.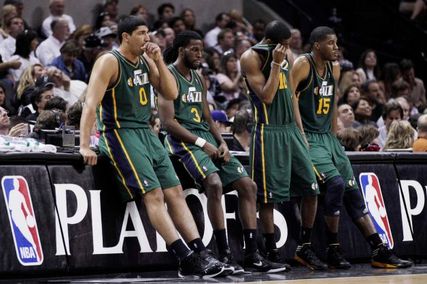 There are seven lottery picks between these two teams from 2007-2011. Wow.
Youthful talent is the biggest similarity between the Jazz and Thunder. They each have a core of young, talented players who are coveted by 28 other teams in the league.
Who wouldn't want to build a team around the consecutive second, fourth and third overall picks from 2007-09?
Moreover, who wouldn't want to a build a team around four lottery picks from the past two drafts?
The Jazz are a step behind the Thunder in development, but there's no reason we shouldn't believe that this team, the Utah Jazz, is the next "Oklahoma City Thunder."
A team built from the draft, a team built for the future, a team built for contention.
Utah is rising.
Follow me on Twitter: @BrooxAnderson