Pros and Cons of Joe Banner's Reported Interest to Buy Buffalo Bills
June 7, 2012

Handout/Getty Images
Buffalo Bills fans should familiarize themselves with Joe Banner. 
The 59-year-old is now the former Philadelphia Eagles team president after he stepped down from his position this afternoon. 
That news itself doesn't concern the Bills whatsoever, but his future endeavors certainly do. 
In a statement obtained by CBSSports.com, Banner discussed what his next move is within the football world: 
"I plan to pursue a major new opportunity within the sports field — one that will enable me to apply all that I have learned as the Eagles president."
ESPN's Sal Paolantonio (via ProFootballTalk.com) shed more light on Banner's plans:
Banner is interested in joining an ownership group that hopes to buy an NFL team.  He said that he is "open to L.A. I don't want to single them out, but that's something I think I can do – set up a franchise, help build a stadium, hire a coach, hire good people to build a a winning organization."
To add even more specificity to the report, Philadelphia sports radio personality and Eagles sideline reporter Howard Eskin tweeted the following regarding the teams in which Banner is interested: 
Now hear #Eagles Ex Pres Joe Banner interested in getting group together to buy Buff Bills.. Hear Cleveland and St louis may also be 4 sale

— Howard Eskin (@howardeskin) June 7, 2012
Now I've got the attention of the Bills faithful. 
Is this good news? Bad news? Or meaningless news? (We must remember that the team is still owned by soon to be 94-year-old Ralph Wilson Jr., and there has been absolutely no indication that he's looking to put the team he founded up for sale.)
Let's list the pros and cons. 
Pros 
Banner's Past with Eagles
Due to Ralph Wilson Jr.'s age, the Bills are forced to be worried about their short-term future in Western New York. 
With no succession plan in place to keep the team in Buffalo, Bills fans have a somewhat haunting notion that their team will go up for auction and be sold to the highest bidder, bringing Los Angeles into consideration. 
In his talk with Mike Florio on PFT Live, Banner said his interest in a certain club will be "driven by their stadium situation," and that the ownership group he's trying to assemble is not against moving a team to LA. 
While the last piece of that sentence could haunt some Bills fans, remember what Banner did with the Eagles. 
He was the man behind the construction of Lincoln Financial Stadium and was the financial mastermind during the team's rise to prominence in the early- to-mid 2000s.
The Bills are playing in one of the oldest and out-of-date stadiums in football, but as the Buffalo News reported earlier this spring, the team wants to make upgrades that could cost up to $200 million. The impending renovations could be intriguing to Banner as a starting off point in what he'd deem a rebuilding process of the organization. 
Banner's Salary Cap Mastery 
Jamie Squire/Getty Images
After years of coming off as a cheap franchise who wasn't willing to pay their better players, the Bills finally broke the bank in the 2011 offseason with their 100-million dollar signing of defensive end Mario Williams. That followed multi-year extensions to the club's core players like Ryan Fitzpatrick, Kyle Williams and Steve Johnson. 
While CFO Jeff Littman and GM Buddy Nix have done a wonderful job keeping the Bills under the salary cap, Banner is renowned as a salary cap guru, a guy proficient in structuring contracts to keep good players around and sign high-profile free agents. He'd be welcomed by fans and coaches who'd like the front office to give a concerted effort to remain competitive every year by re-signing guys and inking players on the market. 
Cons 
Los Angeles Possibility 
The "cons" are quite obvious. Banner has no connection to Buffalo or Western New York and openly stated he's no against moving a team to Hollywood.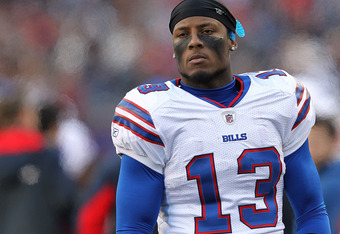 Jim Rogash/Getty Images
Bills fans are aware that legendary quarterback Jim Kelly, has "people in line" to potentially purchase the team when they are put on the open market, a group that certainly would have no intention to move the team from the Western New York area. 
The former Eagles president would like serve as competition to Jim Kelly and his investors. Banner will stand to make the most revenue possible, which probably means the club would move from Buffalo or any surrounding region. 
The Stadium 
The report of major renovations to Ralph Wilson Jr. stadium could be enticing to Banner, or the fact that the Bills don't seem willing to construct a brand new, state of the art facility could make him lean toward a move if he purchased the team. 
The stadium opened in 1973 and its lease with Erie County expires in 2013, although there have been preliminary talks to extend the lease. 
Banner could see the somewhat dilapidated facility as a second coming of Veterans Stadium. While history shows he'd try to build a new stadium with the metropolitan region of Buffalo, if he's unable to gather enough public or state funding for the new project, he could relocate.  
This is engaging news for Bills fans, but remember, the team is still owned by Ralph Wilson Jr. As of right now, they aren't for sale and aren't going anywhere.